Pink Urges Anti-Abortion Fans Not to Listen to Her Music: 'We're Fine'
Pop star Pink has made her feelings towards the anti-abortion movement incredibly clear, suggesting they never listen to her music ever again.
In the light of the overturning of Roe v. Wade, the singer, whose real name is Alecia Beth Moore, sent out an impassioned tweet over the weekend.
There has been a number of protests held since the Supreme Court made a ruling that returns "the issue of abortion to the people's elected representatives." Celebrities have reacted with fury while Democratic politicians have also voiced their disapproval of the Supreme Court's decision. Musician Olivia Rodrigo even staged a musical protest against the decision at the Glastonbury music festival in the U.K.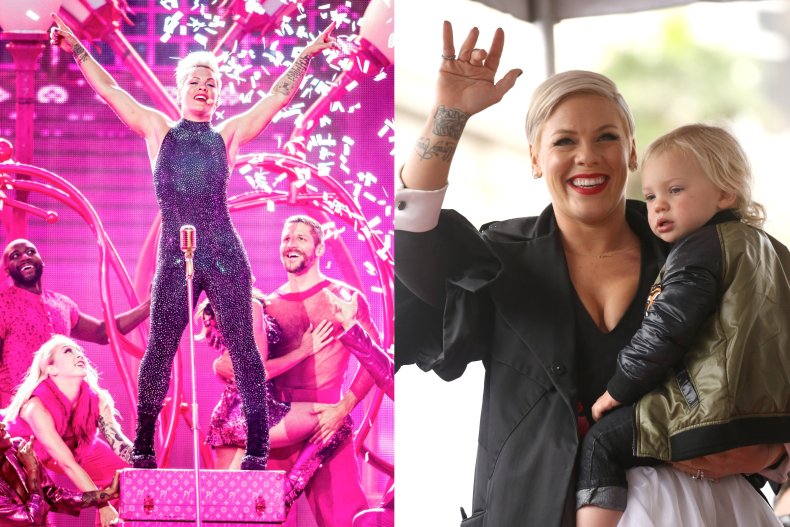 "Let's be clear: if you believe the government belongs in a woman's uterus, a gay persons business or marriage, or that racism is okay," Pink wrote on Twitter, before continuing, in all caps, "Then please in the name of your lord never f******listen to my music again."
She added, "And also f***right off. We good?"
The singer's tweet gained a lot of attention online, with hundreds of thousands of people liking, retweeting and commenting on it. Pink didn't back down though, and replied to a number of comments in the following days, fighting back at many who criticized her.
One tweet that seemingly got out of hand was sent by Kenny vs Spenny comedian Spencer Rice, who tweeted about Pink: "I hope her agent survives the stroke." Pink responded to the joke stating: "I am my agent. We're fine."
From that point, Rice received several angry messages from many people on Twitter, which led to him posting a video confirming it was a joke, and replying to Pink again telling her that her fans really have her back. She wrote back and told her fans to leave Spenny alone.
She continued her vocal criticism of the Supreme Court's decision on Sunday, and any supporters of their anti-abortion stance.
"I think all of our nerves are collectively fried from so many years of racism, misogyny, homophobia, etc. +pandemics, mass shootings, wars and the total lunacy, hypocrisy, ignorance of the GOP-it's all a bit much. But we will stick together. Good will prevail over evil." Pink continued, "And to all of you sad, old white men asking me if I still make music. I realize you're out of touch- so ask your kids.... Oh wait- you can't. They hate you."
On June 24, the Supreme Court ruled 6-3 to uphold the Mississippi's Gestational Age Act, which was a 2018 ruling that banned abortions after the 15th week of pregnancy, with exceptions only for medical emergencies or fetal abnormalities.
Pink's representatives were not available for further comment when Newsweek reached out.