'Irreparable Harm': Celebrities React to Repeal of Roe v. Wade
A host of celebrities took to social media on Friday to share their reactions to the Supreme Court overturning Roe v. Wade, the landmark 1973 case that protected abortion rights.
Justice Samuel Alito wrote the majority opinion in the Dobbs v. Jackson Women's Health Organization decision, which involved a dispute over a Mississippi law that would ban most abortions after the 15th week of pregnancy.
Abortion rights activists had been bracing for Roe's fall after a leaked draft opinion published by Politico in May showed a conservative majority of justices appeared ready to use the case to undo almost five decades of precedent.
The decision allows for abortion bans in roughly half of the states in the U.S. Thirteen states, mainly in the South and Midwest, already have laws on the books that ban abortion if Roe was overturned, the Associated Press reports.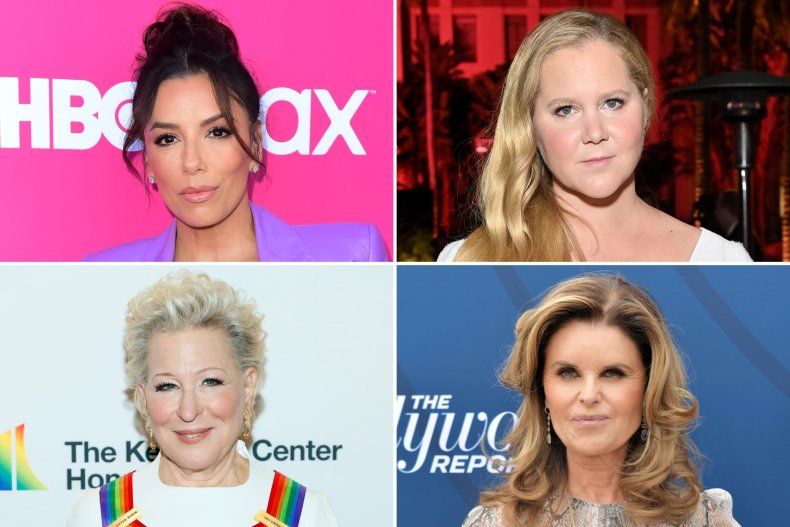 Another half-dozen states have near-total bans or prohibition after six weeks of pregnancy.
In other states, there will be battles over dormant abortion bans that were enacted before Roe was decided in 1973 or new laws that strictly limit when abortions can be performed.
As news of the decision circulated on Friday, a host of celebrities took to social media to express their outrage.
Bette Midler put out a series of furious tweets in reaction to the decision, as she branded the headline-making decision "absolutely tone-deaf."
"They did it. THEY DID IT TO US! #SCOTUS has overturned #RoevWade, enshrined in the Constitution as settled law for over 50 years," wrote the singer and actress. "How dare they? This #SCOTUS is absolutely tone-deaf to the will and even the actual needs of the American people. #WakeUpAmerica."
Midler then took aim at a person on TV for "saying, 'have your baby and then give it up for adoption; adoption is a beautiful and noble thing to do.' She's delusional. Many babies are never adopted but are shunted from foster home to foster home where they are abused & used as slaves until they age out.
"This is so short-sighted and selfish of the right wing. 1) it's none of your goddamned business what I do with my body! 2) the country will soon be littered with orphans that no one wants; are they going to raise every unwanted child to adulthood? No f****** way!
"They won't even pay for teachers and decent schools! They won't pay for child care! They want more white people and don't care how they get them or what shape they're in when they are grown."
"GET READY, GAYS. YOU'RE NEXT," Midler further warned on Twitter.
Amy Schumer reacted to the news by sharing a series of Instagram Story posts from writer and producer Tracie Egan Morrissey, who said: "Late term abortions via school shootings are still available."
"We shouldn't determine our rights by interpreting the intentions of a bunch of slave-owning rapists who'd been dead for hundreds of years," the posts continued.
"And women's bodily autonomy should not be determined by men who've been accused of sexual assault," another post read.
Actress Lynda Carter tweeted: "The Dobbs decision is a tragedy. The heartbreak this has caused is immeasurable. But someday, hopefully soon, we WILL find our way to a future where reproductive freedom is forever enshrined in federal law."
When a Twitter user said that the decision kicks abortion rulings back to state level, the Wonder Woman star responded: "The people of Texas, Louisiana, Oklahoma, and many other red states shouldn't have to travel for abortion care."
Maria Shriver also weighed in on the matter from her Twitter account, as she shared: "I'm heartbroken by this decision. It makes millions of women unsafe, unseen, unprotected as we now are. It makes me feel as though all of our progress has been rolled back in an instant. Make no mistake, this is a devastating blow to women's rights."
"As heartbroken as I am, as pissed off as I am, I refuse to be silent. I refuse to give up," she continued. "Women across this country are going to rise up like you've never seen. If you thought we were a lot before, just wait."
"This is about controlling women, keeping them down, keeping them without rights," she continued. "This is incredible in this day and age, just stunning."
After calling the decision "devastating," Shriver stressed the importance of presidential elections, explaining: "Remember once again, who you vote for for president matters. They pick the Supreme Court. So when you voted against Hillary [Clinton], this is what we got."
"We are not the greatest country in the world." Actress Valerie Bertinelli tweeted on Friday.
"The majority of Americans want stricter gun laws and more access to healthcare, she said in a follow-up tweet. "The minority of white Christian nationalists run our country and are not Christian in any sense of the word. We are NOT the greatest country in the world."
In a lengthy Twitter thread, TV personality Padma Lakshmi said that the ruling will only serve to negatively impact the safety of those seeking abortions.
"People will still get abortions," she wrote. "These procedures won't stop just because Roe v. Wade is overturned. This will only prevent safe, legal abortions from taking place."
"People who have the money, time, and resources will still find avenues for their procedures," she continued. "But the most vulnerable of our community? What choices are those individuals, who are mostly BIPOC, left with? This is the catalyst for a public health crisis.
"The right to decide when to start a family or not is a choice every individual should be able to make on their terms when the time is right for them. This freedom and dignity is something we should all fight to preserve."
"I wish more people understood that the decision to have an abortion is deeply personal and complex," Lakshmi concluded. "It's a decision that should be treated with compassion and empathy, not vilified or criminalized."
Actress Emily Osment also spoke out against the decision as she slammed the "regressive" Republican party in a since-deleted tweet.
"Senate passes gun control bill the same day Roe v Wade is overturned," she tweeted. "Every glimmer of hope is bashed down by the regressive GOP. Can I please speak to the manager I would like my money back for this death carnival. Sending love to all my people with a uterus today."
Osment later shared another tweet about the gun safety legislation, writing: "Look! Something good in your timeline while the GOP rewrites our access to basic and fundamental rights!"
Eva Longoria called the decision an "attack on women's freedom" on her Instagram story, as she shared a tweet denouncing the decision from former President Barack Obama.
Ireland Baldwin was no less retiring in her assessment of the day's news, writing on her Instagram story: "F*** this absolutely disgusting country. 'Well move.' Maybe I will. I'm ashamed to be an American."
Comedian and TV personality Michelle Collins said on Twitter that anyone celebrating the news "can choke," adding: "Democrats we need to start electing criminals into Congress, intimidating figures who these clammy Republicans f***s won't come near. This is all I've got. I need to see fear in their eyes."
"We need to start a gofundme to pay off women who have personally had their abortions paid for by Republican officials and Republicans to come forward. Won't do anything but I need it," Collins continued.
"The thing is our lives, livelihoods, health, futures just don't matter to these people," she added.
Author Marianne Williamson said of the decision: "I don't understand protecting a fetus but refusing to protect a child."
"This will change us," she added. "It SHOULD change us. Irreparable harm is going to be done, great suffering will occur because of this. Never again should women assume our rights will be protected by anyone but ourselves.
"I hope lots of young women are thinking now 'Damn it, I'm gonna run.'"