Pips Bunce, Credit Suisse Executive, Attacked Over 'Gender Fluid' Identity
Credit Suisse executive Pips Bunce has faced a slew of attacks over gender identity on social media with some calling the director mentally ill.
The investment banking company based in Switzerland saw a drop in share price this week, reinvigorating fears that a banking crisis is ahead.
Bunce's LinkedIn page says they go by she/her/they pronouns and that they are the Director/Head of Global Markets Technology Core Engineering Strategic Programs at Credit Suisse.
The share price of Credit Suisse dropped more than 20 percent on Wednesday and some social media users have taken to attacking Bunce as a reason for its difficulties.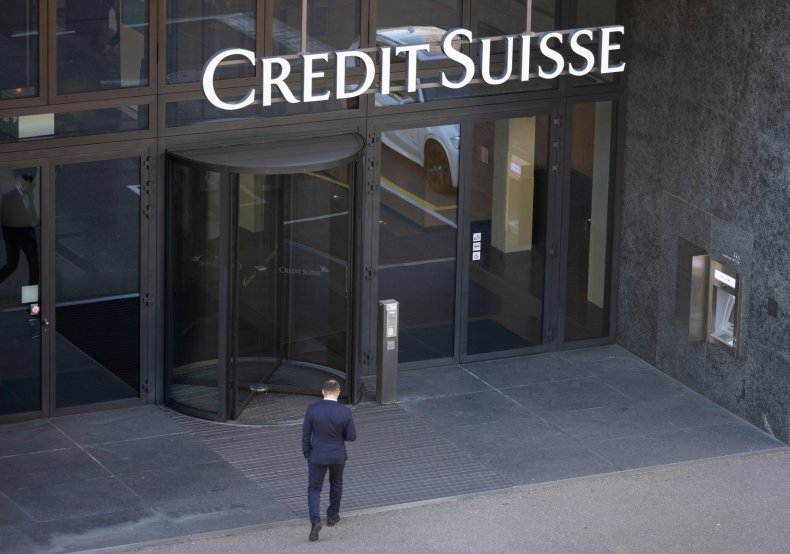 Jordan Schachtel, an investigative journalist and writer for The Dossier, shared Bunce's LinkedIn picture while also commenting on their gender identity.
In a tweet that has been viewed more than 5 million times since being shared on Thursday, Schachtel wrote: "The head of global markets at Credit Suisse is a mentally ill "gender fluid" man who sometimes believes he wakes up as a woman.
Schachtel followed his initial tweet with others highlighting instances in which Bunce discussed gender issues. This included a LinkedIn status by Bunce that highlighted they had been recognized by the Bank of London as being a shortlist for the Inspirational Role Model of the Year award.
Social media user Timjbo shared the posts and suggested Bunce's gender identity was relevant to the company's recent struggles.
He tweeted: "The head of Global Markets Credit Suisse Pips Bunce, She/Her/They #GoWokeGoBroke."
Surajit Dasgupta, the founder of Swadharma & Sirf News according to his Twitter bio, also weighed in and tweeted: "Pippa "Pips" Bunce (born Philip Bunce): How to loot as a man and then play victim as a woman[.] This is the woke world for you."
Amit Thadhani, a practicing surgeon according to his bio and a podcast host, also took issue with Bunce's identity.
He tweeted: "This isn't 'gender fluidity'. It's living out your deep fantasies and legitimizing them socially with a fancy title.
Credit Suisse's share price drop comes after the California-based Silicon Valley Bank (SVB) failed last week.
SVB collapsed despite having "approximately $209.0 billion in total assets and about $175.4 billion in total deposits" as of December 31, 2022, according to the Federal Deposit Insurance Corporation.
"Credit Suisse has about $578 billion in assets. This is a much bigger problem in the making, Genevieve Roch-Decter, CEO of Grit Capital, wrote in a tweet.
On Wednesday, Credit Suisse Chairman Axel Lehmann spoke at a financial conference in Saudi Arabia and was asked about possibly receiving assistance from the government if further issues occur.
"We are regulated, we have strong capital ratios, very strong balance sheet, we are all hands on deck, so that's not a topic whatsoever," Lehmann said, according to the Associated Press.
When contacted by Newsweek Credit Suisse declined to comment.
Update 03/18/23 10:15 a.m. EDT: This article was updated to clarify that Credit Suisse declined to comment.