Credit Suisse Is 'Tip of the Iceberg'
Credit Suisse's major drop in share price on Wednesday is unlikely to be the end of Wall Street's current pain, prompting some experts to say that it is the "tip of the iceberg" for the economy going forward.
"If you think about where we were a year ago, the Fed was just starting its rate-hiking cycle. So over the next couple of quarters you're going to get those long and variable, cumulative and lagged impacts hitting the market further," Bob Michele, the global head and CIO of fixed income at J.P. Morgan Asset Management, told Bloomberg TV. "So I think this is the tip of the iceberg. I think there's a lot more consolidation, a lot more pain yet to come."
Nouriel Roubini, an economist and CEO of Roubini Macro Associates, told Newsweek Michele's "tip of the iceberg" remark is "not an exaggeration." He added: "It's a huge bank in a small country, too big to fail, too big to be saved, and if it were to collapse it will be liminal, not just for Europe but also globally."
Michele's and Roubini's comments came shortly after the share price of Credit Suisse, a global investment bank based in Switzerland, dropped by over 20 percent on Wednesday morning. Last week, the U.S.-based Silicon Valley Bank, collapsed prompting widespread concerns about the health of the U.S. banking system.
Silicon Valley Bank "had approximately $209.0 billion in total assets and about $175.4 billion in total deposits" as of December 31, 2022, according to the Federal Deposit Insurance Corporation.
"Credit Suisse has about $578 billion in assets. This is a much bigger problem in the making," Genevieve Roch-Decter, the CEO of Grit Capital, wrote on Twitter.
Speaking to Reuters on Wednesday, the head of the Saudi National Bank, which is the largest shareholder in Credit Suisse, said it could not purchase any additional shares of Credit Suisse.
"We cannot because we would go above 10 percent. It's a regulatory issue," Saudi National Bank Chairman Ammar al-Khudairy told Reuters.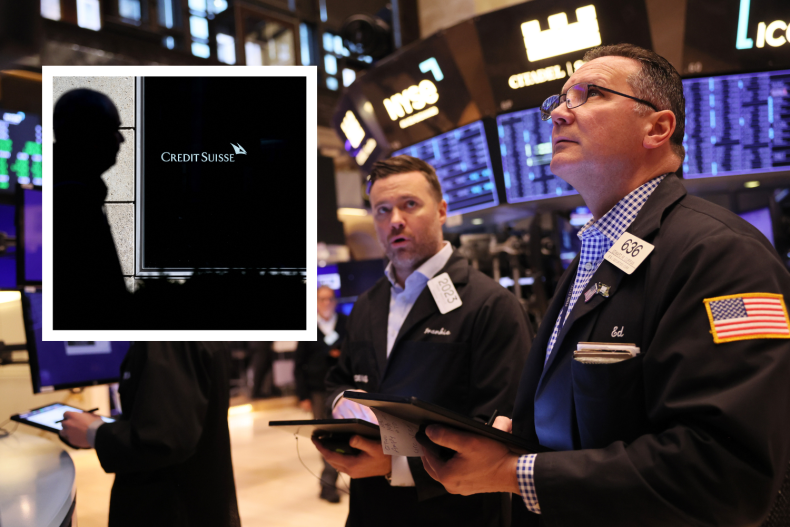 According to Reuters, the Saudi bank currently has a 9.88 percent stake in Credit Suisse.
"I don't think they will need extra money. If you look at their ratios, they're fine. And they operate under a strong regulatory regime in Switzerland and in other countries," al-Khudairy told Reuters.
In an annual report published Tuesday, Credit Suisse said that it had noticed "material weaknesses" in the "internal control framework designed for the preparation of the financial statements."
Credit Suisse Chairman Axel Lehmann spoke at a financial conference in Saudi Arabia on Wednesday and was asked about possibly receiving assistance from the government if further problems arise.
"We are regulated, we have strong capital ratios, very strong balance sheet, we are all hands on deck, so that's not a topic whatsoever," Lehmann said, according to the Associated Press.
A spokesperson for JPMorgan Chase declined to make comments after Newsweek reached out via email. Newsweek also contacted Credit Suisse via email for comment.
Correction, 3/15/23, 2:55 p.m. ET: This story has been updated with the correct title for Bob Michele, the global head and CIO of fixed income at J.P. Morgan Asset Management.
Update, 3/15/23, 3:14 p.m. ET: This story has been updated with further information.