Pit Bull Mauls 89-Year-Old Grandmother to Death: Police
An 89-year-old grandmother was mauled to death by a pit bull, according to Nevada police officers.
The Las Vegas Police Department (LVPD) was first alerted to reports that a woman was being attacked by a dog in the 4100 block of Pennwood Avenue at about 9:45 a.m. on Tuesday.
Every year millions of Americans are bitten by dogs and hundreds of thousands need to be treated for those bites.
According to the Centers for Disease Control and Prevention, more than 4.5 million people are attacked by dogs and 800,000 need treatment for bite injuries.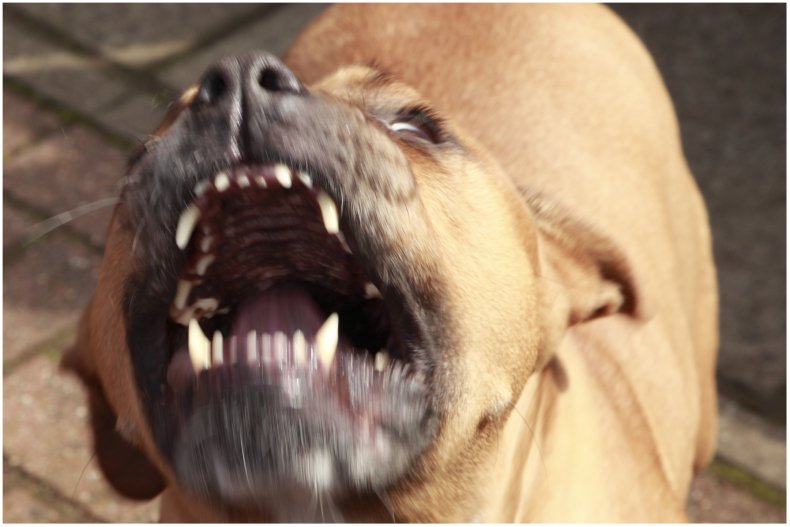 Responding emergency service personnel pronounced the woman died shortly after they arrived at the property, according to Fox-affiliated KVVU-TV.
When police arrived they found a dog at a nearby home and handed the pet over to animal control.
According to the network, the victim was identified as dementia sufferer Joan Caffiel and was being watched over by a caregiver when the dog attacked.
Peyton Faircloth, Caffiel's grandson, told KVVU-TV: "She called me and she was screaming."
He said the pit bull, Buc, was a rescue dog and that he had not been aggressive in the six years since he owned the pet.
Faircloth continued: "There was not a mean bone in that dog's body, that dog would sleep with us every night and he loved grandma."
Newsweek has contacted the LVPD for comment.
The American Veterinary Medical Association said most dog bites are preventable as long as you follow several key steps, which include:
Socializing your dog by introducing them to people and other animals when it is a puppy to help it feel more at ease when around them as it gets older.
Use a leash in public to make sure that you are able to control your dog should it become aggressive.
Be a responsible owner by taking your pet out for regular exercise, neutering or spaying it, choose a dog that is right for the family and ensure it gets proper training.
Educate your children about how and whether to approach a dog.
Avoid risky situations to know how to avoid escalating risky situations and to understand when you should not interact with a dog.
Pay attention to a dog's body language and observe if it appears stressed, frightened, or threatened.
And, never pet a dog when it is not with its owner, is sleeping or eating, is sick or injured, playing with a toy, is resting with their puppies.