Dog Fatally Mauls 70-Year-Old Woman in Her Own Backyard
A 70-year-old woman was fatally attacked by a pit bull in her backyard on Wednesday, police in Long Island, New York, said.
At about 11 p.m., police responded to a call about a dog attack in Albertson.
"Officers entered the yard and attempted to render aid for a woman who was being viciously attacked by a dog," the Nassau County Police Department wrote in a press release. "Upon entry of the yard, a seven-year-old pit-bull aggressively charged the Police."
The woman was pronounced dead at the scene. Police said an officer fatally shot the dog.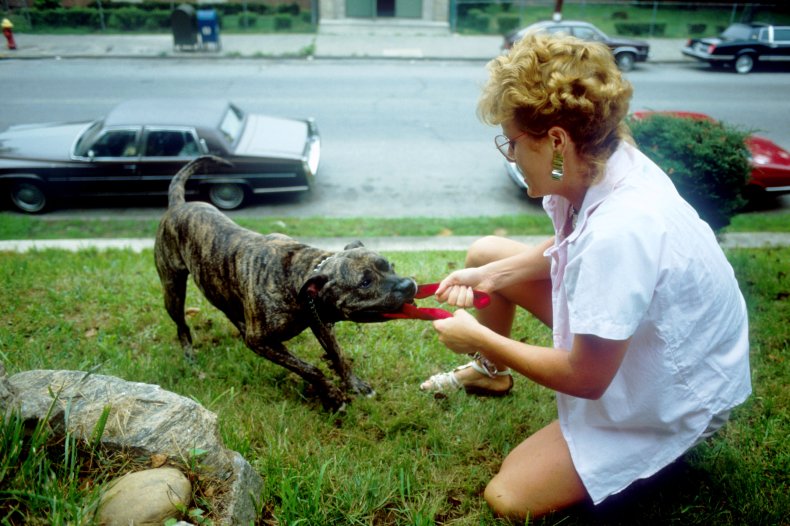 According to the New York Post, the dog belonged to the victim's stepson, who died a few weeks earlier. Police believe the dog had been living at the woman's home its whole life.
"We don't know what turned the dog or why the dog turned on the woman," Nassau County Police Commissioner Patrick Ryder said at a press conference, according to the New York Post. "There had been no previous domestic calls to the home or calls regarding the dog."
The commissioner added that "the scene was pretty horrific."
"We don't know what time the attack took place, but there was obviously a lot of mutilation on the body and the arm, the face, the legs," Ryder said. "The officer saw something that was very traumatic. We take care of our officers and make sure they're OK."
Newsweek reached out to the Nassau County Police Department for additional comment.
In a separate incident this month, a woman in the United Kingdom was mauled to death by her pet dog that a family member said "turned mad in the extreme heat."
"It must have set them off....There's a saying about mad dogs going out in the midday sun," a relative, Dotty Robinson, told British media organizations.
Also this month, a 13-month-old was mauled to death by a dog in Louisiana. CBS affiliate KSLA said officers didn't know what the dog's breed was or if it belonged to the child's family. Additionally, a 4-year-old was fatally attacked by a dog in her own home in Texas.
The Centers for Disease Control and Prevention has said that children are most at risk of becoming victims of dog bites.