Plane Forced to Divert After Passenger Repeatedly Refuses to Wear Mask
A flight from Gran Canaria to Madrid had to be diverted on Thursday when a passenger refused to wear a mask. The Spanish domestic Air Europa flight had to be diverted to Malaga airport, where the passenger was met by the Civil Guard.
The flight was due to arrive in Madrid around 9 p.m. local time but was delayed by the passenger who refused to wear a mask after being asked repeatedly by the crew, according to La Vanguardia.
The crew then had to divert to Malaga airport where Civil Guard agents met the passenger. The flight then headed toward Madrid without the passenger.
Wearing a face mask on board an Air Europa flight is now mandatory. Air Europa also has other health and safety measures in place like screens at check-in and customer service desks, social distancing when boarding and disembarking, disinfectant gels, and all staff wear masks and gloves.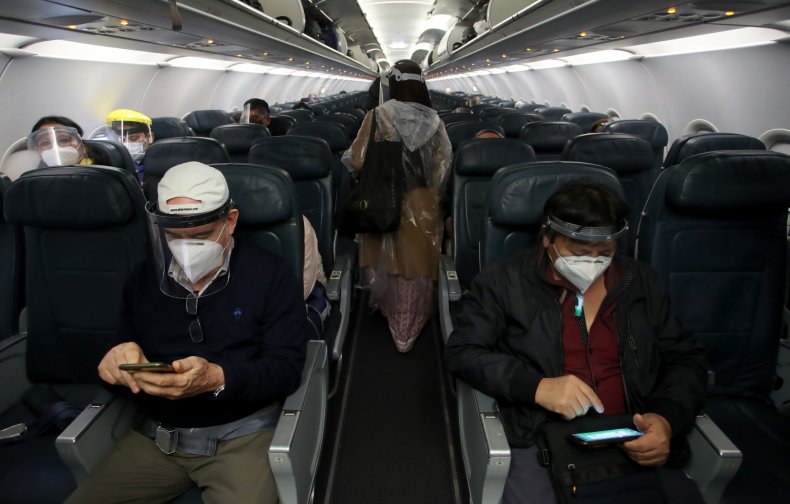 Passengers in the U.S. have also been removed from planes for refusing to wear face masks.
In June, a man who boarded an American Airlines flight from New York's LaGuardia Airport to Dallas/Fort Worth refused to wear a mask and was asked to leave the plane. American Airlines has required its customers to wear face-coverings while on the plane since May 11.
In July, passengers on an American Airlines flight clapped as a woman who refused to wear a mask was forced to leave the plane.
In a statement, Alison Taylor, Chief Customer Officer of American Airlines, said: "According to the Centers for Disease Control and Prevention (CDC) one of the best ways we can slow the spread of COVID-19 is to wear a face covering.
"Customers and team members have been clear that they feel more safe when everyone is wearing a face covering. In light of this important feedback, we are expanding and enhancing our requirements onboard and at airports."
In a statement calling on Americans to wear face masks, CDC Director Dr. Robert R. Redfield said: "We are not defenseless against COVID-19.
"Cloth face coverings are one of the most powerful weapons we have to slow and stop the spread of the virus—particularly when used universally within a community setting. All Americans have a responsibility to protect themselves, their families, and their communities."