Watch Playboy's White House Correspondent Hit Back at Sarah Huckabee Sanders For Calling Russia Investigation a 'Hoax'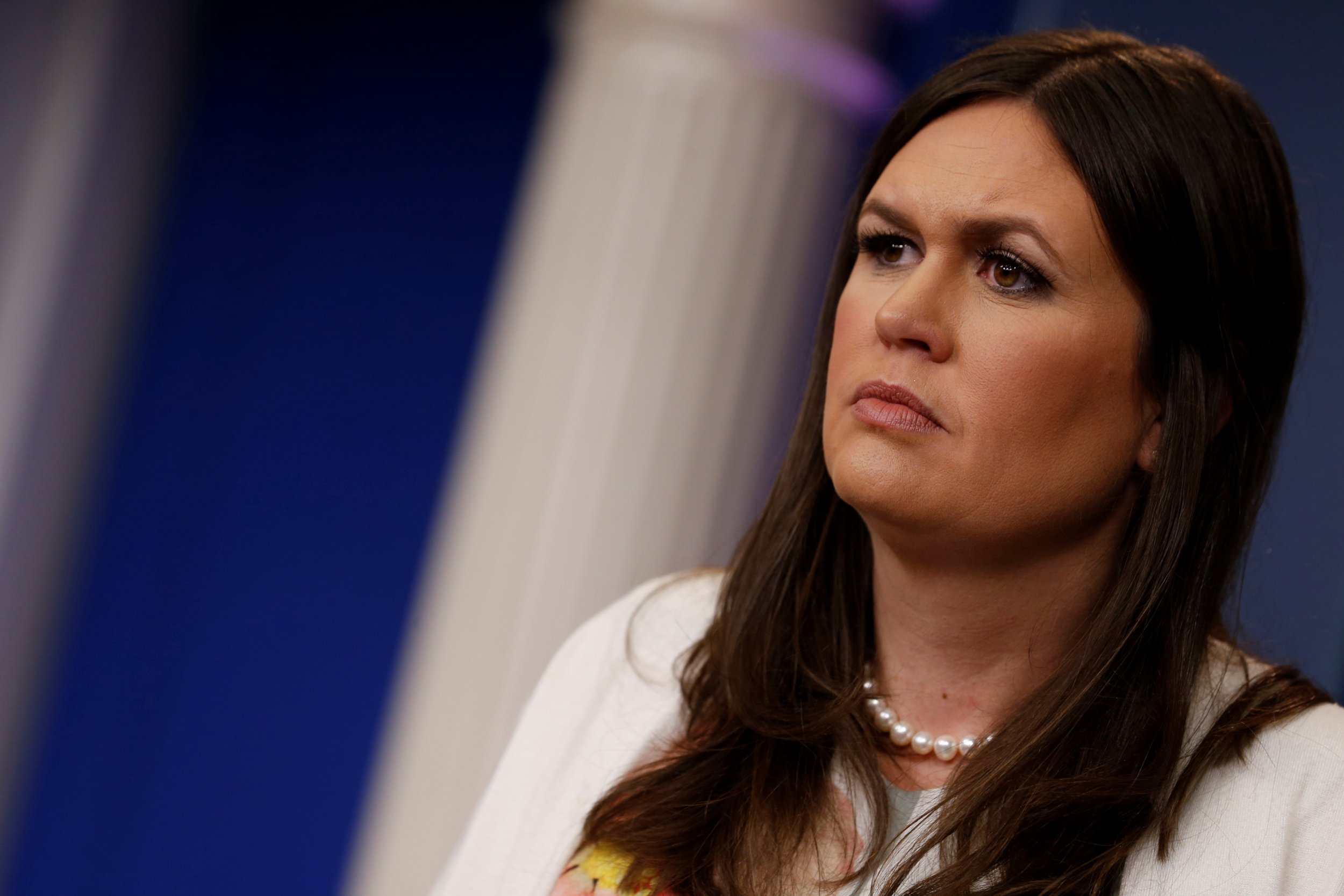 Updated | Playboy's White House correspondent confronted Deputy Press Secretary Sarah Huckabee Sanders at the daily press briefing Tueday in a heated exchange after she called the Russia investigation a "hoax" and slammed CNN for retracting a story.
"We've been going on this Russia-Trump hoax for the better part of a year now with no evidence of anything," Huckabee Sanders said.
She cited the fact three journalists resigned from CNN for a story the network retracted last Friday quoting an anonymous source claiming Congress is "investigating a Russian investment fund with ties to Trump officials." An internal investigation at the broadcaster found the story "wasn't solid enough to publish as-is."
Trump has been angered by media coverage of the ongoing Russia investigation and called it a "hoax" last week. It's the "constant barrage of fake news directed at this President" Huckabee Sanders said, defending President Donald Trump's tweets early Tuesday condemning broadcasters CNN, NBC, ABC, CBS, and the New York Times and Washington Post as "fake news."
America's intelligence agencies issued a report in January that found Russian operatives hacked American political parties, state election infrastructure, and executed a misinformation campaign to tilt the 2016 election toward Trump. Special Counsel Robert Mueller and Congress are now investigating whether Trump's campaign team and associates were involved in the operation.
Stories citing unnamed sources have revealed that Trump's campaign team, including his former campaign chairman Paul Manafort and fired National Security Adviser Michael Flynn, had contacts with Russian officials throughout the campaign. Anonymous U.S. officials and sources have also revealed Trump asked his senior intelligence and law enforcement officials to intervene in the Russia investigation.
Read more: Sarah Huckabee Sanders avoids question about taking vver Sean Spicer's job
Nevertheless, as proof that the Russia investigation is "fake news" Sanders told the press corps Monday they should watch a video of CNN Health Supervising Producer John Bonifield stating the Russia story "could be bull s**t" and that there's "no smoking gun."
"I think that we have gone to a place where if the media can't be trusted to report the news, then that's a dangerous place for America," Sanders said.
But Playboy's Brian Karem was having none of it. "Does the President actually expect us not to report on stories of a foreign country trying to influence the presidential election?" he interjected.
Sanders shot back that reporters should report "actual news if there's something there."
"News outlets get to go on day after day and cite unnamed sources, use stories without sources," she said.
"Sarah, that's—come on. You're inflaming everybody right here and right now with those words. This administration has done that as well," Karem countered.
At various times Trump and the White House have claimed President Barack Obama tapped his phones in Trump Tower, that he had the largest inauguration crowds ever, or that millions of people voted illegally in the election. Last week the New York Times published a list of lies the president has told while in office.
"Any one of us, right, are replaceable, and any one of us, if we don't get it right, the audience has the opportunity to turn the channel or not read us," Karem continued. "Everybody in this room is only trying to do their job."
"We're here to ask you questions, you're here to provide the answers, and what you just did is inflammatory to people all over the country who look at it and say: 'See, once again, the president is right and everybody else out here is fake media'," he said.
"Six months of being bullied by this administration, being told we are the enemy of the people and how the administration supports the First Amendment—just not the people who practice it—and I'd had enough," Karem wrote later in an opinion piece about the confrontation.
"The president has never admitted one mistake," he said, and "the current administration sells half-truths and lies like they're day-old cookies at a bake sale.
Correction: An earlier version of this story mistakenly said that the press briefing happened Monday when it happened Tuesday. It also incorrectly stated three reporters resigned from CNN; these were two editors and one reporter.