'Pokémon Go' Community Day: Shiny Rhyhorn, Start Time, Rock Wrecker & More
The next Pokémon Go Community Day is almost here, and Niantic changed the selection process this time around.
Pokémon Go players were tasked with voting for February 2020's Community Day spotlight, and Rhyhorn, the Ground and Rock-type from the Kanto region, won giving players a new Shiny and an exclusive move.
For a few hours, trainers will see Rhyhorn pop up in the overworld more frequently, and the chance of finding a Shiny Rhyhorn will increase.
If you're looking to take full advantage of Saturday's event, here's all the information you need.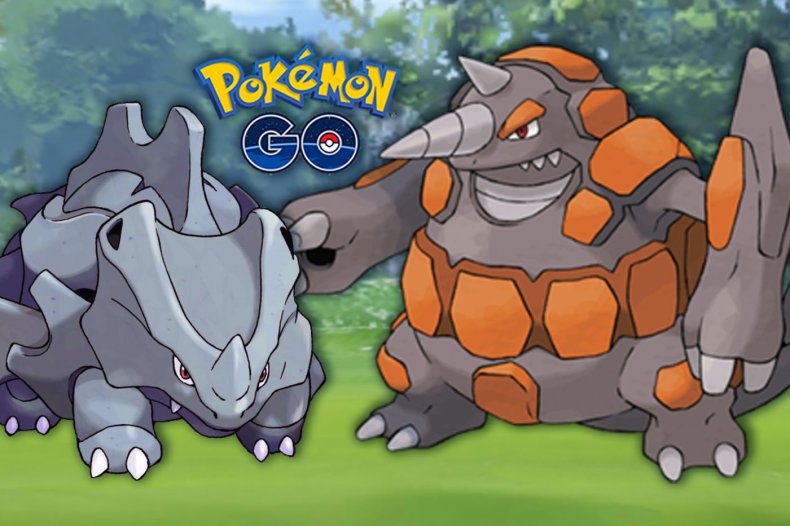 POKEMON GO RHYHORN COMMUNITY DAY START TIME
The Rhyhorn Pokémon Go Community Day event begins Saturday, February 22 from 11 a.m. to 2 p.m. local time if you're in the Northern Hemisphere, (that's Europe, North America, etc.) while the Southern Hemisphere event takes place between 3-6 p.m. local time.
SHINY RHYHORN
Rhyhorn's Shiny variant makes its Pokémon Go debut and it's one of the most noticeable forms in the franchise.
Shiny Rhyhorn goes from its gray coloring to an orange-brown color. Rhyhorn's shiny debut also marks the debuts of Shiny Rhydon and Shiny Rhyperior in Pokémon Go after evolution.
As with other Shiny Pokémon in the popular mobile game, trainers must encounter a Pokémon to determine if they've found its rare variant or not. The rate at which Shiny Pokémon appear is increased during the event times.
ROCK WRECKER
The event-exclusive move available during February 2020's Community Day is Rhyperior's signature attack, Rock Wrecker.
The Rock-type charged attack with 110 base power makes its Pokémon Go debut and is one of the strongest moves of that type in the game. Rhyperior is the only one who can learn it as long as trainers evolve Rhydon up to an hour after the event is over.
SINNOH STONES
Niantic announced on social media that, to help trainers get Rhyperior on Community Day, it'll be giving away Sinnoh Stones more frequently for a 24-hour period.
On Saturday, February 22 from 12 a.m. to 11:59 p.m. local time, trainers will earn two Sinnoh Stones for every set of battles completed in the Pokémon Go League. It should be noted that trainers will receive these evolution items whether they win or lose.
Rhydon needs a Sinnoh Stone to evolve into Rhyperior.
IN-GAME BONUSES
Other in-game bonuses in Pokémon Go during the Community Day event include three-hour Lures and three times the amount of Stardust earned for catching Pokémon.
What do you think of this upcoming Community Day? Where would you rank Rhyperior in terms of Rock-type attackers? Let us know in the comments section.