'Pokémon Go' Datamine Hints at Shadow Pokémon and Team Rocket
A new datamine of the latest Pokémon Go update may be hinting that Shadow Pokémon are coming to the popular mobile game.
According to renowned Pokémon Go dataminer, Chrales, update 0.147 has a lot of hints and mentions of Shadow Pokémon and purifying. There are lines of data for quests that mentions purifying Pokémon and Team Rocket.
Check out Chrales' tweet below.
There are also mentions of three new attacks - Frustration, Return and Synchronoise - coming to Pokémon Go. It could be saved for a Community Day or another future event.
A new item called the "Route Maker" was found as well as a new encounter type called "invasion." This "invasion" mechanic has to do with different types of trainers. Chrales lists the trainer types in his above tweet.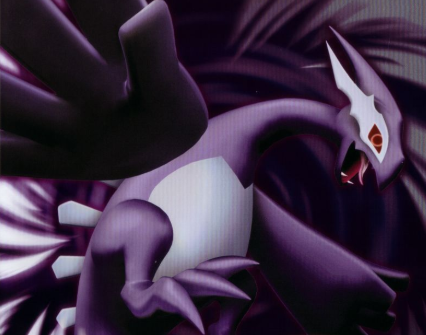 Shadow Lugia as seen in 'Pokemon XD Gale of Darkness'
Pokemon Company
Other mentions of purifying Pokémon and Team Rocket were found in lines of code for new badges. Trainers can obtain a badge for defeating certain numbers of Team Rocket grunts and another for the amount of Pokémon that were purified.
While there was no mention of "shadow" Pokémon found in the code, the purifying aspect harkens back to the Pokémon Colosseum and Gales of Darkness Nintendo GameCube games. In those titles, players explore a new region where certain Pokémon have turned into shadow versions of themselves.
Players were tasked with capturing these Shadow Pokémon away from trainers and purifying them. In those games, the process of purifying comprised of battling with the Shadow Pokémon and calling out to it when the darkness was building up.
Chrales' tweet also provides a list of Pokémon that need to be purified. This includes the Kanto starter Pokémon, the Dratini line, Snorlax, Zubat and Rattata lines as well as the Mudkip line.
The Mudkip line seems to be out of place, but Niantic did just announce the next Community Day in July will feature Mudkip. Whether these new features will appear with the upcoming event is unknown, but Pokémon Go fans should keep an eye on the official social media accounts for the latest.
What do you think of Shadow Pokémon possibly coming to Pokémon Go? Let us know in the comments section below.