Pokémon Go Fest 2020: Start Time, Research Tasks & Everything You Need to Know
The biggest event in Pokémon Go is finally here! Pokémon Go Fest will be a bit different this year, compared to years past, as attendees will be taking part from anywhere in the world as opposed to one location.
But Niantic has created an event that will take advantage of the online aspect of this year's festival that anyone can enjoy.
And just know that it's not too late to join Pokémon Go Fest. A ticket will cost trainers $14.99 so they can take part in the two-day event. The Go Fest ticket is available in the in-game shop.
With research tasks that the world will try to complete together, and rare Pokémon, this year's Pokémon Go Fest is shaping up to be a doozy. Continue reading to learn everything you need to know about Pokémon Go Fest 2020.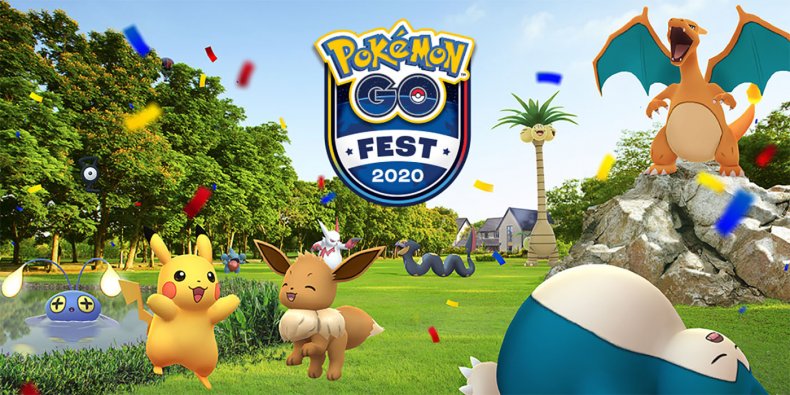 POKEMON GO FEST 2020 START TIME
Day 1 of Pokémon Go Fest begins Saturday, July 25, from 10 a.m. to 8 p.m. local time.
Day 2 of Pokémon Go Fest begins Sunday, July 26, from 10 a.m. to 8 p.m. local time.
PREPARING FOR POKEMON GO FEST 2020
There are a couple of things trainers can do before Pokémon Go Fest starts, to get ready for the two-day event.
First, you'll want to update your mobile app to the latest version. This will provide players with the smoothest experience when playing during Pokémon Go Fest.
Secondly, Niantic recommends trainers be at Level 10 before Pokémon Go Fest begins, to get the most out of the festival. If you're on the cusp of this level, go out and catch a ton of Pokémon using Incense and be sure to use a Lucky Egg to increase the amount of experience gained.
Speaking of Incense, this item will last for one hour during Pokémon Go Fest and will attract featured Pokémon to you wherever you are, even from your couch. Don't be afraid to use them during this event.
Niantic released a special code that trainers can redeem in Pokémon Go to earn helpful items. Input the following code in your Pokémon Go mobile app to pick up 10 Ultra Balls, 10 Max Potions and one Sinnoh Stone: 5PTHMZ3AZM5QC
POKEMON GO FEST DAY 1
Now that the first day is here, what can you expect?
Well, when you open up Pokémon Go during the event window, a Special Research story will begin. Follow Professor Willow's instructions to complete the first part of the story.
There will also be five rotating habitats in the game's overworld for players to enjoy. They are themed around fire, water, grass, battle and friendship. Each habitat will feature a special Pokémon that goes along with the theme.
Each habitat will rotate every hour, with each one featuring twice during Day 1.
Niantic notes that trainers should save their gifts for when the friendship habitat is in play, as you're only allowed to collect 200 gifts on Day 1; keep that in mind.
Trainers will also be able to participate in the Global Challenge Arena, where players can join forces to complete certain challenges. Completing these challenges will earn everyone participating a bonus for the remainder of the hour.
There are 32 Global Challenges, and completing them will unlock special events in the weeks following Pokémon Go Fest. You can read more on those here.
POKEMON GO DAY 2
Niantic is keeping the secrets of Day 2 close to the vest, but know that logging in on Sunday will start a second Special Research story.
We'll update this section when we learn more.
POKEMON GO FEST RESEARCH TASKS
The Special Research story and the various challenges that appear for Pokémon Go Fest ticket holders will have a number of tasks to complete. We'll update this section as soon as we learn more.
Expect this information around 5 p.m. EDT, when New Zealand starts Pokémon Go Fest.
POKEMON GO FEST VIRTUAL HUBS
For this virtual event, there will be various virtual streams that trainers can watch during the event. Trainers will want to check this link for all of the livestreams and VODs during the weekend.
The first stream will see Niantic CEO John Hanke give his keynote speech at 5 p.m. EDT to mark the start of Pokémon Go Fest in New Zealand. Additional content will also be broadcast. Be sure to take a break from your adventure and watch some behind-the-scene content from Niantic and The Pokémon Company.
Are you excited for this year's Pokémon Go Fest? Let us know what you're looking forward to most in the comments section.