'Pokémon Go' Update: More Alola and Shiny Pokémon to Appear This Summer
It's that time of year again! Niantic and Pokémon Go are celebrating the Summer with new global events that will give trainers special in-game bonuses and opportunities at rare Pokémon.
According to the official Pokémon Go blog, Global Research events will be split into four parts. The Americas; Europe, Africa and the Middle East; the Asia-Pacific region; and the main research site (those who are not attending the special Pokémon Go events).
During these events, trainers will have specific times to complete certain tasks and once the research is done, the world will have access to in-game bonuses. Here's a rundown of the special events, when they occur and what Pokémon Go players can expect.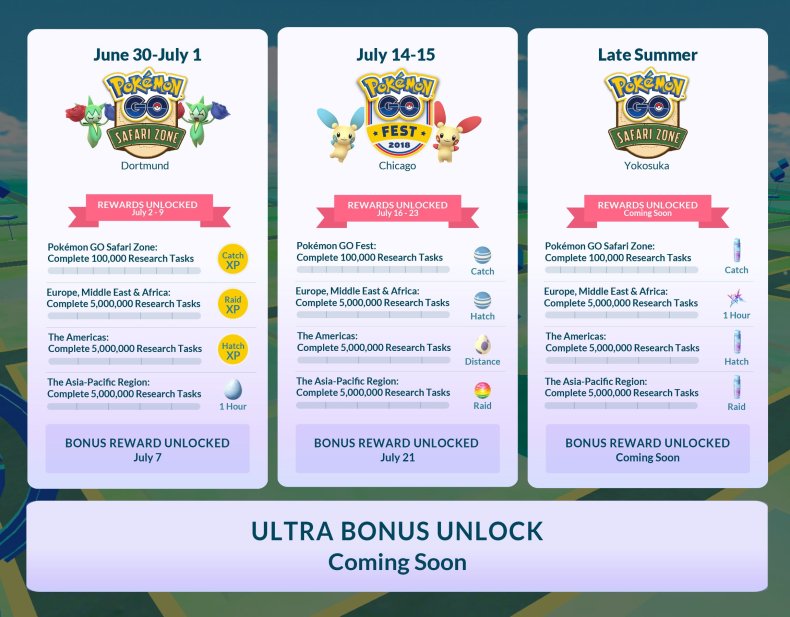 POKEMON GO SAFARI IN GERMANY
The first event is the Pokémon Go Safari in Dortmund, Germany. From June 30 to July 1, players who attend will see an increased spawns of Unknown and Corsola. When the tasks are completed, every Pokémon Go player will see increased spawns of Roselia, and have a chance at catching Shiny versions of the Grass and Poison-type.
POKEMON GO FEST IN CHICAGO
The second ever Pokémon Go Fest in Chicago takes place from July 14 and 15. Trainers who attend the event will see increased spawn of Trapinch and Feebas.
If a certain number of tasks are completed within that time, Plusle and Minun will begin to show up more frequently all over the world. This includes the chance at encountering both Electric types' Shiny variants. Alola Diglett and Alola Geodude will also begin to appear during that weekend, joining Exeggutor as the only Alola Pokémon in the game so far.
POKEMON GO SAFARI IN JAPAN
Information on the Pokémon Go S afari in Yosoku, Japan was not provided by Niantic but it was revealed that trainers can expect that even in late Summer. More information will be released closer to the event and we will update when it does.
What do you think of the Global Research events in Pokémon Go? Will you be attending any of them? Let us know your thoughts in the comments section below.