'Pokémon GO' Community Day March 2022: Start Time, Bonuses and Featured Pokemon
The Pokémon GO Community Day for March 2022 will be themed around a rare ground-type creature.
In case you're not familiar with these special events, Community Days occur on a monthly basis in Pokémon GO. Among other things, they give players a chance to accelerate their progress through the mobile game and to earn tantalizing rewards that might otherwise require a bit of grinding.
There is always a "Featured Pokémon" as well, which will appear more regularly for the duration of the event, enabling you to catch them with greater ease. For instance, Spheal became more prolific on January 16, while Shinx came out of hiding on November 21.
With all that said, Community Days are a great opportunity for trainers to stock up on items and fill in any annoying blanks in the Pokédex.
Although there are occasional exceptions (as in December), the events don't tend to last much longer than half a day, meaning that you'll need to clear some time in your schedule if you want to enjoy their benefits. Luckily, they are always scheduled for a weekend and at fairly convenient hours.
Here is everything you need to know about the Pokémon GO Community Day for March 2022, including when it will be held, what bonuses are going to be in effect, and which of the game's pocket monsters is featured.
When Is the 'PokémonGO' Community Day in March?
The next Pokémon GO Community Day is being held on Sunday, March 13.
As per usual, it will start at 11 a.m. and will end at 5 p.m. This is coordinated to your local time, which means that you don't have to worry about converting any of these hours into EST, GMT or PST.
What Is the Featured Pokémon?
When a Pokémon is featured in a Community Day, that means that it will be more abundant out in the wild. For March, the pocket monster in question is the armadillo-like Sandshrew.
According to Pokémon lore, these creatures are meant to be native to desert habitats (hence their yellow camouflage) and prefer to nestle underground. They have strong defensive skills, with the ability to curl up into a tiny ball so that only their armoured shell is exposed, and are resistant to poison, rock, and electric damage.
Two types of Sandshrew will be featured in March's Community Day. There is the standard breed and then also the icy Alolan species. There is a chance that you can get either of these as shiny variants too if you're really lucky.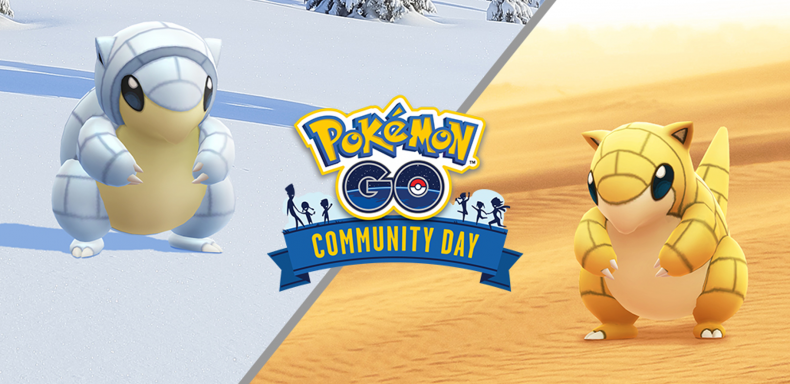 What Are the Community Day Bonuses for March?
In terms of the bonuses that will be active during the March Community Day, here is what's in store for players:
The distance you must walk in order to hatch eggs will be reduced down to a quarter of the usual amount
Any incense that you activate during the event will last for three hours, instead of 30 minutes
Similarly, lure modules will also last for three hours
A free bundle will be available to pick up from the in-game shop, containing 30 Ultra Balls
In addition to this, you will be able to buy a special Community Day Box for 1,280 PokéCoins. This will contain 30 Ultra Balls, three Super Incubators, five Lucky Eggs and 1 Elite Charged Technical Machine.
An official blog post teases that you will get a surprise reward for taking snapshots during the event
Limited edition stickers (depicting Sandlash) can be added to your collection by spinning PokéStops or opening Gifts. They will also be available via straightforward transactions at the shop
There will also be a limited-time research story that you can join during the Community Day. Known as "Gritty and Glacial" (in reference to how the Sandshrew and Alolan Sandshrew favor different climates), this comes with a $1 buy-in cost. More information about the research story will be revealed by the official Pokémon GO blog closer to March 13.