Team Go Rocket to Takeover 'Pokémon Go' Ads in New York City
This week Pokémon Go players have seen a lot of Team Go Rocket in the popular mobile game, but Niantic has one last surprise for trainers in the New York City area.
From 3 p.m. to 7 p.m. EST on Friday, July 26, Pokémon Go posters, billboards and digital advertisements throughout the city will be altered and "hacked" by Team Go Rocket.
Pokémon Go trainers are being tasked with exploring the New York City area to defeat Team Go Rocket Grunts at local PokeStops.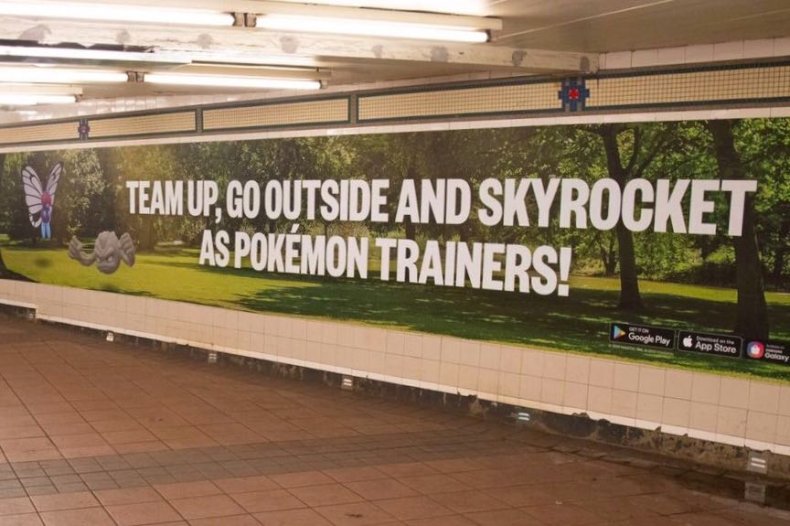 Trainers are also asked to report local sightings using #TeamGoRocket on social media.
Here's a map of where Team Go Rocket are expected to change and hack digital advertisements throughout the city.
Trainers will definitely want to head over to Herald Square to see the full extent of this takeover. We are also told to keep an eye above the Hudson River. There may be some Team Go Rocket activity taking place in the air.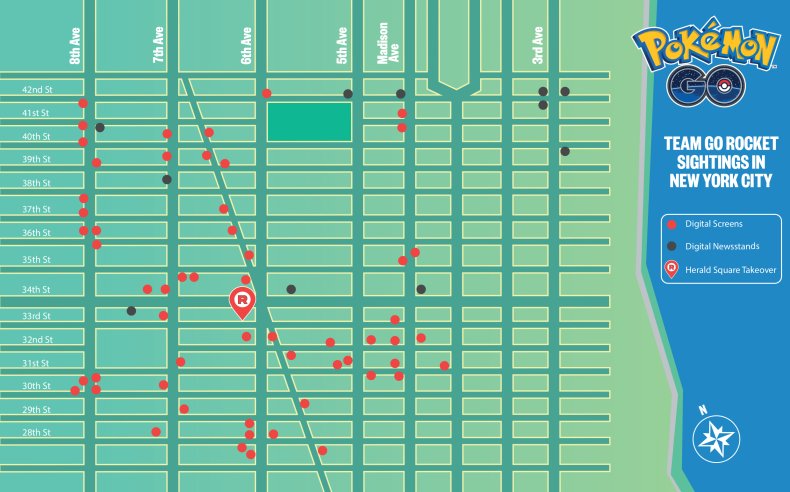 Team Go Rocket appeared in Pokémon Go earlier this week inside random PokeStops. These unique PokeStops have a different color—normally a darker shade of blue—and can be seen twitching and shaking in the game's overworld. Once a player approaches it, the PokeStop will turn completely black and a Team Go Rocket Grunt appears in the overworld.
After spinning the affected PokeStop, the Grunt will challenge you to a Pokémon battle using their Shadow Pokémon, a new version of the monsters. Defeating the Team Go Rocket Grunt will allow players a chance to catch one of the villain's Shadow Pokémon.
On Thursday, new Special Research Tasks were added to Pokémon Go. These missions task players with catching and purifying these Shadow Pokémon. Players will receive Pokémon encounters and more in-game items for completing these tasks.
Shadow Pokémon are different from their normal forms. Their "hearts have been shut" according to the game's lore by a mysterious process that teaches them the attack, Frustration. Purifying Shadow Pokémon takes stardust and that particular species' candy. When it is purified, Frustration turns into Return.
You can learn more about Shadow Pokémon and the purification process, here.
Have you found the Team Go Rocket takeover in New York City? Let us know your favorite Shadow Pokémon in the comments section below.