UPDATE: McDonald's has released a statement regarding the shortage of Happy Meals.
"We love seeing fans' passion for our limited-time Happy Meal promotion celebrating 25 years of Pokémon. With such significant demand for our promotional Pokémon TCG cards, and some fans even going to extreme lengths to get them, we're working quickly to address shortages and also strongly encouraging restaurants to set a reasonable limit on Happy Meals sold per customer. We want to offer the full Happy Meal experience to as many families as possible, and help ensure everyone is able to get in on the fun!"
Original Story
The Pokémon Company is celebrating its 25th anniversary in 2021 and McDonald's is getting in on the action with special Happy Meals that contain Pokémon cards and toys. However, it seems that adults are buying them up before anyone else can get to them.
Starting February 9, McDonald's Happy Meals will include a 25th Anniversary Special Edition McDonald's booster pack of Pokémon Trading Card Game cards. Each pack will contain four exclusive cards that depict the starter Pokémon of each region, Pikachu and much more. Stickers and toys are also available in the special Happy Meals.
There are 50 cards to collect in total with standard and foil versions of each card, and they all have the Pokémon 25 logo on them.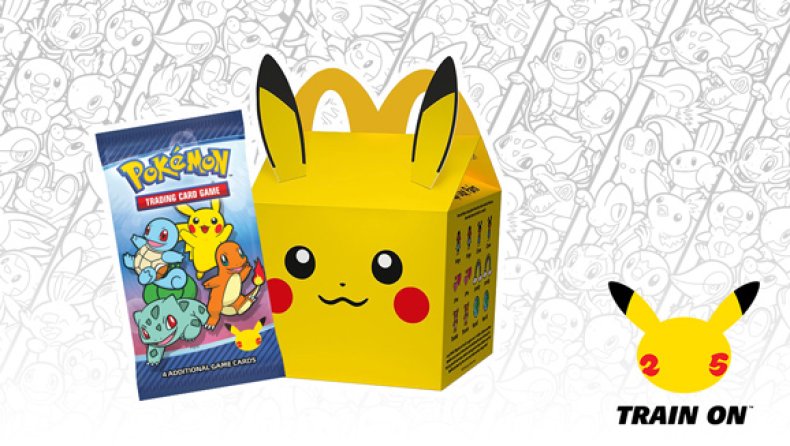 The value of older Pokémon cards have seemingly increased each week. The limited edition cards are only being sold with Happy Meals and it looks like adults are heading to their local McDonald's to purchase an exorbitant number of meals just for the cards.
Accounts on social media depict attempts at purchasing a Happy Meal for the cards, but being denied buying one because of certain customers.
"@McDonalds went to get a Pokémon happy meal and was told they didn't have anymore, someone bought 50 in one order..." One Twitter user wrote Tuesday, "Why do all these companies get to advertise stuff then not deliver when it's time to buy. Take a lesson from Xbox and Sony, stop scalpers from ruining your s***!"
Some collectors are also documenting their escapades on platforms such as Tik Tok.
Why are these customers buying up Happy Meals? For some, it's to resell on the secondary market at an inflated price.
A quick search on sites like eBay for the Pokémon 25th Anniversary McDonald's cards gives you listings selling unopened packs for at least ten times the amount an actual Happy Meal sells for.
A McDonald's Happy Meal sells for around $3 depending on the food you're ordering. Some re-sellers are attempting to sell one pack of cards for up to $30, and others are selling them in bulk for $100 or more.
There are also reports that some people are selling the Pokémon cards still in the original shipping boxes.
Newsweek reached out to McDonald's for comment.
In January, The Pokémon Company announced plans to celebrate the franchise's 25th anniversary that included the McDonald's Happy Meals and musical renditions from singer Katy Perry.
Pokémon Day is set for February 27.
Have you been able to purchase a McDonald's Happy Meal containing the special Pokémon cards yet? Let us know your experience in the comments section.