'Pokémon Sword and Shield' Adds Gigantamax Pikachu and More in the Wild Area for a Limited Time
A new Pokémon Sword and Shield update is bringing some exclusive Gigantamax Pokémon to the Wild Area for a limited time.
Late Monday, the Wild Area in Sword and Shield shifted to include more spawns of Gigantamax Pikachu in Max Raid Battles. The previous pool of Pokémon that included Rotom, Dragapult and more, is gone.
Gigantamax Pikachu was only available to obtain in Pokémon Sword and Shield if you had save data of Pokémon Let's Go Pikachu on your Nintendo Switch. Trainers would receive this special Pikachu, that can transform to this new form with a powerful G-Max Move.
This special Pikachu isn't the only one making its way to the Wild Area. The special Giganatamax Eevee and Meowth will also be appearing in Sword and Shield really soon and to learn all about it, continue reading.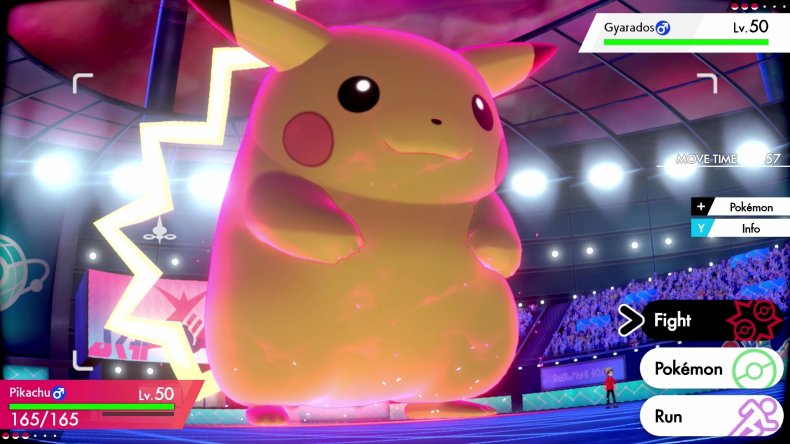 POKEMON SWORD AND SHIELD RAID UPDATE SCHEDULE
Gigantamax Pikachu will appear now until Monday, May 18 at 7:59 p.m. EDT.
The following week will see Gigantamax Eevee join Max Raids from Monday, May 18 at 8 p.m. EDT to Monday, May 25 at 7:59 p.m. EDT.
And finally, Gigantamax Meowth will join Max Raid Battles starting Monday, May 25 at 8 p.m. EDT until Monday, June 1 at 7:59 p.m. EDT.
MORE INFORMATION ON GIGANTAMAX POKEMON AND HOW TO CONNECT ONLINE
While all three Gigantamax Pokémon are available to catch in Sword and Shield already, not all players have the necessary save file to catch them all. These next three weeks are a perfect opportunity to catch them. It should be noted that these Pokémon won't be able to evolve.
Not only that, but this will be the first time that the Shiny forms and all three Pokémon's Hidden Abilities will be available.
For this first week, Shiny Gigantamax Pikachu is now available and can be caught with its Hidden Ability, Lightning Rod. This ability boosts Pikachu's Special Attack if it's hit by an Electric-type attack.
Gigantamax Pikachu's exclusive move is G-Max Volt Crash. This powerful Electric-type attack paralyzes all of your opponent's Pokémon even if it's a Ground-type who can't be hit by this type of move.
Eevee with the ability to Gigantamax was only available in Sword and Shield if the player had save data of Pokémon Let's Go Eevee on their Nintendo Switch. It's Hidden Ability is Anticipation, which warns players if the opponent has a Super Effective attack in their arsenal.
It's G-Max move is Cuddle, which leaves all of your opponent's Pokémon infatuated.
Gigantamax Meowth was only obtainable through a special event so this is the perfect chance to catch one if you missed out. By using the Mystery Gift function It's Hidden Ability is Unnerve, which prevents the opponent from eating a held Berry.
It's G-Max move is Gold Rush, which increases the amount of money you earn for winning a battle.
Players can also gain access to more Raids through the Sword and Shield online features. To join other people's Raid Battle, players must connect to the internet. You can learn more about that process in our Sword and Shield online guide.
Pokémon Sword and Shield are available for Nintendo Switch now.
What do you think of this latest Wild Area update? Let us know in the comments section.