Zarude is the New Mythical Pokémon Coming to 'Sword and Shield'
The long-teased new Mythical Pokémon for Sword and Shield has been revealed on Pokémon Day, and the news leaves more questions than answers.
Zarude is the Mythical Pokémon coming to Sword and Shield, and The Pokémon Company revealed a few bits of information about it ahead of its official release. This new Pokémon is a Grass and Dark-type (joining the Shiftry and Cacturne line) and has the ability Leaf Guard.
Leaf Guard prevents Zarude from being afflicted with a status condition (Poison, Burn etc..) while the weather is extremely sunny.
Take a look at the first gameplay footage of Zarude in Pokémon Sword and Shield below.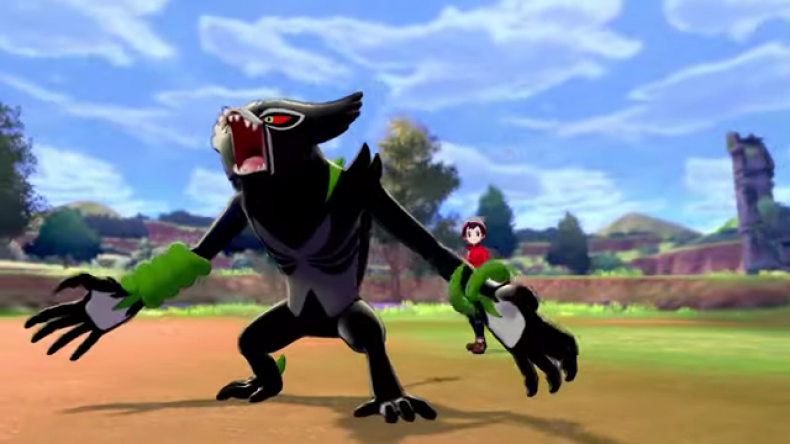 Zarude's official category is the "Rogue Monkey" Pokémon, and its Pokedex entry states, "When fighting, it swings around using trees and their branches, attacking relentlessly with its sharp claws or any other means it has. Its quick wit helps it excel in battles."
Not much else was revealed about Zarude, but the above trailer confirms that it also learns Torment and Power Whip, a powerful physical Grass-type attack.
We'll update this section with more information as it becomes available.
The new Mythical Pokémon was first teased at the end of January, when The Pokémon Company initially revealed its plans for this year's Pokémon Day.
The Japanese publication, Famitsu, also teased the appearance of this new Mythical Pokémon with a silhouette that had the community abuzz with speculation. The image appeared two weeks before Zarude's official reveal on February 27.
As Sword and Shield updates lay the groundwork for its upcoming Isle of Armor DLC set to release in June, it's possible trainers may see this Mythical Pokémon added to the games around that time. Cubfu, another Mythical Pokémon, is also expected to feature in this part of the DLC. It can evolve into one of two forms depending on how it's raised it and will have its own Gigantamax form.
The Crown Tundra is the second chapter of the Sword and Shield DLC and will feature new Regis and Galarian forms of the Kanto bird trio, Moltres, Articuno and Zapdos.
Zarude is the new Pokémon highlighted in the upcoming animated film, Coco, which is set to release in Japan this July. A Western release date has yet to be confirmed.
Pokémon Sword and Shield are available now for Nintendo Switch.
What do you think of Zarude coming to Sword and Shield? When do you think it will be added to the game? Let us know in the comments section.