'Pokémon Sword and Shield' Zarude & Shiny Celebi Distributions Coming to Japan
The biggest news from this year's Pokémon Day was the reveal of the new Mythical Pokémon Zarude, and now trainers have a way to obtain it...if you're in Japan.
Coinciding with the release of the upcoming Pokémon movies, Coco, Japanese moviegoers who prebook their ticket to see the Coco movie, starting April 17, will receive two serial codes to redeem in Sword and Shield.
The first code is for the new Mythical Pokémon Zarude, which can be redeemed from June 15 to September 30 and comes to Sword and Shield at Level 60.
The second serial code is for a Shiny Celebi, who has been spotted in the latest trailer for Pokémon the Movie: Coco. This special Mythical Pokémon will come at Level 60 and can be redeemed from April 17 to September 30.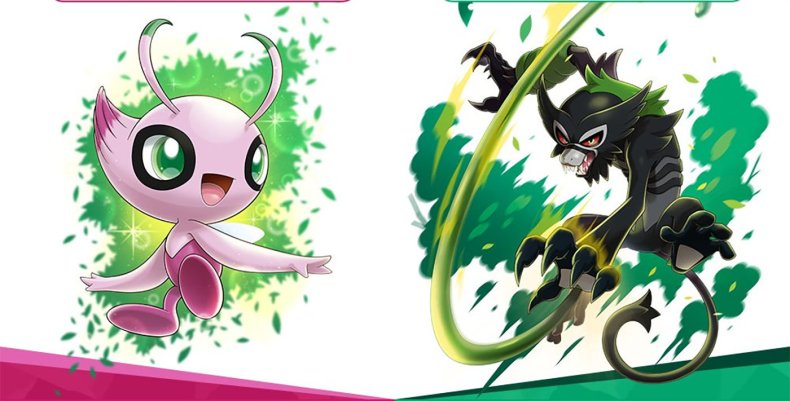 As for the release of both Zarude and Shiny Celebi outside of Japan, it's yet unknown how other trainers from around the world will obtain both Mythical Pokémon, but they are usually distributed through serial codes via gaming stores like GameStop or Target.
When more information on the release of Zarude and Shiny Celebi becomes available we'll update this section.
Zarude's official category is the "Rogue Monkey" Pokémon, and its Pokedex entry states, "When fighting, it swings around using trees and their branches, attacking relentlessly with its sharp claws or any other means it has. Its quick wit helps it excel in battles."
It was first revealed during Pokémon Day on February 27. It's a Dark and Grass-type Pokémon with the ability Leaf Guard. This ability prevents Zarude from being afflicted with a status condition while the weather is harsh sunlight.
The first gameplay trailer from Pokémon Day shows Zarude using the moves Torment and Power Whip, a powerful physical Grass-type attack. This likely means Zarude excels on the physical side of battling.
Pokémon the Movie: Coco is set to release in Japan in July with a global release likely sometime after.
Sword and Shield are already preparing for the release of two new DLC for the Gen 8 games. The first titled Isle of Armor will feature new Galarian forms like Slowpoke as well as a brand new Mythical Pokémon names Cubfu. This new Pokémon can evolve into one of two forms depending on how its raised with each having their own Gigantamax forms. This DLC is set to release in June.
The Crown Tundra DLC set to release in the Fall will include Galarian forms of the Legendary Bird Trio (Moltres, Articuno and Zapdos) as well as two new Regis.
Pokémon Sword and Shield are available now for Nintendo Switch.
What do you think of the distribution of Zarude and Shiny Celebi? Which Shiny Mythical is your favorite? Let us know in the comments section.