How the 'Poker Face' Cast Fell in Love With Natasha Lyonne: 'So Charming'
The cast members of Poker Face were so impressed by Natasha Lyonne on the set of "The Orpheus Syndrome" that they couldn't stop praising her as they spoke to Newsweek about the Peacock drama's latest episode.
"The Orpheus Syndrome" follows Lyonne's Charlie Cale as she stumbles upon a new mystery to unravel when she takes on a job with special effects artist Arthur (Nick Nolte), who is keen to find closure over a fatal on-set accident of a creature feature he was making decades earlier.
When old demons come to haunt him in the form of Laura (Cherry Jones), Charlie takes it upon herself to expose the truth, and she does so with the help of film archivist Raoul (Luis Guzmán).
Warning: This article contains some spoilers for Poker Face Episode 8
How the Poker Face Cast Fell in Love With Natasha Lyonne: "So Charming"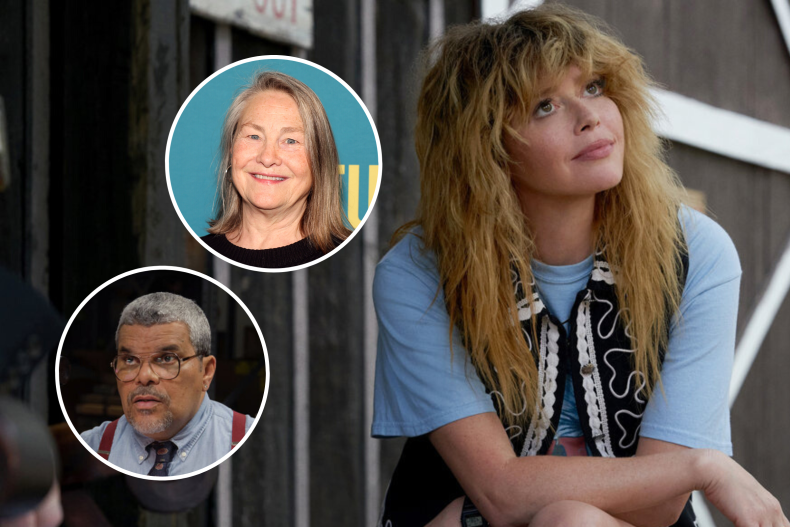 Lyonne not only starred in the episode as Charlie, she also directed and co-wrote the script with Alice Ju.
The Russian Doll star's ability to do all this with ease is something Jones and Guzmán can't stop raving about, so much so the Wednesday actor told Newsweek he even felt like he was "falling in love" with her on set.
"I'm not going to lie, the first thing's up, I'm a fanboy of Natasha, I love her," Guzmán said. "I watched Orange is the New Black because of her, because of that character, there was just something about her.
"When this presented itself I said 'oh definitely I would love to do this,' I just find her really unique and different in her approach. To me it's just a breath of fresh air because you don't know what you're gonna get, and I love having that type of unknown as an artist, and she brings a lot of that.
"I went up to her after a couple of days and said 'I'm not going to hold it in anymore, I'm a fanboy' so we got along great."
He went on: "I found the material to be very, very interesting [...] it's really, really good writing. To read things like three or four times because it's like, 'there's clues here that I'm missing, or what?' It was kind of enlightening to me, and to be directed by Natasha... Listen, again I will reiterate, fanboy.
"I was falling in love with her, with her work, with the chemistry that we had. I saw how deeply involved and how well prepared she was, on top of that having to act. And she was like so spot on with that, I was impressed."
Jones reiterated what her co-star had to say, gushing: "She was just effortlessly, endlessly appealing. For starters, you can't take your eyes off her, she's just delicious, and everything she says is so grounded, and yet to have that little twist to it so it's funny, she's just so charming.
"She's got this voice that should not still exist in this century, there should be no one left with that kind of individuality. But thank God, there she is.
"And so, to work with her as an actress, once I stopped being intimidated by her if I ever really completely did, she was even better as a director, and I think she actually enjoys directing more.
"She may have even said that in interviews, but I would not know that by her acting or her presence when you're working with her as an actress, but I know from working with her as a director [that] that's her passion. And I just hope, and I won't say bucket list because I hate that term, but a wish of mine would be to get to work with her again as a director, or an actress, but especially as a director."
Guzmán added: "The first couple of days I thought 'this girl is crazy'. Like I said, she just shows up like Gang Busters, but then you see this whole transformation in the day and I say to myself 'yo, this girl really knows what she's doing.'
"That is what really impressed me, when she showed up with a script full of notes and underlines [...] and that was a beautiful thing to see because she showed up prepared. Sometimes when you have a situation like this, you pretty much leave it up to your Assistant Directors and your Director of Photography to set everything up, but she was beyond 100 percent invested in this.
"And I really admire that about her, because it's a real craft to be able to do these things, and to be able to put them together, to be able to give it your vision. She did all that, and she left me with a real, true, lasting impression. If she were to call me and say let's do this movie it's not even a question."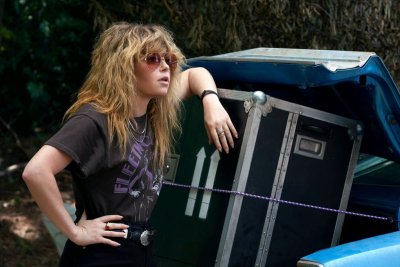 Cherry Jones Worried She 'Made Huge Mistake' by Joining Show
Jones also told Newsweek of how Lyonne was able to help her overcome her fear of portraying Laura, a role she initially thought she "didn't feel [...] right for."
"It was so funny, because when I first read it and [she has a] white wedged haircut [and is] this wealthy woman, and of course all I could see was Anna Wintour in my mind. I thought I had put on a lot of weight and thought I'm not... that should really be a very thin, frightening woman.
"I am not that, but I come from repertory theatre so it was a kind of part that you will relish in rep because they give it to you and you can succeed or you don't, but you just go out there and do the best you can.
"But I was scared enough of this one. I was just about to say no and my wife, Sophie [Huber], said, 'Oh, come on Natasha Lyonne. She's got the cool factor. Rian Johnson? Cool factor.' So, I thought oh, right cool factor. Those concepts are new to me.
"So I I said 'Oh, what the hell I'll go do it' and I got there and I really was cowed, I was shy and I felt like I made a huge mistake by saying yes because you know I did feel... I just didn't feel in my body right for that."
Lyonne came to her aid in a moment of imposter syndrome, and came up with interesting ways in which to describe Laura by comparing the character to Alfred Hitchcock's femme fatales, and in particular Vertigo's Kim Novak.
Jones went on: "Natasha, God love her, as an actor she knew exactly what to say to me. Whatever my fears were, my insecurities, she said, 'if I wanted some skinny lady, I would have got skinny lady. If I wanted to have done this I would have' and she put me at ease immediately and helped me start to understand the structure of this confection that they're whipping up in Poker Face.
"And then we were off to the races, and I call her just total wackadoodle, she'd just say she's a wackadoodle my character.
"I have no idea if it works or not, and I had so much fun that I can honestly say for the first time of my life I hope it works but, if it doesn't work, I still had the best time I've ever had."
On the Episode's Wild Twist
Poker Face always has some surprises in store for viewers each episode, but "The Orpheus Syndrome" has some particularly wild reveals, all stemming from Laura's desire to hide her part in the death of Lily (Rowan Blanchard) on Arthur's film all those years ago.
Jones was delighted at getting the chance to finally play a villain, saying: "I finally made it to Murderess, I have played so many good people my entire life. It's a whodunnit and I can proudly say 'I done it.'"
The episode sees her character descend into madness over the deaths she causes through the story, culminating in a tragic twist of fate.
Jones said: "This is such a wonderful, deeply mid-20th Century murderess, I think often the murderess from the 40s and 50s do go mad at the end, that's where I go.
"[Laura is] probably mad to begin with, clearly she's already hit that level of madness that allowed her to murder everyone around her that she ever loved or cared about."
Poker Face airs new episodes every Thursday on Peacock.