Poker Player's Hot Mic About Chest Pains Sparks New COVID Vaccine Criticism
Leaked audio of poker player Jeffrey Farnes saying he wished he had never gotten the COVID-19 vaccine has resurfaced.
People are sharing the video clip of Farnes complaining about chest pains after getting the COVID-19 vaccine. In a video of the July 2022 World Series of Poker (WSOP) Main Event, he can be heard saying he had been having chest pains since receiving the vaccine. Speculation on side effects have been rampant since the vaccines were released, but conspiracy theories about their safety have renewed with vigor after Buffalo Bills professional football player Damar Hamlin went into cardiac arrest after making a tackle.
Now the conspiracy theories are shifting to Farnes.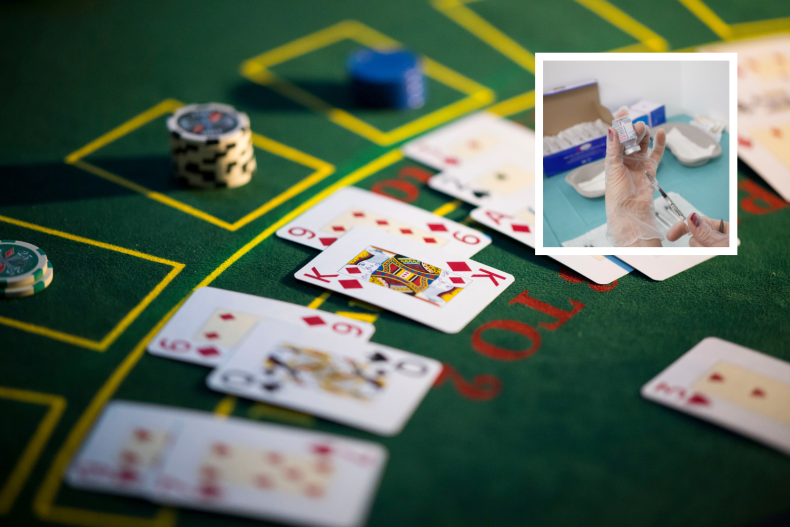 "Poker player Jeffrey Farnes caught on hot mic telling Canadian player Aaron Duczak about how he regrets getting the [vaccine] and is experiencing chest pains," The National Pulse editor-in-chief Raheem Kassam tweeted. "Duczak says he got the [vaccine] to enter the U.S. to play."
In the video, Farnes tells Duczak that he's had chest pains since getting the vaccine and that he heard people saying the vaccine clotted arteries. He said felt he needed to get his symptoms "checked out."
On Twitter, people are using the exchange to fuel conspiracy theories of COVID-19 vaccines causing heart issues. However, many people are mistaking Farnes for Duczak. In the video, Duczak can be seen asking Farnes about his experience. Many people began incorrectly tweeting about Duczak experiencing the chest pains.
Dr. Simone Gold, who CNN described as being "known for spreading debunked claims about COVID-19," was one of the Twitter users to spread the rumor that it was Duczak who had the symptoms. According to CNN's report, Gold recently was sentenced to prison for her role in the U.S. Capitol insurrection.
"World Series Poker player Aaron Duczak was caught on a hot mic talking about his chest pain after receiving the COVID jab," Gold tweeted Tuesday. "'I wish I never got the vaccine. I've been having chest pains ever since I had that thing.' Wow. Please SHARE!"
Gold's tweet led to numerous responses, with some criticizing Duczak's appearance as proving his lack of fitness was the reason behind the chest pains, despite the fact that Duczak never complained of chest pains. Others responded to the tweet and said they received the vaccine and were fine.
The clip of the players' exchange has been viewed more than 500,000 times.
In a video of the tournament, Duczak tells Farnes that he waited until a month before the tournament to get the vaccine himself. When Farnes asked Duczak why he decided to get the vaccine at all, Duczak—who lives in Canada—said he wanted to travel to America to compete in the WSOP tournament.
Farnes goes on to say that WSOP didn't require vaccinations for players to compete, but Duczak explains that proof of vaccination is required to cross the U.S.-Canadian border.
"I didn't realize they were still doing that," Farnes said.
Newsweek has reached out to WSOP for comment.