Damar Hamlin Interview Ignites COVID Vaccine Theory
A pre-Super Bowl interview between Michael Strahan and Buffalo Bills safety Damar Hamlin is sparking further controversy about what led to Hamlin nearly dying on the football field.
Strahan, who works for both Fox Sports and ABC's Good Morning America, conducted the interview prior to Fox's airing of the Super Bowl on Sunday between the Kansas City Chiefs and Philadelphia Eagles.
Hamlin, 24, collapsed on the field January 2 against the Cincinnati Bengals and received more than 30 minutes of medical attention on the field before being resuscitated and rushed to the University of Cincinnati Medical Center (UCMC). It was later characterized as cardiac arrest.
"[I was feeling] super normal, I was feeling great," Hamlin said when asked by Strahan how he felt before the game against the Bengals. "I'm thinking, finish the regular season strong, try and get ready for that playoff push."
Strahan then asked Hamlin if he remembered the moments before he collapsed following a hit on Bengals wide receiver Tee Higgins, including standing up before quickly falling down again.
"That's something I don't want to get too deep into the detail of," Hamlin replied after a long pause. "It's something I'm still trying to work through. You know, 'Why'd it happen to me?'"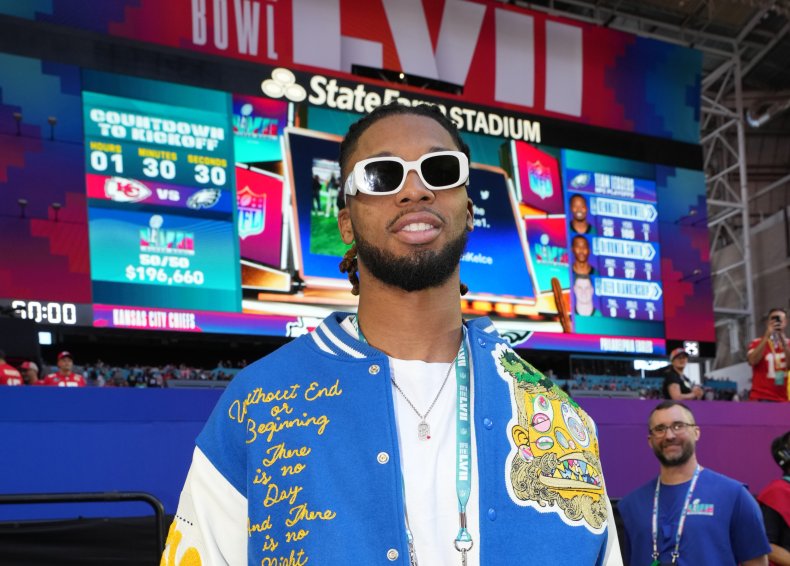 It provoked a flurry of new conspiracy theories on social media as to whether the COVID-19 vaccine was to blame for Hamlin's collapse and medical attention.
"It's quite clear that the reason Damar Hamlin won't disclose what nearly killed him is because what nearly killed him was the Covid-19 vaccine," tweeted One America News Network (OAN) host Addison Smith.
"Nothing to see here? NFL player Damar Hamlin collapsed on the pitch with an apparent heart attack," tweeted David Vance. "When asked about this, he says he cannot talk about it. That's weird."
"So now Damar Hamlin doesn't want to tell @michaelstrahan in an interview what really caused him to go into a cardiac arrest," wrote Twitter user Trent Henderson. "At this point it's hard not to assume that it was caused by the vaccine and the @NFL is paying Hamlin's family to cover it up."
Another user with the handle @LivingInCA tweeted, "You'd think boxers would have a fear of blunt force trauma. Damar Hamlin knows it's the vaccine and he's been paid to keep his mouth shut. What a voice he could be if he told the truth."
Similar theories began being expressed the evening Hamlin collapsed.
Conservative commentator Charlie Kirk tweeted that night that Hamlin was the most recent in a series of recent incidents involving "athletes dropping suddenly," something he said has become an "all too familiar sight right now."
He was branded as "human garbage" by former Congressman Adam Kinzinger for the remarks.
Other conspiracy theories have sprung up since Super Bowl Sunday, including that Hamlin—who was in attendance and on the field to accept the NFLPA's Alan Page Community Award—was "missing" tattoos and that his recent appearances are actually those of a body double.
Poynter has debunked such theories about Hamlin being affected by the COVID vaccine, calling it "not legit" and lending credence to medical opinions that the incident was caused by commotio cordis—or when a hit to the chest delivered at exactly the right place and time can cause a heart arrhythmia or cardiac arrest.
It also remains unknown whether Hamlin ever received the vaccine in the first place.