Were Damar Hamlin's Tattoos 'Missing' in Super Bowl Appearance?
Buffalo Bills star Damar Hamlin continues to be targeted by conspiracy theorists, who claim the football star had "died" and been replaced by a "clone" despite his numerous public appearances over the past few weeks.
The latest such claims revolve around his body art, with tattoos—either "missing," or previously unseen—fueling social media speculation.
Newsweek Misinformation looked at what is behind the claims, and how they are being tied into existing narratives.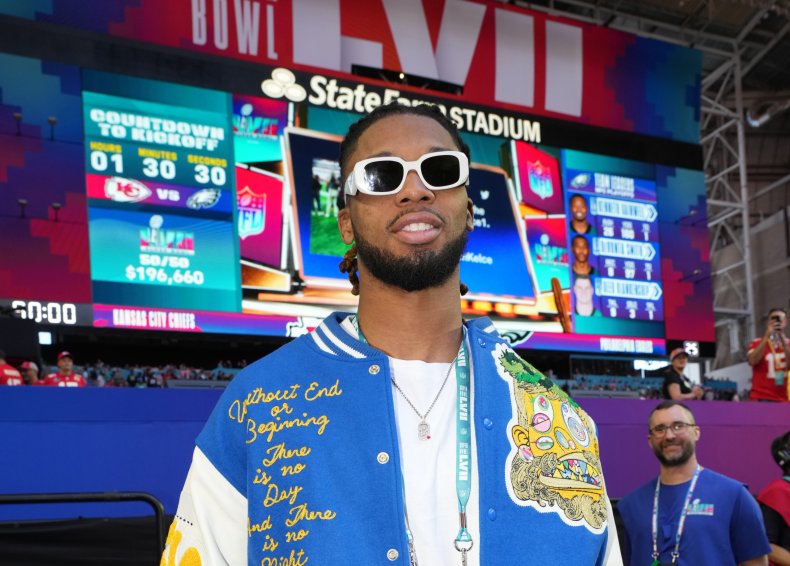 Damar Hamlin suffered a cardiac arrest during the Bills' game against the Cincinnati Bengals on January 2, 2023, and received CPR on the field while being treated for 30 minutes by medical staff.
The 24-year-old safety was quickly rushed to hospital, where he was kept on a ventilator for two days as his condition stabilized.
After spending more than nine days in hospitals, he was discharged from Buffalo General Medical Center/Gates Vascular Institute on January 11, and continued his recovery at home, making several public appearances in the ensuing weeks.
From the moment he collapsed on the pitch, Hamlin became a target of conspiracy theories and social media misinformation, with a flood of baseless claims suggesting that the COVID vaccine was to blame (and not the hit he received moments before the fall).
Later, as the Bills safety began to recover, the conspiracists appeared to shift the goal posts with further unevidenced claims suggesting the real Hamlin had died and has been replaced by a clone (a popular QAnon trope).
Newsweek Misinformation Watch debunked those claims in January, showing how various fabrications and false elements were interwoven in that particular narrative. Hamlin himself later addressed the claims, posting a photo of himself captioned with a tongue-in-cheek "clone" comment.
But even the denial from the football star himself and troves of photos and videos of him appearing on camera in front of dozens of witnesses since then have not stopped new false claims from proliferating.
The latest twist in the story centers around Hamlin's tattoos, with posts on Twitter and Reddit alleging that a tattoo appeared to be "missing" from his neck during a recent appearance at the Super Bowl.
"Just asking for a friend: Damar Hamlin at Super Bowl, where's his neck tattoo?" an r/conspiracy Reddit post said. It featured two images, one of which showed Hamlin with Pittsburg Pirates logo "P" tattooed on his neck, while another did not appear to show a tattoo in the same spot.
The images and accompanying claims were shared in other conspiracy-minded communities, such as the Great Awakening and the Patriots.Win website.
The narrative also found fertile ground on Twitter, which has been home to previous false claims targeting Hamlin (as well as wider anti-vaccine tropes).
"No neck tattoo. That is not Damar Hamlin," one post said.
"Hamlin got hit so hard it blew his tattoo right off his neck," Bushels Per Acre verified account tweeted.
But as various videos and images of the 24-year-old NFL star show, the "P" tattoo, though not very prominent or highly visible in certain angles, is still very much present on the left side of his neck.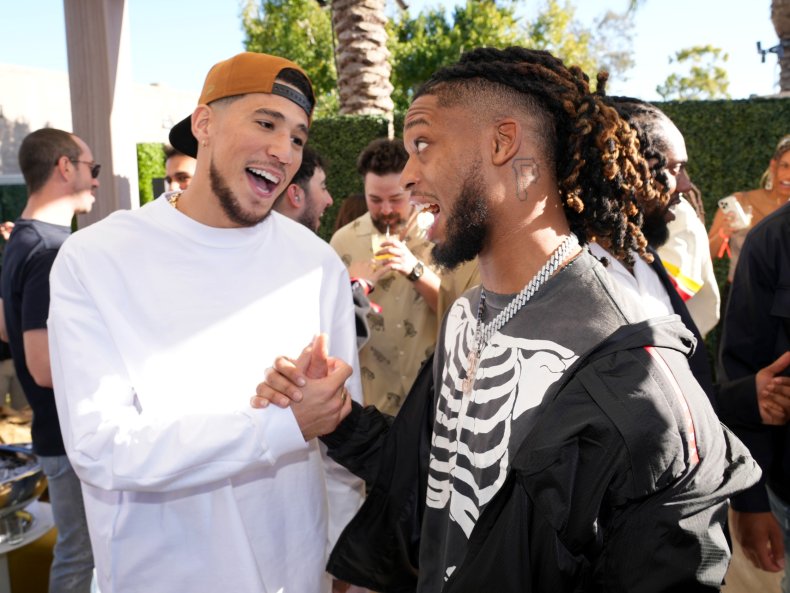 A photo from Michael Rubin's 2023 Fanatics Super Bowl Party, films on February 11, the day before the Super Bowl game, clear shows the "P" inked just behind Hamlin's ear.
The tattoo is harder to spot in this ESPN video of Hamlin's appearance at the stadium, which was likely the source of the still in question (and what prompted the unfounded claims to spread).
However, a longer and higher definition video published on the Buffalo Bills website, resolves the matter, with the "P", though still faint, but nevertheless clearly visible on the 1:47 minute mark of the clip.
At least a part of the tattoo can also be seen in another photo taken from behind and featuring Hamlin's jacket (which itself has fueled outrage and accusations of "blasphemy" from Christian communities).
A 'Clone' or Just a New Tat?
This is not the only piece of artwork on Hamlin's body that conspiracy theorists pounced on this week.
A claim, either sourced from or amplified by a TikToker, suggested that a fist tattoo that was present in one photo of the NFL star and absent from another is somehow evidence of a "clone" conspiracy.
"They are f****** with us, straight up," Amanda_ttok commented in a video that has received over a million views.
While the author, to her credit, attributed the correct chronology to the two images, with the tattoo missing on February 8, and "appearing miraculously" on February 9, some of the posts sharing the clip misleadingly switched the dates.
"Damar Hamlin with a tattoo in one pic and then the next day in another pic without tattoo," one twitter user wrote, receiving more than 260,000 views.
However, the suggestion that the tattoo somehow "disappeared" is patently false, while the narratives around its emergence are misleading.
Hamlin's left fist is clearly tattoo free as evident in his February 8 post on Instagram, as well as in other older posts.
But the new print is clearly visible in various photos he posted on February 11, as well as in the previously mentioned footage of him at the 2023 Super Bowl and subsequent photos.
Given that there was at least a 24-hour gap, likely more, between the no tattoo/tattoo photos, there was ample time for Hamlin to visit a tattoo parlor, thus rendering claims about a "clone" moot.
There is no known evidence to support the conspiracy claims about Hamlin dying or being replaced by a clone, which the player himself appeared to debunk in mocking TikTok and Twitter posts.
Newsweek reached out to the NFL for comment.
Correction 15/02/2023/ 4:25 A.M.: This article was corrected to state that Hamlin's neck tattoo is a Pittsburg Pirates logo "P", not an "F" as originally stated.