Poland Deserves WWII Reparations for Nazi Germany Invasion Says Ruling Party Leader
The head of Poland's ruling party has renewed controversial demands for Germany to pay his country reparations for the death and destruction wrought in World War II.
Speaking on Poland's public radio, Jaroslaw Kaczynski, head of the country's conservative ruling Law and Justice party, said Warsaw would continue to "fight for historical truth" after his government made a U-turn on a law seeking to criminalize phrases linking Holocaust death camps with Poland.
Israel found the law particularly offensive, fearing it could absolve the guilt of individual Poles in assisting Nazi German authorities, or it could mean that Holocaust survivor testimonies from concentration camps on Polish soil become incriminating.
Warsaw has now removed the prospect of jail terms from the law and the two governments agreed on a joint declaration that condemns anti-Semitism and "every single case of cruelty against Jews perpetrated by Poles" during the Holocaust, but also rejected laying the blame for it on the Polish state.
"We have always agreed the term 'Polish concentration/death camps' is blatantly erroneous and diminishes the responsibility of Germans for establishing those camps," the statement said.
Kaczynski went on air at Polskie Radio to stress unambiguously that Poland was a victim of the war and implied the declaration could become part of a renewed push for reparations from Berlin.
"It was the Germans who invaded Poland, murdering millions of people, leaving behind huge damage, destroying material goods, and we are entitled to compensation for this," he said.
Kaczynski has repeatedly raised the issue of German reparations allegedly owed to Poland after entering politics with his late twin brother Lech in 2001 on a platform of opposing perceived German hegemony over Europe. Earlier this year, two members of Kaczynski's party estimated Poland could demand $850 billion (€780 billion) from Germany for destroyed property and people killed during the war.
Read More: Poland marks the World War Two invasion Warsaw wished Russia would stop forgetting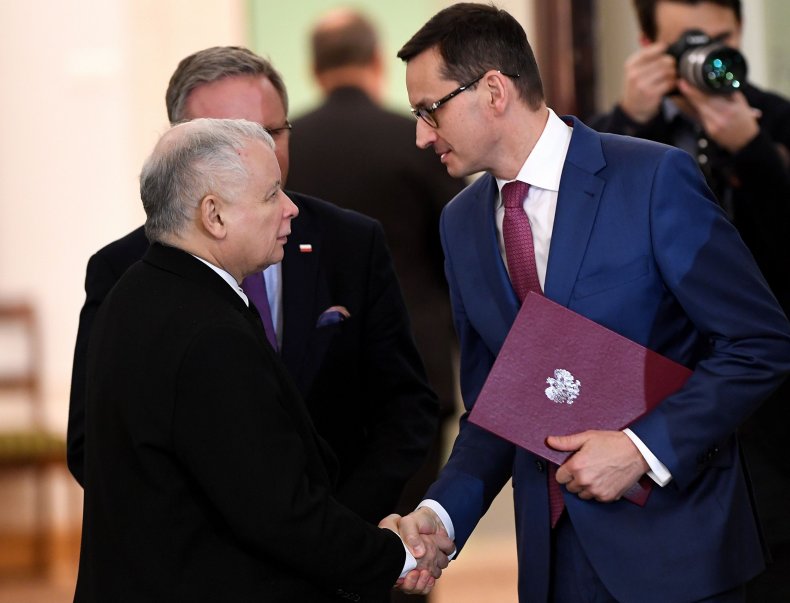 The Nazi Germany invasion of Poland in 1939 sparked the war and after overrunning the country, thanks in part to a secret deal with the Soviet Union, Berlin eventually set up concentration camps on Polish soil to execute Jews and other groups the Nazis sought to exterminate.
Germany has said in the past that reparations are a closed issue, as Poland's Communist administration renounced its claim to compensation from Germany in 1953 and independent Poland stood by this decision in 2004, when the state joined the European Union. Kaczynski's party came into power the following year.
Poland has still filed no formal claim for reparations. The ruling party has reiterated the demands for payment after provoking criticism from Germany and other EU countries for illiberal policies and anti-migrant stance.