Poll Shows Biden Beating Trump in Texas, Which Hasn't Been Won by a Democrat in Over 40 Years
A new poll out of the traditionally Republican-stronghold of Texas shows President Donald Trump trailing Democratic presidential candidate Joe Biden by 5 points.
The polling, which was conducted by The Dallas Morning News and the University of Texas at Tyler, showed Biden with support from 48 percent of Texas voters, while Trump was backed by just 43 percent. However, 5 percent of respondents said they were undecided while 4 percent said they'd back a different candidate.
But the results were notably different from when a similar poll was conducted by the newspaper and the university back in February. In that previous survey, Biden was supported by 47 percent of respondents while the incumbent president was backed by 46 percent. Much has changed since that poll was carried out, however, as many of the other Democratic contenders had not yet dropped out of the race and endorsed Biden.
The new polling also showed that 50 percent of Texans "disapprove" or "strongly disapprove" of the job Trump is doing; of those, 43 percent were in the "strongly disapprove" category. Just 44 percent of respondents said they "approve" or "strongly approve" of the president, while another 7 percent responded that they neither approve or disapprove.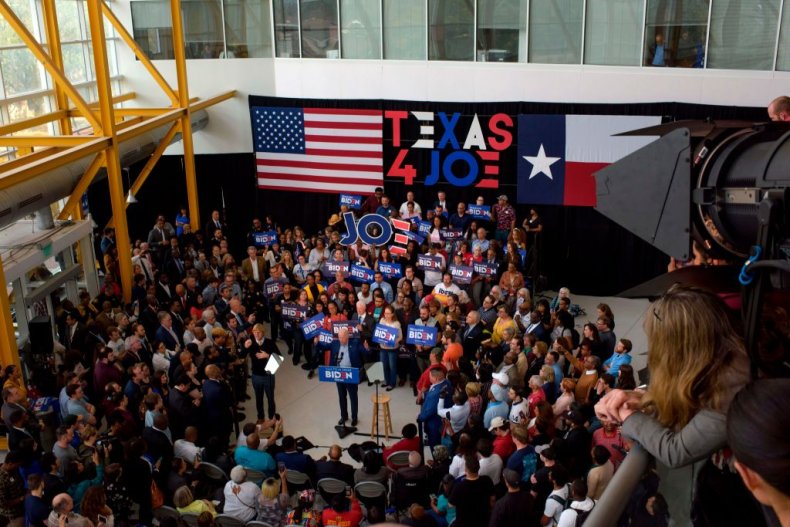 Another recent poll in Texas carried out by Public Policy Polling and Emily's List showed Biden ahead of Trump by 2 points. In that survey, the former vice president was backed by 48 percent of Texas voters and the president was supported by only 46 percent. That polling also found that 5 percent of voters were "not sure" who they'd vote for.
In the Public Policy Polling survey, which was conducted from June 24 to June 25, about 51 percent of Texas respondents said they disapproved of the job the president was doing. Meanwhile, 46 percent said they approved while 5 percent were unsure.
Notably, the last time Texas voted for a Democrat in the presidential election was 44 years ago in 1976. The state voted to back former President Jimmy Carter over former President Gerald Ford, who served as vice president under former President Richard Nixon and finished out Nixon's term after he resigned in 1974. Since then, Texas has traditionally been seen as a reliably red state.
Officials with Trump's reelection campaign have been dismissive of negative polling. They have said that the results are often biased and that polling firms do not adequately sample the president's supporters. Additionally, the campaign has pointed to 2016, when polls suggested that former Democratic presidential candidate Hillary Clinton was likely to beat Trump. In reality, the president pulled off a series of victories in key swing states, propelling him to a big win in the electoral college – despite Clinton winning nearly 3 million more votes nationwide.
But polling has painted a dismal picture for Trump's reelection hopes in recent weeks. Surveys in key battleground states – including Florida, Michigan, Wisconsin and Pennsylvania – have shown Trump losing more ground to Biden. Arizona, another traditionally red state, also appears to be in play, with recent polls showing the former vice president with the advantage. Multiple recent nationwide polls have shown Biden up by double digits as well.
Even polling by the conservative polling firm Rasmussen Reports, which Trump has often cited to tout his approval rating in the past, showed the president trailing Biden nationally by 10 points last week. That polling showed Trump backed by just 40 percent of respondents, as his Democratic rival was supported by 50 percent.