Republicans Want Donald Trump for 2024, Even if He's Indicted: Poll
A majority of Republicans would still vote for former President Donald Trump in 2024 even if he is indicted for crimes related to possessing classified documents, according to a new poll from NPR/PBS NewsHour/Marist.
Approximately 61 percent of Republicans said they'd support the former president if he were indicted, compared to 20 percent of independents and 8 percent of Democrats. The survey of 1,236 adults was conducted between August 29 and September 1 with a margin of error of plus or minus 4.1 points.
"Former President Trump is losing the battle with public opinion over whether he did anything wrong by taking government documents to Mar-a-Lago," said Lee Miringoff, director of the Marist Institute for Public Opinion. "But his core support remains intact regardless of the results of the investigation."
A yet-to-be-named special master was recently granted by Trump-appointed U.S. District Judge Aileen Cannon to review thousands of classified documents found by the FBI in August during a search of Trump's Mar-a-Lago home. Trump's team has until Friday to propose a list of special master candidates.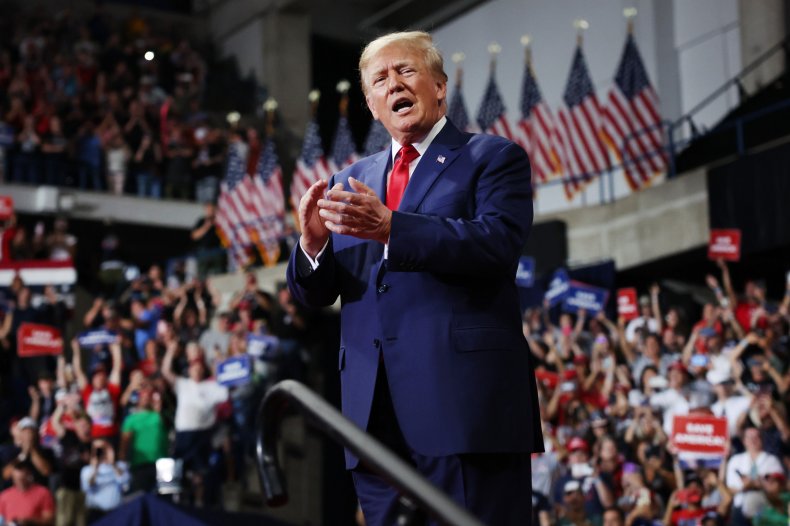 The majority of Trump's support in the hypothetical scenario that he committed a crime came from Southern voters (32 percent), rural voters (38 percent), Gen X voters (38 percent), and white women who did not graduate college (44 percent).
Those surveyed whose household income is $50,000 or less were more likely to support Trump in that same scenario, as well as voters 45 years or older. Baby boomers and millennials/Gen Z were nearly identical, at 24 and 23 percent, respectively.
The poll shows that 44 percent of voters believe Trump "did something illegal" by having the documents at his personal residence after leaving office, while 17 percent called the behavior "unethical but not illegal."
Just 5 percent of Republicans said Trump's actions were illegal, while 63 percent believe he did nothing wrong at all.
Overall, the poll results are consistent with results the same pollsters received in December 2020. Numbers are now more pronounced for independent voters, who continue to decrease in Trump's favor.
About 67 percent of independent voters recently surveyed said they don't want Trump to run again, compared to 28 percent who do.
Miringoff told Newsweek that Trump received 48 percent of independents' support in 2016, and 41 percent in 2020. The Pew Research Center reported that among independents and voters affiliated with other parties, Biden defeated Trump, 52 percent to 43 percent, in the 2020 election.
Recent polls have shown Biden gaining percentage points and defeating Trump in a hypothetical 2024 rematch. Neither individual has officially announced a 2024 run, though Biden has said he plans to be his party's nominee.
Newsweek reached out to Trump for comment.