Biden Surges to Beat Trump by 6 Points in 2024 Rematch Poll
President Joe Biden leads Donald Trump by a sizable margin in new polling by The Wall Street Journal, after a survey from the conservative-leaning publication earlier this year showed the incumbent and the former president tied.
While Biden, 79, has repeatedly said that he plans to seek a second term in 2024, Trump, 76, has not officially confirmed any plans to run—although he continually teases the possibility in public remarks and interviews. Meanwhile, some Democrats have expressed concern about Biden's ability to win reelection due to his underwater approval rating and concerns about his age.
New polling released Thursday by the Journal showed Biden leading Trump by 6 points. The Democratic president was supported by 50 percent of registered voters, and the former Republican president was backed by only 44 percent.
At the same time, Biden and Trump were nearly tied when it comes to their approval rating. The current president only led the former president by 1 point, with 45 percent saying they approve of the job Biden is doing in the White House compared to 44 percent who said they approved of the job Trump had done.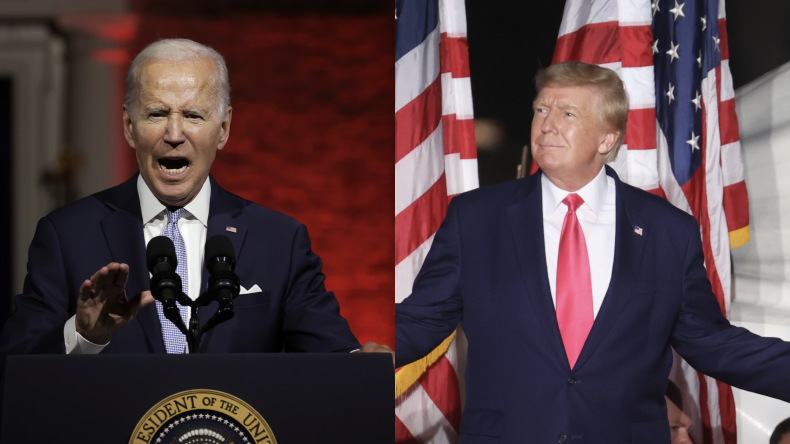 The new poll was conducted from August 17 to 25 with Impact Research and Fabrizio, Lee and Associates. It included 1,313 registered voters with a margin of error of plus or minus 2.7 percent
Previously, March polling by the Journal showed Biden and Trump deadlocked. Both the current and former president received the backing of 45 percent of respondents in the survey. That means, according to the two polls, Biden's support increased by 5 points, whereas Trump's declined by 1 point over the past several months.
Notably, the latest poll still appears to be an outlier compared to the overall data coming from various recent surveys. The current Real Clear Politics average of recent 2024 rematch polls shows Trump with a very narrow lead of 0.8 percent. An Emerson College survey from late August showed Biden at 43 percent and Trump at 42 percent. A Harvard-Harris poll from the end of July had Trump ahead 4 points at 45 percent compared to Biden's 41 percent.
Meanwhile, Biden's approval rating has edged upward overall. In early July, the president's approval rating stood at just 37 percent, according to Rasmussen Reports. As of Friday, Rasmussen showed that the number had risen to 45 percent, although that was a narrow decline from 47 percent reported on August 23.
News and polling analysis site FiveThirtyEight's average of recent polls shows Biden with a slightly worse approval rating of 42.8 percent. That's still up from a low below 38 percent in July.