Hillary Clinton 2024 Speculation 'an Embarrassment for the Democrats,' Kevin McCarthy Says
House Minority Leader Kevin McCarthy said the fact that some Democrats are suggesting Hillary Clinton should run for president again in 2024 is "an embarrassment" to her party.
Two Democrats—political consultant Doug Schoen and former Manhattan Borough President Andrew Stein—wrote in a Tuesday opinion article for The Wall Street Journal that Clinton should be their party's 2024 nominee instead of President Joe Biden. Clinton, a former secretary of state and former senator from New York, previously lost to Donald Trump in 2016 when she was the Democratic Party's presidential nominee.
McCarthy commented on the speculation regarding Clinton in an interview with Fox News on Thursday.
"Think about that for one moment. The Democrats have the House, the Senate and the presidency, and they're talking about bringing Hillary Clinton back," the California Republican said.
He added that this was a sign of "how bad the economy" is going and "how bad Joe Biden is serving as president."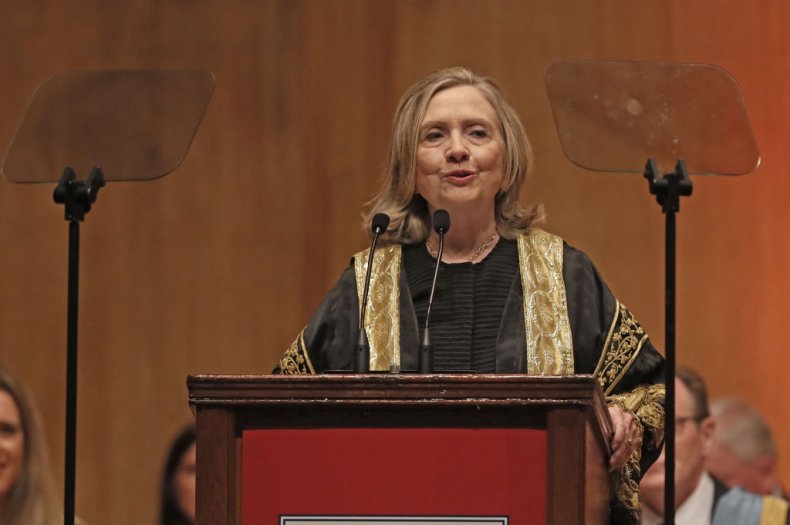 "That they would go back to somebody who the country has rejected? It's an embarrassment for the Democrats," McCarthy said with a chuckle. "But it also shows the predicament that they're in."
In their Tuesday article, Schoen and Stein cited Biden's low approval rating and his age as concerns about his ability to get reelected in 2024. The president will turn 82 soon after the next presidential election, on November 20 that year. Biden is the oldest president in U.S. history.
Clinton "is already in an advantageous position to become the 2024 Democratic nominee," the Democrats wrote in their Wall Street Journal article. "She is an experienced national figure who is younger than Mr. Biden and can offer a different approach from the disorganized and unpopular one the party is currently taking," they argued.
As of Thursday, the FiveThirtyEight polling average shows that nearly 52 percent of Americans disapprove of Biden, while just 42.5 percent approve. Meanwhile, Vice President Kamala Harris' numbers are underwater as well. The FiveThirtyEight average shows that only about 34.4 percent approve of the vice president, and 47.4 percent disapprove.
Although Harris would typically be viewed as the front-runner to replace Biden, if he decides to not seek reelection, her current polling numbers suggest that she could face even more difficulty than the president in 2024. As some Democrats are suggesting Clinton could be an alternative, others have speculated that Transportation Secretary Pete Buttigieg could mount another presidential campaign. Some have even suggested that Biden could run again with GOP Representative Liz Cheney of Wyoming on his ticket.
Meanwhile, the White House—as well as Harris and Biden—has dismissed speculation about the next presidential election. Biden and the White House have repeatedly asserted that he plans to seek another term in 2024, despite significant concerns about his age and popularity.
"I really could care less about the high-class gossip on these issues," Harris said during an interview on the Today show Thursday morning.
As for Clinton, she previously shut down the idea of further political campaigns in a September 2017 interview with CBS News. "As an active politician, it's over," she said at the time.
"I am done with being a candidate. But I am not done with politics, because I literally believe that our country's future is at stake," she added.
Trump beat Clinton in the 2016 election by a significant margin in the Electoral College. However, she did win nearly 3 million more votes than Trump in the popular vote count. Neither candidate garnered more than 50 percent support in that election. Clinton won just over 48 percent of the popular vote, while Trump won about 46 percent.
Newsweek reached out to Clinton for comment but did not hear back before publication.