Poll Shows Trump Edging Out Biden in Hypothetical 2024 Presidential Race
As speculation about former President Donald Trump's 2024 plans continues to grow, a new poll suggests that President Joe Biden is currently at a disadvantage in a hypothetical presidential race against the possible Republican challenger.
Polling conducted by Emerson College from August 30 to September 1 showed that Trump had a very narrow advantage in a head-to-head contest against Biden. While Biden was backed by 46 percent of registered voters, Trump was backed by 47 percent—a lead of 1 percent. However, that lead is well within the polls margin of error, which is plus or minus 2.7 percentage points.
The survey showed that 6 percent of registered voters would vote for "someone else," and 2 percent said they were "undecided." Notably, Trump was the only potential GOP contender that appeared to have a chance to defeat Biden. The survey asked respondents about a possible matchup between Biden and Florida's Republican Governor Ron DeSantis as well as GOP Senator Mitt Romney of Utah.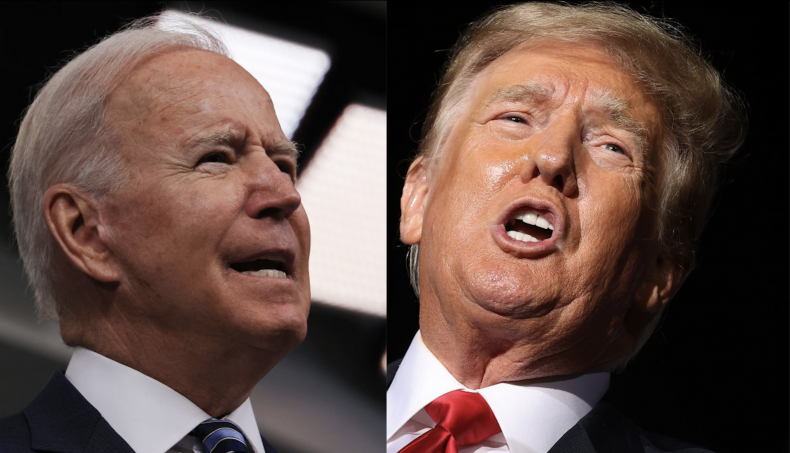 Biden handily beat DeSantis in the poll, with 48 percent compared to the Florida governor's 36 percent. Romney fared even worse against Biden. Just 23 percent of registered voters said they'd back the GOP senator in a hypothetical presidential race, while 42 percent said they'd support Biden in that contest.
Separate polling released Friday by ABC News and The Washington Post showed that Biden's approval rating declined dramatically from the end of June to the beginning of September. Whereas Biden's approval rating stood at 50 percent on June 30, it plummeted to just 44 percent as of September 1. Meanwhile, Biden's disapproval rating now stands at 51 percent.
Biden has faced growing criticism in recent weeks as a myriad of crises have plagued his administration. The president was widely criticized for the chaotic withdrawal of Americans, allies and Afghan refugees from Afghanistan after nearly 20 years of war there. COVID-19 infections, hospitalizations and deaths have also surged over the past month—although this has been largely driven by Americans skeptical of vaccines. And record numbers of asylum seekers and undocumented migrants continue to surge to the southern border of the U.S.
Meanwhile, Trump allies and the former president continue to suggest that he will run again in 2024.
"I would say somewhere between 99 and 100 percent," former top Trump adviser Jason Miller said this week during an interview with Cheddar News. Miller added that he thinks Trump is "definitely running in 2024."
"He has not said the magical words to me, but if you talk to him for a few minutes, it's pretty clear that he's running," the close Trump associate said.
Trump's spokesperson Liz Harrington told Newsweek on Friday that the former president is "keeping all of his options open." Harrington said Trump is currently "fighting hard to elect America First candidates in upcoming primaries and midterms."