North Korea Restarting Nuclear Reactor May Add to Challenges Facing Biden Admin
A new report from the United Nations' nuclear watchdog—the International Atomic Energy Agency—suggests that North Korea has restarted a nuclear reactor that has been dormant for years, potentially adding to the multiple challenges already facing President Joe Biden's administration.
The Wall Street Journal first reported on the IAEA report on Sunday, which posited that the plutonium-producing reactor at Yongbyon in North Korea had resumed operations last month. "Since early July, there have been indications, including the discharge of cooling water, consistent with the operation of the reactor," the U.N. atomic agency's report explained.
Yongbyon's reactor had reportedly been inactive since December 2018. The IAEA report also said that there are signs North Korea has been using a nearby laboratory in order to remove plutonium from spent nuclear fuel that was previously taken from the reactor.
A senior Biden administration official told Newsweek that they were aware of the report, and "are closely coordinating with our allies and partners on developments regarding" North Korea.
"This report underscores the urgent need for dialogue and diplomacy so we can achieve the complete denuclearization of the Korean Peninsula. We continue to seek dialogue with the DPRK so we can address this reported activity and the full range of issues related to denuclearization," the official said.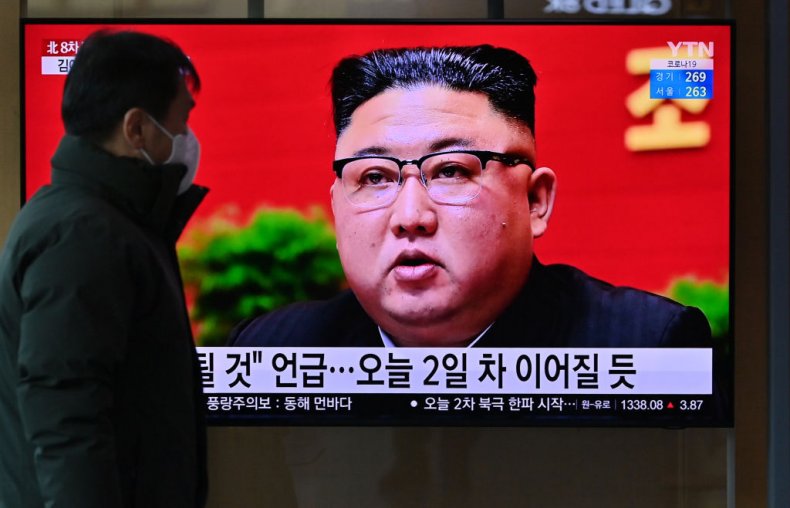 Biden's administration has previously expressed an interest in restarting nuclear talks with North Korea. Talks between the East Asian nation appeared to progress somewhat under former President Donald Trump, but then stalled without any significant success.
The IAEA report comes as South Korea's top nuclear envoy traveled to Washington, D.C. this weekend to discuss the situation with North Korea. South Korean diplomat Noh Kyu-duk will be in Washington for four days in a bid to help resume nuclear talks with North Korea.
"I believe we are now at a critical point to restart the Korean Peninsula peace process," Noh said, South Korea's Yonhap News Agency reported. "I came to Washington in order to continue the discussions I had with [U.S.] Special Representative Sung Kim in Seoul last week." Kim serves as assistant secretary of state for East Asian and Pacific Affairs.
"I wish to hold in-depth discussions on various issues related to the Korean Peninsula, including the North Korean nuclear issue, with U.S. government officials during my U.S. trip," the South Korean diplomat said. Noh plans to meet officials from the State Department and the White House's National Security Council, according to Yonhap.
The news of the nuclear reactor potentially being restarted comes as the Biden administration is already grappling with several major crises.
Over the past two weeks, the U.S. military has been rapidly evacuating tens of thousands of Americans, allies and Afghan refugees from Kabul's international airport in the wake of the Taliban's rapid takeover of the country. Meanwhile, a Thursday attack by the extremist militant group ISIS-K targeting the Kabul airport left more than 170 people dead, including 13 U.S. service members.
Within the U.S., the COVID-19 pandemic continues to surge, driven by the Delta variant. Although 74 percent of U.S. adults have receive at least one dose of their COVID-19 vaccines, the vast majority of new infections are among the unvaccinated population. Hospitals in parts of the country have run out of ICU beds, as serious infections and deaths are on the rise.
Hurricane Ida also made landfill in Louisiana on Sunday, exactly 16 years after Hurricane Katrina devastated New Orleans and left more than 1,800 people dead. The Category 4 hurricane has maximum sustained winds of up to 150 miles per hour. Although preparations and new systems were implemented in Louisiana in the wake of Katrina, weather analysts have said this will be the strongest test of whether enough has been done. Biden already approved an emergency declaration for Louisiana on Friday in preparation for the storm's fallout.
At the southern border with Mexico, the U.S. continues to see record numbers of largely Central American migrants crossing into the country. In July, the U.S. saw a two-decade high in border crossings—with Customs and Border Protection apprehending more than 212,000 people.
Updated 8/30/21 AM ET, with comment from a senior Biden administration official.