Trump Says He Likes North Korea's Kim, Calls South Korea President Moon 'Weak'
Former President Donald Trump has expressed praise for North Korean Supreme Leader Kim Jong Un and criticized the leadership of South Korean President Moon Jae-in a statement in which the 45th U.S. leader also railed against his successor.
"Kim Jong-un of North Korea, who I have gotten to know (and like) under the most trying of circumstances, never respected the current President of South Korea, Moon Jae-in," Trump said in a statement published Friday.
He then took credit for preventing conflict on the Korean Peninsula and took aim at the South Korean leader.
"I was always the one that stopped the aggression toward the South, but unfortunately for them, I am no longer there," Trump added. "President Moon was weak as a leader and as a negotiator, except when it came to the continued, long term military ripoff of the USA."
Referring to his efforts to renegotiate the cost-sharing terms of the U.S.–South Korea Status of Forces Agreement, which has allowed for the deployment of U.S. military forces in South Korea for decades, Trump said the U.S. had been "treated like fools for decades, however, I got them to pay billions of dollars more for the military protection and services we render."
The former president felt his successor would be unable to extract such concessions from the U.S. ally.
"The Biden Administration is not even going to ask for the additional billions South Korea agreed to pay," Trump said.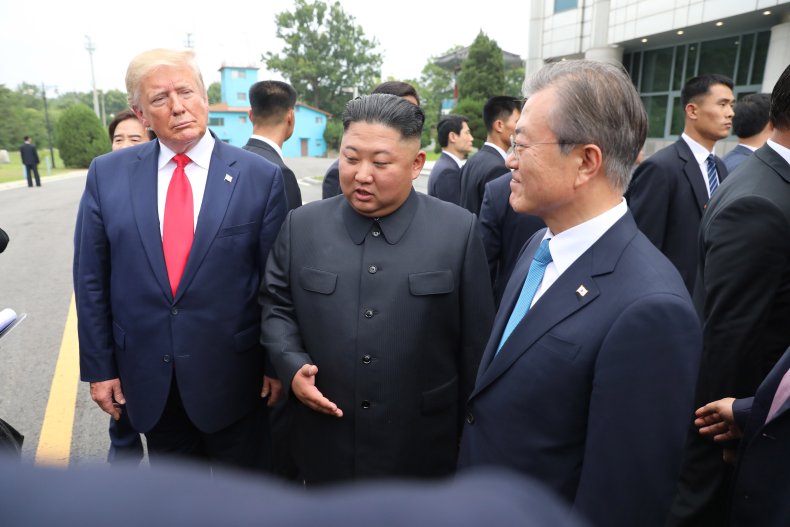 Trump, who took office in January 2017, initially feuded with Kim, the third member of his ruling dynasty to take the helm of North Korea, but the two shifted their tone in early 2018 as burgeoning talks between Seoul and Pyongyang saw the young North Korean head extend an unprecedented invitation to meet face-to-face with the U.S. president.
Trump accepted, and became the first sitting U.S. leader to meet with a North Korean ruler months later in Singapore. The pair held a follow-up summit in February 2019 and met Kim again alongside Moon at the inter-Korean border that June, but still no deal to advance the desired denuclearization-for-peace and sanctions relief process was reached.
Despite a series of flattering letters exchanged between Trump and Kim throughout, negotiations ultimately unraveled and tensions returned to the Korean Peninsula.
Biden has expressed criticism toward Trump's relationship with Kim, whom the current president called a "thug" during a presidential debate leading up to the election. But it was Moon who most recently expressed rare criticism of the former president in an interview with The New York Times published Wednesday.
"He beat around the bush and failed to pull it through," Moon said of Trump's North Korea strategy. "The most important starting point for both governments is to have the will for dialogue and to sit down face to face at an early date."
When it comes to U.S.-South Korea relations, the South Korean president disparaged Trump's attempts to inflate Seoul's financial obligations toward their military alliance, arguing Trump's demand "lacked reasonable and rational calculation."
Moon acknowledged that Trump did make some progress, however. "It's clearly an achievement for President Trump that he held the first-ever summit meeting between North Korea and the United States," he told The Times.
Now Moon has placed his hopes in Biden, who he has encouraged to reinvigorate the stalled peace process with North Korea.
"I believe that if we build on what President Trump has left, we will see this effort come to fruition under Biden's leadership," Moon said.
But as Moon prepares to hold his first summit with Biden next month, Trump, who retains a sizeable support base at home, continues to weigh in on the bilateral relationship.
"The South Koreans are laughing all the way to the bank," Trump said in Friday's statement. "Fortunately, before leaving office, I was able to make a new and FAR BETTER Trade Deal than what was in place. The deal will lead to billions of dollars in profits for the Great Farmers and Manufacturers of our Country!"
North Korea, for its part, has so far ignored the new administration's attempts to make contact. Top Pyongyang officials have called on the U.S. to ends its "hostile" policy toward North Korea before any meaningful discussions could be had.
The contents of Biden's approach to North Korea remain subject to an ongoing policy review that has yet to be concluded. Asked if the review may be completed in time for Moon's upcoming visit, State Department spokesperson Jalin Porter said there was "no specific timeline" as the review is "ongoing."
"The Biden administration is conducting a thorough interagency review of our policy towards North Korea," Porter said, "and that would include implementation of ongoing pressure measures as well as options for future diplomacy."
The president previewed his policy during his first press conference last month, which came in the wake of a series of short-range missile tests conducted by the Korean People's Army.
"If they choose to escalate, we will respond accordingly," Biden said at the time. "I'm also prepared for some form of diplomacy, but it has to be conditioned upon the end result of denuclearization."