Pompeo Says Critics of U.S.' History Don't See America Is 'Fundamentally Good'
In a Thursday speech, Secretary of State Mike Pompeo said people who criticize America for its history fail to recognize that the U.S. is "fundamentally good."
Pompeo spoke at the National Constitution Center in Philadelphia, Pennsylvania during an unveiling of a draft report created by the Commission on Unalienable Rights. Pompeo created the commission in 2019 and it is meant to provide "advice on human rights grounded in our nation's founding principles and the principles of the 1948 Universal Declaration of Human Rights."
While Pompeo mentioned that the U.S. historically "fell short of securing the rights of all"—specifically with its enslavement of Black people, the expulsion of Native Americans and interfering with foreign sovereignty—Pompeo said the U.S. had since made amends for those times and criticized those who continue to focus on them in the present day.
"America is fundamentally good," Pompeo said, "and has much to offer the world, because our founders recognized the existence of God-given unalienable rights, and designed a durable system to protect them.... Foremost among these rights are property rights and religious liberty," Pompeo said.
He also said the numerous human rights championed by different U.S. and international groups had diluted an understanding of which rights are most important to defend.
"Many are worth defending in light of our founding; others aren't," Pompeo said.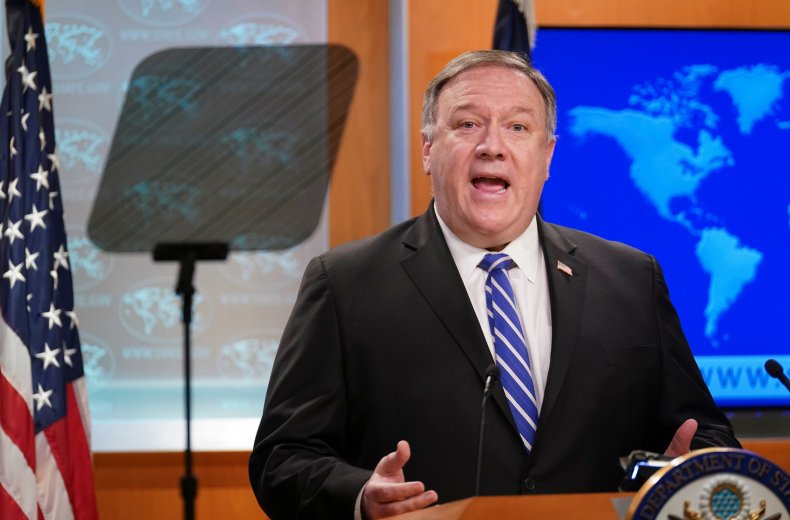 He called The New York Times's in-depth reporting on the history of Black enslavement in the U.S., The 1619 Project, "Marxist ideology [that] ... wants you to believe our country was founded for human bondage." He said such thinking must make the Chinese Communist Party "gleeful."
He then described citizens who have toppled confederate statues as "rioters ... desecrating monuments to those who fought for unalienable rights from our founding to the present day."
Many of the statues toppled during the ongoing protests against systemic racism and anti-Black police brutality in the way of George Floyd's death in police custody have been of Confederate generals who fought the U.S. government for the right to keep slaves. Other toppled or vandalized statues include that of Christopher Columbus, who enslaved Native Americans, former presidents George Washington and Thomas Jefferson, who both owned slaves, and former president Andrew Jackson, who was the architect of the Trail of Tears.
Pompeo named Nicaragua, Venezuela, Zimbabwe, Iran, Russia, Burma, China and North Korea as all having regimes opposed to human rights.
He also accused the United Nations Human Rights Council of doing "the bidding of dictators while ignoring "the worst human rights offenses of our times," and claimed, "The International Criminal Court is training its sights on Americans and Israelis, not the ayatollahs of the world."
"Too many human rights advocacy groups have traded proud principles for partisan politics," Pompeo said.