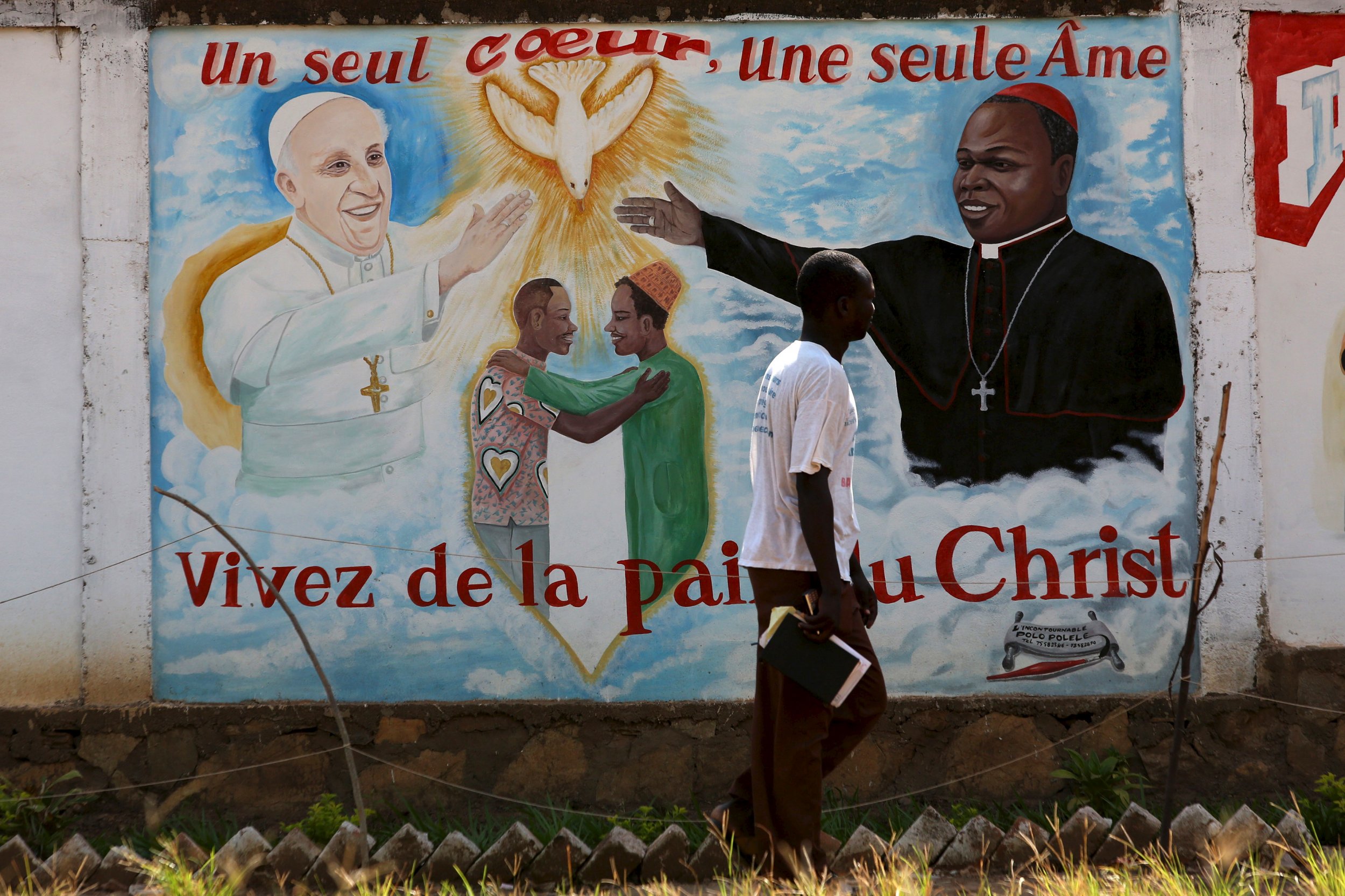 Christian and Muslim militia leaders will listen to Pope Francis's message of reconciliation when he visits the Central African Republic on Sunday, according to activists in the country.
The pope will arrive in the capital Bangui for a two-day stay on the final leg of his first papal visit to Africa amid security concerns due to sectarian violence between mostly Christian anti-Balaka and mainly Muslim Seleka rebels that has lasted for three years.
The pope's itinerary includes a visit to the Koudoukou central mosque in Kilometre Cinq, a Muslim neighborhood of Bangui that has been gripped by violence. At least 100 people have died around the Muslim enclave since September 25, according to Human Rights Watch (HRW).
There are more than 450,000 refugees from the conflict in CAR, according to the U.N. refugee agency, many of whom have fled into neighboring countries such as Cameroon and the Democratic Republic of Congo. The violence has also jeopardized national elections due to take place between December and January; they were already postponed from October due to the instability.
LeAnn Hager, an aid worker in Bangui for Catholic Relief Services, says the pope is uniquely positioned to hasten an end to the tit-for-tat killings that have characterized the conflict and also to advise Christians on how to live with their Muslim neighbors.
"There is some strong hope and almost expectation that his messages truly will be received by commanders of these armed elements, by political leaders, and that these individuals will take his words to heart and act accordingly in terms of bringing this country around to living in harmony," Hager says.
The CAR is the third-poorest country in the world, with a GDP per capita of $371, according to World Bank data. It has a Christian majority of around 50 percent, while 15 percent of the country's population is Muslim. Instability has plagued the country since March 2013, when Seleka rebels overran Bangui and ousted former President Francois Bozize.
The coup prompted France to boost its deployment of troops in the CAR to 1,600 and eventually ended with the coup leader, Michel Djotodia, resigning the presidency and being replaced by Catherine Samba-Panza, who remains interim president ahead of the next elections.
Hager says that there is "a lot of excitement in the air" and that Francis will receive a warm welcome from all sides when he arrives in the country. Seleka officials have reportedly asked militia members to allow the pope's visit to proceed peacefully. However, the trip has also been fraught with security concerns: French military officials have reportedly warned the Vatican that the trip is "high-risk" and refused to provide troops for the pope's security.
Lewis Mudge, Africa researcher for HRW, says that while the situation in Bangui has improved since the latest round of violence broke out in September, the capital remains a conflict zone—particularly around the Muslim neighborhood that Francis intends to visit.
"Kilometre Cinq...is still a complete ghetto with a no-man's land all around it and it's very dangerous to access that neighborhood," Mudge says.
While the pope remains keen to fulfill his schedule, his security detail is reportedly retaining the right to make adjustments to the itinerary at the last minute. The visit to Kilometre Cinq and the Koudoukou mosque is likely to be the most delicate part of his visit, but Mudge says the visit would have enormous symbolic value if the pope is able to go.
"He's going to go into what many of these anti-Balaka feel is the heart of their enemy's territory," Mudge says. "For him to go in there and preach reconciliation is just an amazing opportunity."