Pope Francis Apologizes to Canada's Indigenous Peoples for Abuse at Schools
Pope Francis has made a historic apology to Indigenous peoples in Canada for abuses at residential schools run by the Catholic Church.
The pope met Friday with First Nations, Inuit and Métis delegates at the Vatican, where he asked for forgiveness for the abuses that occurred at the schools. "I want to say to you with all my heart, I am very sorry," he said," and I join my brothers, the Canadian bishops, in asking your pardon."
The apology comes after a series of meetings between Francis and the delegates. These meetings were requested by the delegates, who have long urged the Church to acknowledge the abuses against Indigenous children at residential schools. In a letter given to Francis during the meetings, Métis National Council President Cassidy Caron urged the pope and the Church to join them in setting forward on a new path.
"While the time for acknowledgment, apology, and atonement is long overdue, it is never too late to do the right thing," Caron wrote. "You must now do the work of translating the words we have spoken from your head, into your heart, and ultimately into real action."
Around 150,000 Indigenous children were forced to attend residential schools throughout Canada, many of which became the sites of widespread abuse of students and even deaths. More than 60 percent of these schools were operated in conjunction with the Catholic Church, according to the Toronto Star.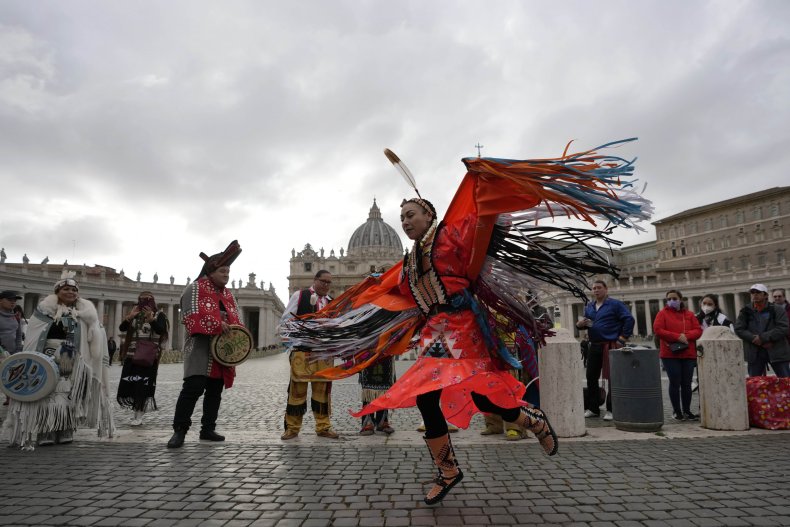 For years, the First Nations, Inuit and Métis peoples have been seeking an apology from the Church for the abuses and the lives lost. With the apology now given, they expressed hope that further positive action will be taken.
"Today is a day that we've been waiting for and certainly one that will be uplifted in our history," said Dene National Chief Gerald Antoine, who helped lead the delegation. "It's a historical first step. However, only a first step."
During the meeting, Francis expressed his desire to visit Canada to speak directly with the Nations, something that the delegates are hoping to plan with him. If such a visit is wet, it will likely fall around the Feast of St. Anne, or July 26.
"The next step is for the Holy Father to apologize to our family at their home," Antoine said. "We seek to hear his words. They also seek the words of apology at home."
Update at 4/1/22, 10:30 a.m. ET: This story has been updated with additional information.