Pope Francis Dismisses Reports of Resigning in the Near Future
During an interview last week, Pope Francis said he had no plans to resign as leader of the Roman Catholic Church, despite rumors that he had been considering stepping down.
On Saturday, Francis told Reuters that rumors of his possible plans to resign from the papacy are incorrect. In fact, Francis said plans to resign have "never entered my mind."
Some have speculated that a papal resignation may be on the horizon after the Vatican announced in June that Francis would not be going on a previously scheduled trip to the Democratic Republic of Congo and South Sudan this month.
In that announcement, the Vatican mentioned Francis was following orders of his doctors in regards to a "small fracture" in his knee that has been giving him problems, which caused him to use a wheelchair at some public events.
However, he did mention that he is progressing and is "slowly getting better."
Some have also speculated that Francis was suffering from cancer after it was supposedly discovered during a procedure last year. In July 2021, the pope underwent surgery for diverticular stenosis of the sigmoid section of his colon.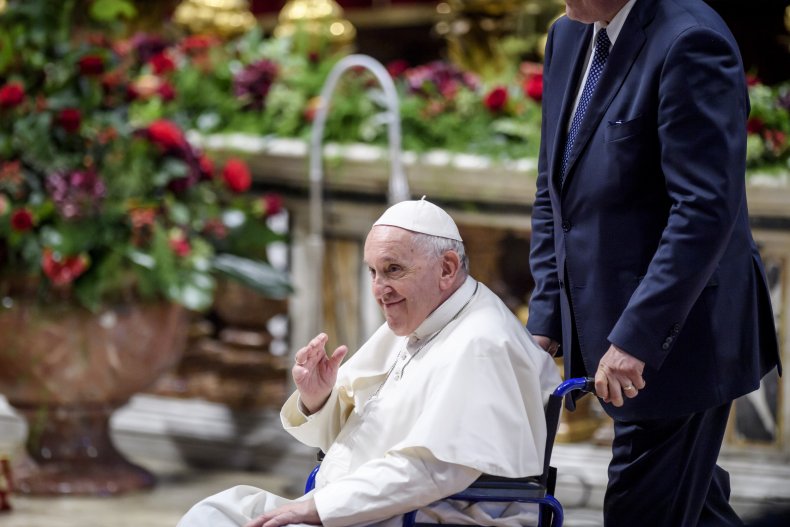 However, Francis told Reuters that his rumored cancer diagnosis was news to him, joking that his doctors "didn't tell me anything." In the interview, he went on to call last year's medical procedure a "great success."
Additionally, resignation rumors were also fueled following the announcement that Francis would travel to L'Aquila in central Italy in late August for the "Feast of Forgiveness."
The city of L'Aquila is the location of the tomb of St. Celestine V, who was pope for five months in 1294 before resigning. In 2009, four years before he became the first pope in close to 600 years to resign, Pope Benedict XVI visited L'Aquilla and left the pallium he wore during his papal installation mass on top of Celestine's tomb. After his resignation in 2013, some wondered if Benedict's gesture was a sign he was considering stepping down.
The visit to L'Aquila comes a day after Francis is set to designate 21 new cardinals, who will be able to elect a new pope. The day after the visit, Francis is scheduled to hold a two-day meeting with cardinals to discuss a new Vatican constitution.
During his interview, Francis dismissed the idea that these events are a precursor to his resignation.
"All of these coincidences made some think that the same 'liturgy' would happen. But it never entered my mind. For the moment no, for the moment, no. Really!" he told Reuters.
While Francis will not be traveling to the Democratic Republic of Congo and South Sudan, there are other international trips on the 85-year-old's schedule. Francis is expected to travel to Canada later this month.
The pope's Canadian trip will run from July 24-29 and includes planned stops in Edmonton, Quebec City and Iqaluit, the northernmost city in Canada.
Also, Francis indicated that he would also like to visit two areas that have been in the news as of late, including one city that has never hosted a papal visit.
"And now it is possible, after I come back from Canada, it is possible that I manage to go to Ukraine. The first thing is to go to Russia to try to help in some way, but I would like to go to both capitals," he told Reuters. If the visit is scheduled, it will mark the first time ever that a pope has been to Moscow.
Newsweek reached out to the Vatican for further comment.