Popular Google Doodle Games: Make Music From Thin Air in Doodle Celebrating Theremin Player Clara Rockmore
Today's retro Google Doodle honors Clara Rockmore, who made music from thin air by playing the theremin. The Doodle is a throwback to 2016, when it was originally posted to celebrate Rockmore's 105th birthday. It is the fourth in the Popular Past Google Doodle series.
Rockmore was trained as a violinist but had to stop playing due to arm pains. The musician then discovered a gesture-controlled instrument called the theremin when she met its inventor, Léon Theremin.
Though Theremin unsuccessfully proposed to her, Rockmore became the theremin's most well-known performer and influenced its development to become more responsive and be able to play five octaves instead of three.
Electronic music was uncommon in formal settings in the 1930s, but Rockmroe performed as a soloist with the New York Philharmonic, the Philadelphia Orchestra and the Toronto Symphony.
In the Google Doodle, users are taught to play a melody by dragging the mouse from one note to another. An animation of Rockmore then performs, before the user is invited to continue playing the theremin.
The team behind the Google Doodle translated the movement used to play the theremin, which is one hand controlling pitch and the other controlling the volume, to an interactive module, where a point of light controls volume and pitch.
The Doodle is in an art-deco style, reflecting the era the theremin was invented and made famous by Rockmore.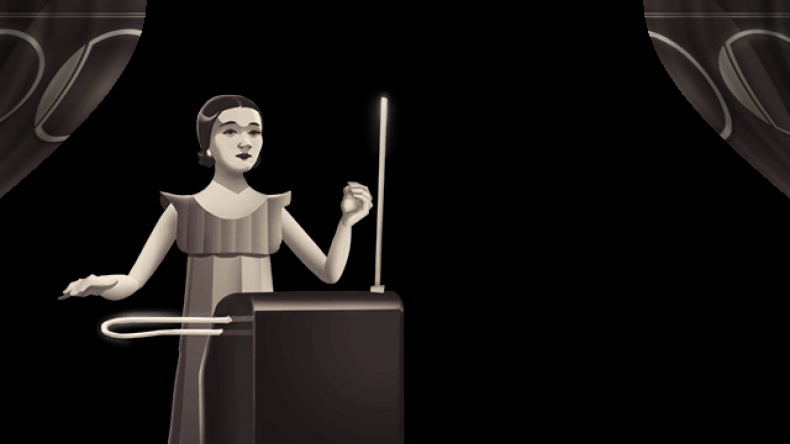 Artists Robinson Wood and Kevin Burke reflected the 1920s style in the instrument, with Burke explaining to Google: "We wanted to give the theremin's controls a feel of realism, so the knob textures were rendered to mimic Bakelite, the early plastic. We chose the wood texture for its similarity to the wood of Clara's RCA theremin."
Google brought back the Doodle this week as part of a series of its more popular games. The Doodle on the homepage shows the letter G playing the theremin, while the first O has been transformed into a music note.
The Doodle's caption today is: "As COVID-19 continues to impact communities around the world, people and families everywhere are spending more time at home. In light of this, we're launching a throwback Doodle series looking back at some of our popular interactive Google Doodle games!
"Stay and play at home with today's featured throwback: Our 2016 Doodle game celebrating Clara Rockmore!"
Previously, this week, Google has brought back a Doodle celebrating the first coding language designed for children, a cricket game celebrating the ICC Championship Trophy, and an interactive Doodle inviting users to compose visual music inspired by Oskar Fischinger.