Popular N95 Masks Can Protect Against Wildfire Smoke in Addition to COVID-19, Study Finds
Since the coronavirus first appeared in the United States, scientists have been figuring out the best way to protect against transmission of the virus. One of the earliest recommendations was mask-wearing. Though mask mandates vary from state to state and even city to city, it has become the general understanding that wearing a facial covering in public spaces can help protect against infection from the virus — especially in unvaccinated individuals.
According to the Mayo Clinic, an N95 respirator offers more protection than the disposable medical masks that have become commonplace. This is because N95s filter out both large and small particles when the wearer inhales.
But aside from providing protection from COVID-19, a recent study out of Colorado State University found that wearing N95 respirators could reduce the public's risk of respiratory hospitalizations caused by wildfire smoke by 22-39 percent. Currently, there are dozens of active large fires nationally burning over three million acres, according to the National Interagency Fire Center. In July, Newsweek reported that over a million more acres had been burned in the U.S. due to wildfires than the same time last year.
"We developed the idea for this project last winter when COVID rates were much higher and mask mandates were in full effect. I had a number of friends (non-scientists) who were asking me if they should keep their masks and use them during the smokey days during the wildfire season," Jack Kodros, co-author of the study, told Newsweek in an email. "I realized there aren't a lot of guidelines or recommendations for the general public on if masks would be helpful at reducing exposure to wildfire smoke."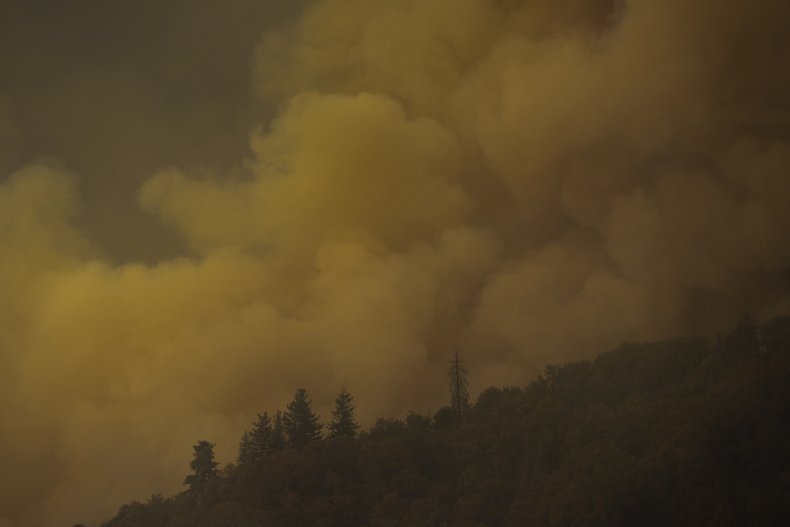 Kodros clarified that the estimate for percentage of reduction in hospitalizations is for the general public rather than an individual. He says the team analyzed a case study from 2012 and had to make some assumptions about how many people wear masks and for how many hours a day. The analysis from the study is not meant to be translated to COVID-19, given that characteristics of particles with the coronavirus are not the same as the characteristics of particles in wildfire smoke, he said.
"We estimated that wearing an N95 would reduce exposure to wildfire smoke by a factor of 16 (which would typically bring exposure down to levels we normally see on non-wildfire-smoke days)," Kodros said. "A motivated individual willing to wear an N95 could substantially reduce their risk of hospitalization if they wore the respirator correctly for a long period of time. That said, in our study, we do not expect the entire population to wear a mask (and for most of the day), and our case study numbers reflect this."
Throughout the pandemic, the general public has been discouraged from purchasing N95s as they were becoming harder to come by even for healthcare workers. In February, CBS News reported that, according to Centers for Disease Control and Prevention (CDC) Director Dr. Rochelle Walensky, standard, well-fitting cloth masks were sufficient to curb the spread of COVID-19.
With the school season commencing around the country, conversations intensified over masking for kids. Currently, there are no approved vaccines available for children under 12. Just this month, new data by the CDC shows that schools that don't require indoor masking are 3.5 times more likely than those with mask requirements to have a coronavirus outbreak, as Newsweek previously reported.
As has been the conversation with mask-wearing as it pertains to COVID-19, healthcare experts have continued to recommended donning a facial covering as a way to keep more people safe.
"I hope the public gains more of an appreciation about how limited we are in avoiding air pollution. Every day we can make a variety of choices to improve our health—diet, exercise, not smoking—but we don't have much of a choice about our environment," Kodros told Newsweek. "This can be a huge problem if the air we breathe contains particles that increase our risk of disease— wildfire smoke is one example and the coronavirus is yet another example. Having to choose to wear a mask or N95 (either for wildfire smoke or the coronavirus) to reduce your risk of going to the hospital because you simply breathed the air in your city should be a huge warning sign."