Popular Ukraine Beach Littered With Mines in Anticipation of Russian Attack
Ukrainian authorities spread mines across a popular beach in anticipation of escalated Russian attacks during a time of year when tourists typically dot the sought-after city sand on the Black Sea.
In the early weeks of the Russia-Ukraine war, Odesa, a popular tourist destination in southern Ukraine, did not see the widespread fighting other parts of the country had. But in recent weeks, Russia has increased its attacks on the city.
Control of Odesa is advantageous for either side as the conflict continues since it is a key port that provides access to the Black Sea. Should Russia successfully take over the city, it could threaten Ukraine's supply chain and cut off important trade routes—including the import of weapons from its allies — potentially weakening its standing in the war.
To prepare for more attacks, Ukraine has placed mines across the city's beaches, usually filled with tourists, the Kyiv Independent, an English-language Ukrainian newspaper, reported.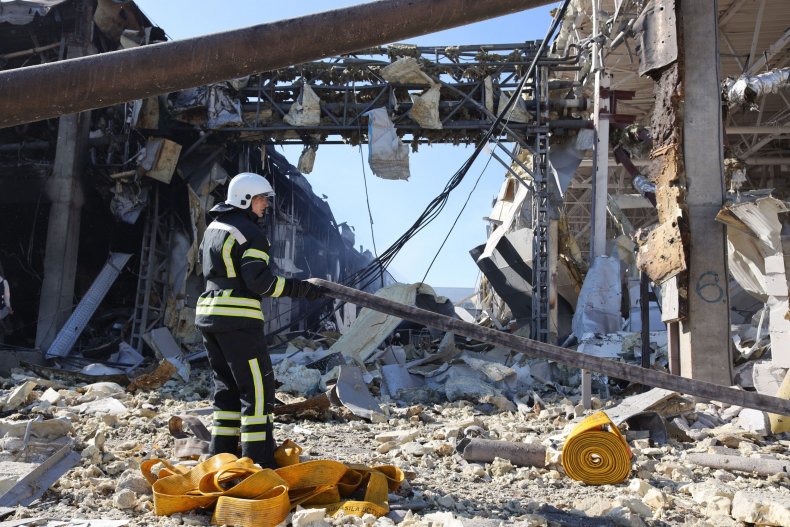 The city has also implemented an extended curfew and military patrols. Mayor Gennadiy Trukhanov told the newspaper that "we're ready" as the Russian military continued attacking the city on Tuesday, the Associated Press reported.
The Kyiv Independent noted the contrast from what Odesa would typically be like in May when tourists start to flock to the city for its famed beaches, which are also a vital part of the local economy.
Russia has largely failed to complete a swift invasion of Ukraine. The war, which started in late February, has now extended into its 11th week, and the Kremlin has made little progress after unexpected resistance from Ukrainians.
Odesa, which has a large Russian-speaking population, has long been one of Russia's targets in Ukraine due to its location along the Black Sea and historic ties to the nation. But the invasion has alienated the local population, with many fighting back against the war, according to AFP.
Monday night, Russia allegedly used a hypersonic air-to-surface missile, striking civilian targets in the city, killing at least one person. The targets included a local shopping mall and hotel. The attacks came on Russia's Victory Day, which commemorates the defeat of Nazi Germany during World War II.
Russia, in recent weeks, has shelled key parts of the city's infrastructure, including the local airport and a nearby bridge, according to the Independent. A missile attack on a residential building also killed two teenagers.
The conflict in Odesa could see far-reaching consequences across the globe.
In addition to the bombings, Moscow is also blocking food in Odesa's ports, which could exacerbate existing food shortages, specifically in sub-Saharan Africa. Ukrainian President Volodymyr Zelensky called on other countries to pressure Russia to end the blockade.
"Without our agricultural exports, dozens of countries in different parts of the world are already on the brink of food shortages. And over time, the situation can become downright terrible," he said.