In Portland, 76 Nights of Protests Leads to 550 Arrests and More Than $20 Million in Damage
As Portland's protests have persisted for nearly 80 nights, the city has seen some 550 arrests and over $20 million in damages and lost revenue for downtown businesses.
Protests remained relatively calm as they continued for their 76th night on Tuesday evening, The Oregonian reported. Clashes had previously escalated in July as federal agents were sent to protect federal buildings that had been vandalized in the city.
Mike Schmidt, the newly-elected district attorney for Portland, announced Tuesday that his office would not pursue charges against individuals who had been arrested over non-violent incidents amid the protest. He said that there were a total of approximately 550 cases related to demonstrations, which began on May 28. Of these, just 133 were classified as felony referrals while 350 were violations with no bodily harm or simple misdemeanors.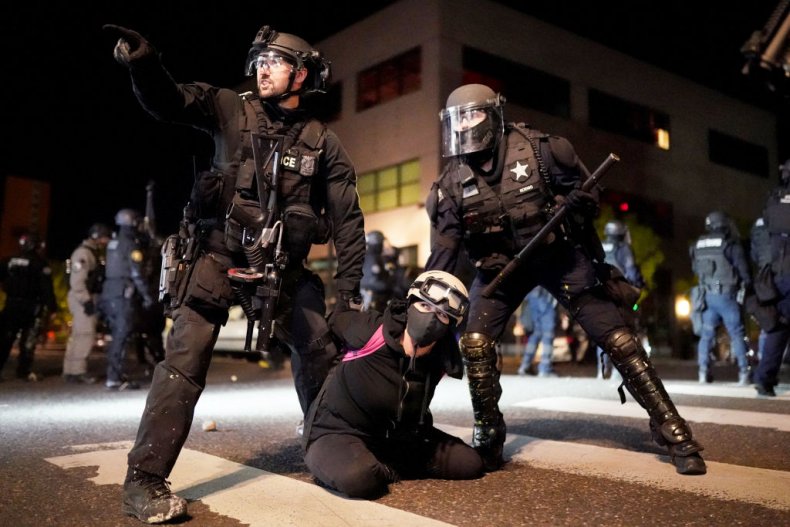 "While I would do what I can to provide protesters with a forum to make their voices heard, I will not tolerate deliberate acts of violence against police or anyone else," Schmidt said, Oregon's The Register-Guard reported. "Engage in that type of conduct, and you should expect to be prosecuted."
In early July, police in Portland said that demonstrations had already led to some $23 million in damages and lost revenue for downtown businesses. A spokesperson for the police department told Newsweek on Wednesday morning that they did not currently have an updated figure on the total cost of damages and lost revenues.
The large-scale demonstrations began following the death of George Floyd, an unarmed Black man, in police custody in Minneapolis on May 25. A viral video of Floyd's arrest filmed by a bystander showed a police officer kneeling on Floyd's neck for nearly nine minutes as he repeatedly complained that he could not breathe. Protests against police brutality and systemic racism in the justice system rapidly spread across the entire country—and around the world—in the wake of Floyd's death.
In early June, more than 10,000 people were estimated to have been participating in daily protests. At the end of June, rioters set the Portland Police Bureau's North Precinct on fire, while nearby businesses were also burned. Over the weekend, Portland Police again declared there was a riot, after a group of protesters broke inside the Portland Police Association and set it on fire.
The Oregonian city's Mayor Ted Wheeler criticized violent demonstrations during a press conference last week, arguing that they were serving as props for President Donald Trump.
"Don't think for a moment that you are if you are participating in this activity, you are not being a prop for the reelection campaign of Donald Trump—because you absolutely are," Wheeler said. "You are creating the B-roll film that will be used in ads nationally to help Donald Trump during this campaign. If you don't want to be part of that, then don't show up."