Portland Commissioner Says Police Started Fires, Apologizes after Backlash
Portland City Commissioner Jo Ann Hardesty has had to row back on her claim that police deliberately lit fires during ongoing unrest in the city, during a spat between her and the law enforcement chiefs.
Hardesty made the accusation in an interview with Marie Claire in which she said the police during the civil rights protests of the 1960s used "provocateurs" who were "intentionally added to the group to do disruptive stuff."
She said police in Oregon's largest city were doing the same in the protests that have raged for nearly two months following the killing of George Floyd on May 25.
"I have no doubt in my mind, I believe with all my heart, that that is what Portland police are doing," she said, adding, "I believe Portland Police is lying about the damage—or starting the fires themselves—so that they have justification for attacking community members."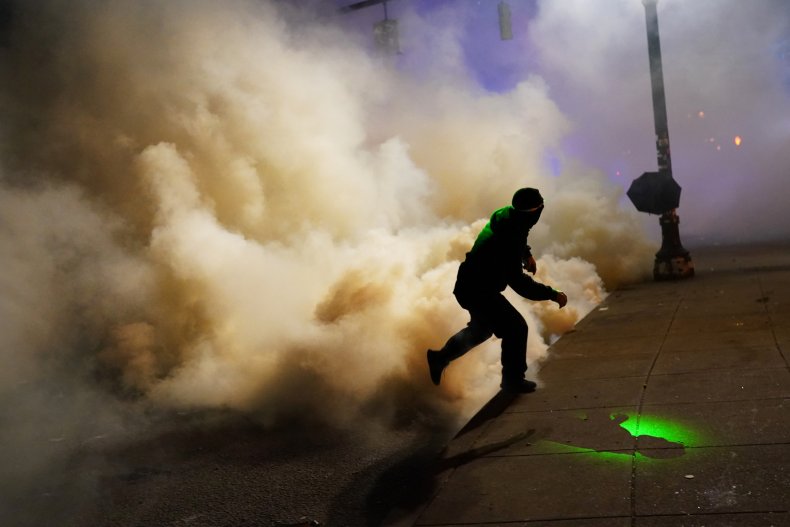 During a city council meeting on Wednesday, Hardesty ramped up her rhetoric, accusing Portland Police Association president, Daryl Turner, of continuing to "lie to the public on a daily basis about the lack of cooperation by Portland police personnel."
She also accused the city's police of not protecting Portlanders "when these federal goons came in and started attacking us," ABC affiliate KATU reported.
Turner described Hardesty's claims as "outlandish" and called on her to produce evidence, saying in a statement on Facebook that "politicians bent on power, perpetuating misinformation and untruths, are just as guilty of using their privilege to hijack this movement as the rioters who are committing violent acts, burning, and looting.
"Both actions are causing destruction and chaos at a time when our communities are pleading for leadership and meaningful change," he added.
Portland Police Bureau Chief Chuck Lovell said Hardesty's claims "strains credulity" and also called on her to produce evidence to back up her claims.
"I'm disappointed that an elected official would make a statement like this without providing specific facts to support it. This allegation is completely false," he tweeted.
Hardesty later apologized for her remarks, saying, "We all have bad days but most of them don't happen publicly. I have always said we can disagree without being disagreeable, but today I did not meet that standard, and I'm sorry."
However her statement also continued its criticism of law enforcement, referring to how she faces "countless barriers from protecting protesting Portlanders from the deluge of tear gas, pepper spray, and other munitions."
In what appeared to be a veiled swipe at the veracity of police information being given out, she said: "I appreciate the reminder that as a public servant I need to be careful making statements out of misinformation, and I take this to heart."
"I hope this is something Portland Police Bureau will also remember as they put out nightly statements regarding the protests, their conduct, and their involvement with federal officers," she added.
Department of Homeland Security, acting secretary Chad Wolf, justified the deployment of federal officers to Portland because he says there was a"lack of action from city officials."
The city's mayor Ted Wheeler has called the federal officers to leave, blaming them for escalating the situation. Oregon Senator Ron Wyden said during a Senate intelligence committee hearing on Wednesday that his hometown had been "invaded by militarized federal law enforcement."