Prada and Other Clothing Companies Keep Putting Nazi, Holocaust Symbols in Their Designs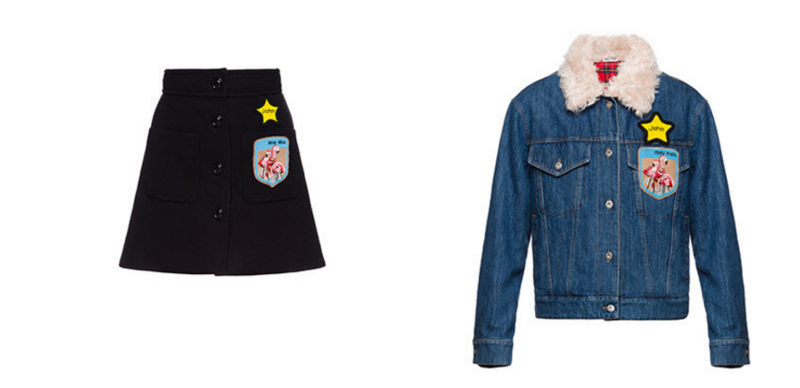 The Prada-owned brand Miu Miu is the latest to stumble with a design that incorporates symbols linked by some to the Holocaust. The company recently released a collection of items featuring a five-pointed yellow star, reminiscent of but not identical to the Star of David that Jews were forced to wear under the brutal Nazi regime.
The World Jewish Congress (WJC), an international organization founded in 1936 that advocates on behalf of Jewish communities and groups, writes that it contacted Miu Miu on Monday to express its "discomfort over the items and demand their removal," and then lauded the company's immediate move to do so.
"The World Jewish Congress commends Miu Miu and its parent company, Prada, on its swift attention and action to the concerns we raised regarding the use of the yellow star on its clothing items," WJC CEO and Executive Vice President Robert Singer said in a statement on Tuesday. "At this critical time, when anti-Semitism and bigotry are rearing their heads in the public sphere, we must continue to exercise caution and show sensitivity in every sphere and sector."
Preia Narendra, senior vice president of marketing and communications at Miu Miu, thanked the WJC for bringing the matter to the company's attention. "It was not Miu Miu's intent in any way to make any political or religious statement, and we apologize for any offense that may have been taken," she told the WJC. "Kindly note that effective immediately these items will be removed from the collection."
One writer, Michelle Honig, speculated in The Forward that the Miu Miu designs were "less of an anti-Semitic statement and more of an unwitting similarity." She added that not all the star patches looked like the sartorial markers used by the Nazis to identify Jews, with some of Miu Miu's patches appearing in pink or red. And the yellow star? "If I were to hazard a guess, the star patch is meant to resemble the gold foil star stickers teachers use for good behavior and good marks on tests," she said.
The Miu Miu incident is just the latest in a long line of questionable design decisions by prominent brands that indicate, at the very least, a lack of attention to detail and an ignorance of the many symbols intertwined with a horrific history. In 2002, for example, the sportswear company Umbro drew a flood of criticism over its Zyklon trainer. The company insisted the name of its shoe wasn't chosen as a deliberate reference to the Holocaust, and it had apparently not been aware that the chemical Zyklon B was used to murder Nazi victims in extermination camps.
Shimon Samuels of the Simon Wiesenthal Center told Umbro in a letter at the time that its "outrageous misuse of the Holocaust is an insult to its victims and survivors."
The clothing companies Urban Outfitters and Zara have been repeat offenders. In February 2015, the Anti-Defamation League (ADL) sent a letter to the president and CEO of Urban Outfitters, headquartered in Philadelphia, urging the company to remove an item that reminded observers of the uniforms worn by gay male prisoners in Nazi concentration camps.
"Whether intentional or not, this gray-and-white striped pattern and pink triangle combination is deeply offensive and should not be mainstreamed into popular culture," Abraham H. Foxman, the ADL national director and a Holocaust survivor, said at the time. "We urge Urban Outfitters to immediately remove the product eerily reminiscent of clothing forced upon the victims of the Holocaust from their stores and online."
That incident came less than three years after another Urban Outfitters item, a yellow T-shirt with a six-pointed star, spurred outrage from critics. The ADL found the "use of symbolism to be extremely distasteful and offensive, and we are outraged that your company would make this product available to your customers," Barry Morrison, an ADL regional director, wrote in a letter at the time.
In 2014, a striped shirt with a six-pointed yellow star being sold by Zara was panned as a "Holocaust uniform" or "Holocaust shirt." The Spain-based company withdrew the item and apologized, explaining that "the garment was inspired by the classic Western films, but we now recognize that the design could be seen as insensitive and apologize sincerely for any offense caused to our customers." In 2007, the same company withdrew a handbag whose pattern incorporated green swastikas.
Despite repeated gaffes, brands in the U.S. and abroad haven't seemed to learn how to avoid designs that spark fury for their jarring allusions—even if accidental—to the Holocaust. But at a time when anti-Semitic incidents in America have increased drastically, and when flags emblazoned with swastikas are being raised at rallies like the one that turned violent earlier this month in Charlottesville, Virginia, it's urgent that individuals and companies alike understand the meaning of these symbols.