Praise for Bride Refusing to Invite Stepsister to Engagement Party: 'Toxic'
The internet has praised a woman who refused to invite her stepsister to her engagement party.
On Tuesday, user u/clockingjam shared the story on Reddit's r/AmITheA**hole community where it has received thousands of reactions and comments.
The woman explained that she and her fiancé Ryan were recently engaged. With her parents divorced over 15 years ago, her mom remarried a man named Tom who had two children—Lily and Anne. [The poster changed the names.]
"Lily is my age but I'm a few months older and we went to the same school," explained the Redditor.
"I met Ryan in junior year of high school and we had an on/off relationship throughout school," she continued: "[We] broke up at 18 and then we reconnected years later when I was 25 and have been going strong since. Lily hated this, like absolutely freaked out because she apparently never dated anyone in high school and didn't have an official relationship until late in college."
The poster continued to explain that in high school she was never allowed to have boyfriends to hang out at home because of her step-sister's jealousy. "Whenever I did break up with Ryan she would rub it in my face and say I never deserved him," she wrote.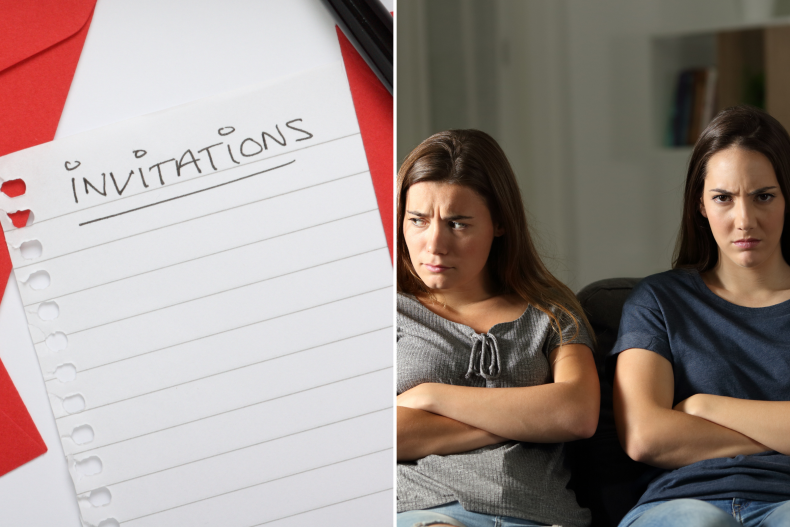 When recently going through the engagement invitations, the poster told her mother that she did not want Lily at the engagement party—but this caused great upset.
"My mom told Tom who got upset and then told Lily who called me and that created a whole mess," wrote the Redditor: "She called me absolutely furious saying that I was insecure and she's now going to wear white to my wedding since I want to make this about myself."
Upset at the ordeal, the poster revealed that her mom continued to urge her to just invite her step-sister, but the bride-to-be refused to contact her until she apologized.
"I feel like everyone else is acting absolutely crazy and I feel like I'm losing my mind with no one seeing it from my side besides Ryan," wrote the user.
Stepfamilies aren't uncommon, in fact, according to research from the Pew Research Center more than four in 10 American adults have at least one step-relative.
Most people with a step-relative say that they are very satisfied with their family life, but those without any step-relatives do rank slightly higher in levels of family satisfaction with 78 percent of non-step families saying they are very satisfied.
Replies to the Reddit post sided overwhelmingly with the bride-to-be. One commenter wrote: "It's your wedding, invite only the people you want there. It's such a special day, no toxic people should ruin it for you."
Another reply said: "You two are not friends. And she never acted like family. Your engagement party is for people who will celebrate with you."
"Your mother should be apologizing to you for acting like an enabler," said another reply, adding: "Your stepfather needs a hike to clear his head of who's really the problem here."
"Continue to stand up for yourself. It's your wedding so you decide who is invited. Don't let anyone pressure you into inviting someone that you don't want there," wrote another Redditor.
In a later update, poster u/clockingjam explained: "Thank you to everyone for all your wonderful messages, I'm so glad I'm not going crazy. You guys have definitely helped open my eyes and I'm so glad that I wasn't being dramatic.
"Ryan and I have actually decided to elope because wedding planning is insanely stressful and we really hate it. We felt that we needed to have a "wedding" because that's just what people do but throughout this whole process we've been completely miserable."
Newsweek has reached out to u/clockingjam for comment.
If you have a similar family dilemma, let us know via life@newsweek.com. We can ask experts for advice, and your story could be featured on Newsweek.