Christian Preacher Asks God to Give Gay People a 'Slow, Painful Death'
A Baptist preacher sparked outrage online after footage of him emerged saying he hopes "every homo that exists" suffers "a slow, painful death" during a speech last week.
Duncan Urbanek made the comments at Pure Words Baptist Church in southwest Houston, Texas.
A clip from the speech was reposted online by Hemant Mehta, a secular campaigner, who labeled Urbanek a "hate-preacher" on his Friendly Atheist Substack blog. In the video, Urbanek says: "Hey I'm going to pray for every pedophile. Every homo that exists, you know what my prayer for them is? They go straight into hell right now."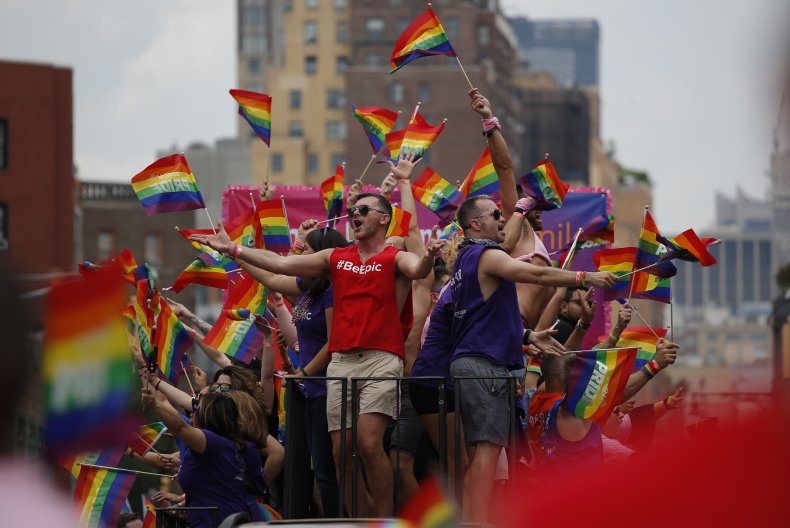 He continues: "I have no sympathy for them. I have no love for them. They hate God! They've already rejected God! And if God rejected them, why would I accept them?
"That's why I just pray that they just go to hell! And that's a good imprecatory prayer to have: Hey Lord, let him drop straight into hell right now.
"I mean if that's not gonna happen, you know, let him get run over by a bus! A huge semi-truck! A Mack truck! I mean, let him get struck by lightning. I mean, give him cancer. Let the AIDS just infest their whole body and just die right now. Just destroy them.
"I mean, I don't care which way you do it, Lord. Just kill them right now. Break their teeth in their mouth. Let them have a slow, painful death."
Newsweek reached out to Pure Words Baptist Church for comment.
On its website, the church calls "sodomy & homosexuality" a sin, and says it should be "punished with the death penalty," alongside other perceived offenses such as "adultery" and "striking/cursing your parents."
It does add Christians "should not take the law into their own hands," but insists they must "kick Christians out of the church for any offence punishable by death."
Social media users expressed their outrage at Urbanek's comments on Twitter.
One person tweeted in a response to the video: "'We were made in the image of a loving god' and 'kill them and break their teeth' - I'm not sure how someone can hold both of these."
Another wrote: "I'm glad I stopped going to church."
Separately, a video of a controversial pastor Jonathan Shelley mocking the idea a man should consult his wife on having children was widely shared online earlier this month. In the clip, filmed at the Stedfast Baptist Church in Fort Worth, Shelley said: "How effeminate is that, to let your wife tell you when she's gonna have kids or not? I mean that is feminism."
In November, footage of a Christian vlogger claiming "masturbation is a form of witchcraft" went viral after it was reposted on TikTok, receiving more than 675,000 views.
More than 20,000 people have signed a petition by Faithful America, a progressive Christian group, opposing Donald Trump's 2024 presidential bid and claiming it "would be a disaster for our country" if the Republican returns to the White House.