Pregnant Mom Upset Partner Can't Drive Divides Opinion: 'It's Exhausting'
A woman with two young children and another on the way who complained about having to do all the driving for her family as her partner can't drive has sparked a heated discussion among users of Mumsnet.
Statistics from Hedges & Company said that 89 percent of Americans 25 and older have a valid driver's license, while the RAC Foundation found that 80 percent of those in Great Britain over 17 can legally drive.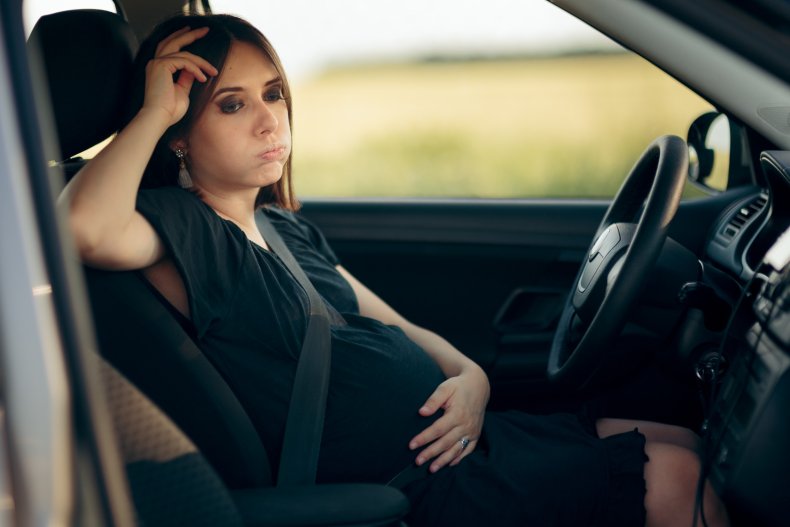 According to several posts shared by the woman (under the username EllieRosesMammy) on Mumsnet, she is four months pregnant and looking after a 4-year-old and a 9-month-old while doing "school runs, trips, appointments, activity clubs, commuting 2 hours a day to work" as a full-time chef.
The mother said: "I drive, my partner doesn't. Meaning that to go anywhere everyone relies on me. I want my partner to be able to drive too so we could split the driving, especially when we go on days out because it's exhausting.
"He keeps saying he will learn to drive but it never happens. I've got a feeling he's really nervous about it...if he didn't spend his teen years wasting his money then maybe he would [have] learned to drive at 17 like the rest of us [hand on face emoji]," the mother said. She later clarified that when he was younger, he lived in a town where everything was within walking distance.
What is Driving Anxiety?
Sixty-six percent of Americans experience driving anxiety, while 55 percent report they feel it while performing common driving maneuvers, according to a survey of 1,500 U.S. adults age 18 and older conducted for The Zebra (an insurance comparison website) on YouGov Direct.
Therapist Eric Patterson and Dr. Kristen Fuller wrote for Choosing Therapy that some effects of driving anxiety include:
Chronic muscle tension
Restlessness or fatigue
Changes in heart rate and stress levels
Higher risk of having an accident if driving causes panic attacks
Likelihood of reduced mobility as someone because more anxious about driving
Problems related to finances, housing, relationships, and employment if someone stops driving due to anxiety
EllieRosesMammy said she also suffers from iron deficiency anemia, which leaves her "exhausted frequently," and that she lives in "a continual state" of feeling "tired, unwell and stressed."
Redditor Reactions
'Basic Life Skill'
Some users showed support for the mother and said her partner should be "ashamed" that he can't drive, such as YDBear, who commented: "It's a basic life skill. He should be ashamed of himself."
AprilRae91 said: "You're not unreasonable to want him to learn if the delay is just due to procrastination. Ask him to get cracking and book an initial course of lessons. He's probably worried he will be s**t but it's like anything practice makes perfect."
The mother said: "He's far from a lazy person! I do think it's mostly anxiety due to waiting till now to do it, rather than getting it out of the way when you're a fearless teenager/young person..."
User itsmellslikepopcarn said: "I have sympathy for you, OP [original poster]. DP [my dear partner] doesn't drive either, so if we go anywhere, long drives for holiday, an hour to see his family, it's always me..."
'Privileged'
Others have been less sympathetic, saying the mother is "privileged" and that she should not be driving in her condition.
User wallpoppy said the mother "absolutely" should not be driving if she is perpetually exhausted, adding "you have just admitted you are putting other lives at risk out of a selfish desire for your own convenience..."
OP then replied: "I suppose it's selfish to need to take my children to school, attend doctors apps [appointments], hospital apps and travel to work. A workplace that is an hour away by car and unfeasible to rely on public transport..."
Referring to the original poster's comment that "maybe he would [have] learned to drive at 17 like the rest of us," user NeverDropYourMooncup commented: "Oh, the privilege just drips from that statement."
The mother then replied: "Privilege? I was raised by a single mum, in THE most impoverished town in the UK, worked full time from 16, went to college and paid entirely for my own driving lessons, insurance, tax, MOT and car," adding that she earned £3.64 (around $4.38) an hour and her driving lessons cost £18 (around $21.60) an hour..."
To the users who asked why she had children with a person who can't drive, the mother said: "Because I love him and overall he is a brilliant partner and dad. Even if he never learns to drive I wouldn't leave him, I'd just appreciate not being the one to ferry everyone around for the rest of our lives."
'Up To Capacity'
Gogster and ThePumpkinPatch both questioned why the mother was "having another child when she's "clearly up to capacity!!"
The original poster replied she would "love to know how I'm 'up to capacity' just because my partner doesn't drive. Didn't realize you had to meet certain requirements to have more than 2 children."
In a later post, she said she spoke to her partner, who admitted "he's been putting it off because he's nervous." After she emphasized how helpful it would be "to share the load," the partner allegedly said he's going to call some driving schools tomorrow to get some lessons booked.
"So fingers crossed it actually happens [grinning face and fingers-crossed emojis]," the user said.
Drivers In The News
And this isn't the only time that having a driver's license (or not) has come up in the news.
One woman was largely defended for canceling a date with a man she found out did not have a driver's license.
Two drivers shocked the internet when one presented the other with an Uno Reverse card in a parking lot saga.
But being the passenger certainly has its perks as one study found that millions of drivers miss out on road trip memories simply because they're the driver.