Pregnant Woman Flees Texas to Obtain Abortion for Baby Doomed to Die
A Texas woman who always dreamed of becoming a mother is continuing to share the story of why she traveled out of state to get an abortion.
Kailee DeSpain said it was a "miracle" when she became pregnant with a baby boy that she and her husband had named Finley.
She had been pregnant three times before—at 21, she had miscarried at 12 weeks; at 23, she had gone into labor at 16 weeks and delivered a baby girl who died and then, at 28, she miscarried again, this time at six weeks.
At 27, she had been diagnosed with cervical cancer.
After removing part of her cervix, doctors warned her that she had to hurry if she wanted a baby because the cancer "would not stay away forever" and she would need a hysterectomy if it returned.
But a month after her most recent miscarriage, she was pregnant for a fourth time.
"Everything was good, normal, healthy. Strong heartbeat," DeSpain wrote in a Facebook post in May. "I found out he was a boy. Please, God. Let me bring my BOY home alive."
DeSpain said she would "hold her breath" as she monitored her pregnancy every day.
At 16 weeks, she and her husband went in for a routine scan. "This was the first one I was excited for. I finally had hope; I had carried Finley farther than any of the others. My little warrior," she wrote.
But the ultrasound confirmed DeSpain's worst fears: her baby was not healthy.
Over the following days, specialists told DeSpain and her husband that Finley was missing a kidney, had a heart that couldn't direct blood where it needed to go and that his brain "had split."
Then, specialists told her that he had triploidy, a rare chromosome abnormality, and that he would not survive. Carrying a baby with triploidy can also cause complications for the mother and pre-eclampsia, a pregnancy complication involving increased blood pressure and other issues.
"And my blood pressure had already been so high. And I had been pulled off of the blood thinners that were protecting my body from an autoimmune response," she wrote. "And there was now a higher chance that I might not make it, either, they said. And my husband was looking at me with fear in his eyes and saying that he would NOT lose me, too."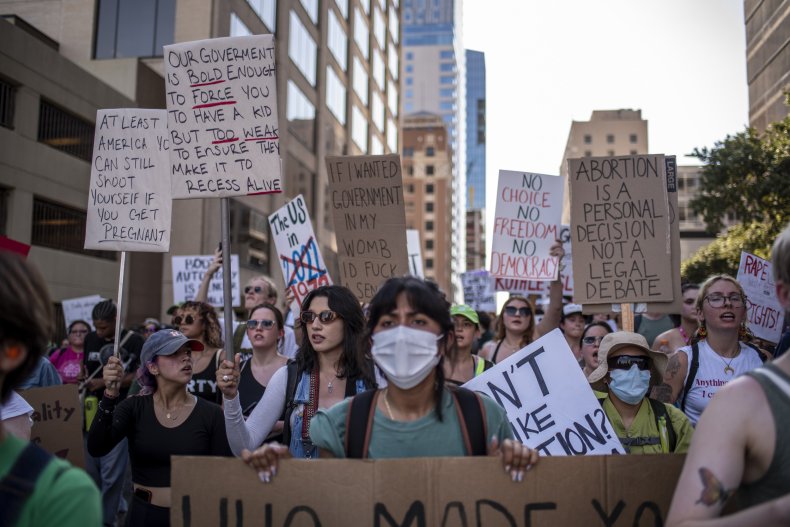 Doctors had told DeSpain that she "didn't have any options in Texas" because the Senate Bill 8, a law banning most abortions after about six weeks of pregnancy, had gone into effect.
That law leaves enforcement up to private citizens who are empowered to file civil lawsuits against abortion providers and others who help a woman obtain an abortion in Texas.
While the law makes exceptions for medical emergencies, it doesn't define what those are, meaning doctors are left to decide whether a patient qualifies and risk being sued.
"So at 19 weeks, we drove ten hours out of state" to get an abortion in New Mexico, DeSpain wrote. "I walked into the clinic alone. I passed people whose signs said that I was a murderer. 'Don't kill your baby!' they screamed at me. 'We have resources!' Don't kill your baby? 'My baby has triploidy. He is DYING. He is going to SUFFOCATE,' I yelled back.
"I was angry... They assumed that I did not WANT the child that I had prayed for for almost eight years."
She had the abortion in March and her son's ashes were later mailed back to Texas.
After a leaked draft published in early May suggested the Supreme Court was poised to overturn Roe v. Wade, DeSpain said her "soul was on fire."
"I decided that I would share my story—the WHOLE story," she wrote. "And I would protest, and I would fight for MY rights, so that one day—someday—if I am ever blessed with a living daughter, my girl will not ever have to fight for hers."
She added: "No one should have to share a story like mine to justify abortion… But I have given you mine in the hopes that it will open your eyes to what people have done by supporting politicians who believe that abortion is a state's right to take away."
DeSpain has again shared her story after the Supreme Court last week overturned Roe in a bombshell decision that researchers say is expected to lead to about half of U.S. states banning abortion.
On Friday, the Texas Supreme Court allowed the state to enforce its 1925 abortion ban. And a trigger law passed by the Texas legislature that bans abortion in the event that Roe is overturned will take effect in the weeks ahead.
"People have asked me why I continue to share—why I don't want peace for myself to heal after losing our son," DeSpain wrote in a Facebook post on Sunday.
"My answer is this: I will not know a single day of peace until I can govern my own body, and everything that goes on inside of it, in the state I once loved."
DeSpain told Newsweek that she is hopeful that her story will reach Texas lawmakers and spur them to add exceptions to the state's abortion laws.
"I'm under no impression that they will be willing to make exceptions for all pregnancies. That is simply not the lawmakers we have right now," she said.
"We need exceptions, not just for emergencies, but for health risks to the mother, so that the mother has a choice of whether or not her life and health are placed at risk—so that doctors are not hesitant and fearful of being charged with a crime when treating their patients.
"We need exceptions for babies who have fatal fetal anomalies, like Finley, so that the parents have a choice of whether or not carrying to term is the correct choice for their family, under their circumstances."
Texans also need to be reassured that laws will not be enacted that prohibit travel for out-of-state procedures and the use of contraception. That includes laws "that could be fashioned like SB8, that would turn citizens into spies and bounty hunters for the Texas government, turning in their friends and neighbors for suspecting that they traveled out of state for an abortion," she said.
Update 7/5/22, 10:30 a.m. ET: This article has been updated with additional comments from Kailee DeSpain.