Democrats Liken Trump to Dictator Over Election Comments, Portland Unrest
President Donald Trump has been labeled a dictator by Democratic lawmakers concerned by his comments regarding the results of the upcoming presidential election this year and actions taken against protesters in Portland.
Asked whether he would accept the election results by Fox News Sunday, Trump declined to confirm his stance either way.
"I have to see. Look ... I have to see," he said.
"No, I'm not going to just say yes. I'm not going to say no, and I didn't last time either."
These comments come with Trump behind in the polls, with Democratic presidential candidate Joe Biden previously expressing concern the president may attempt to "steal this election."
Trump's comments on the potential outcome in November come as his administration faces criticism for intervention at demonstrations in Portland.
Federal agents have been deployed in the city amid unrest and reports have suggested some have driven around in unmarked vans, grabbing protesters from the streets.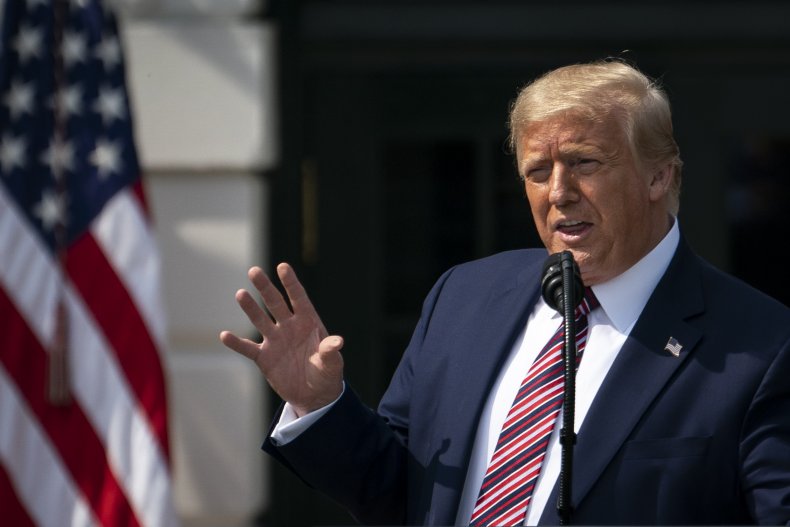 The administration faces accusations of using "violent tactics against peaceful protesters," with calls mounting for an investigation into the situation.
House Speaker Nancy Pelosi (D-CA) previously said the Trump administration had a "lack of respect for the dignity and First Amendment rights of all Americans," vowing to curb "egregious abuses of power."
The two points of controversy have raised a raft of criticisms and concerns from Democratic lawmakers.
"Trump's threat to defy the will of the American people by refusing to accept election results in November is particularly alarming given what is happening in Portland," Rep. Don Beyer (D-VA) tweeted.
"Trump is not a king."
He added that lawmakers should reject the comments, "regardless of party."
Other suggested the president's comments in regards to the election outcome were dictatorial.
"The American people will not tolerate a dictator," Rep. Jim McGovern (D-MA) tweeted.
"If you lose,@realDonaldTrump, you will leave or freedom-loving people will remove you."
Sharing a news report on his comments, Sen. Amy Klobuchar (D-MN) said: "And this is why we vote & why everyone must vote & why the ballots must be counted & why we need paper ballots & why we have a Congress & a Constitution.
"We do not live in a dictatorship."
The situation in Portland also prompted such comments.
"Trump's tin-pot dictator attempts to seem strong in the face of people exercising their First Amendment rights are deeply dangerous & undemocratic. The American people are not props for his political posturing," said Sen. Richard Blumenthal (D-CT), joining mounting Democratic voices expressing concern over the treatment of protesters.
Following the president's comments on how he would react to the election results, the Biden campaign said the U.S. government is "perfectly capable of escorting trespassers out of the White House," insisting "the American people will decide this election."
In response to the Democratic criticism, Tim Murtaugh, director of communications for the Trump campaign, said: "It is now the stated goal of Democrats to eliminate protections for election integrity, such as mailing a ballot to every registered voter, whether they asked for one or not. They also want to eliminate signature matching and clear the way for ballot harvesting, which are also wide open opportunities for fraud."
Murtaugh suggested there were "widespread problems" with mail-in voting, referring to a recent case of a dead cat having been sent a ballot.
"Against this backdrop, we don't know what kind of shenanigans Democrats will try leading up to November," he said. "If someone had asked George W. Bush and Al Gore this same question in 2000, would they have been able to foresee the drawn out fight over Florida? The central point remains clear: in a free and fair election, President Trump will win."
Newsweek has contacted the White House, the Biden campaign, and the lawmakers mentioned above for comment.
Update 7/21/20: This article was updated to include comment from the Trump campaign.