POTUS Twitter Account Follows Just 12 People—Biden Aides…and Chrissy Teigen
The newly-created presidential Twitter account @POTUS currently follows a dozen people, and while most are Biden administration aides or top-level staffers, model and TV personality Chrissy Teigen also made the cut.
Teigen, who commands a vast following of more than 13 million on the social media platform, appealed for a follow from the incoming commander-in-chief ahead of his inauguration on Wednesday. She was previously blocked by Donald Trump.
"hello @joebiden I have been blocked by the president for four years can I get a follow plz," Teigen tweeted, tagging Biden's personal account.
As of Thursday morning, the request had attracted hundreds of comments, more than 23,000 retweets and a whopping 600,000 likes from other users on the platform, where Trump's personal account has been permanently suspended since January 8.
Teigen reacted to the @POTUS follow after it was highlighted in a tweet by the political author Gabe Fleisher. She wrote: "OH MY GOD !!!!!!!!!! my heart oh my god lmao I can finally see the president's tweets and they probably won't be unhinged."
The POTUS account has amassed close to 5 million followers since it was launched last week. It was following a total of 12 people at the time of writing.
The shortlist included White House Communications Director Kate Bedingfield, Deputy Chief of Staff Jen O'Malley Dillon, Chief of Staff Ronald Klain, Vice President Kamala Harris, the Director of the National Economic Council Brian Deese, and more.
For comparison, the POTUS account during President Trump's four years in office followed a total of 38 people—mainly U.S. government agencies alongside a handful of administration staff—and had more than 33 million followers. It is now archived.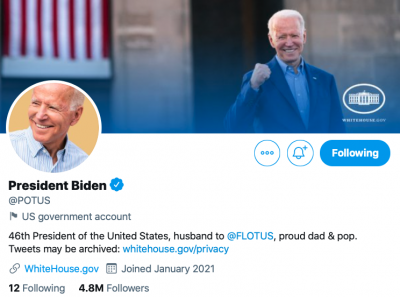 Before Wednesday, the @POTUS handle had been @PresElectBiden, a fresh account made for the president that did not keep followers from the prior administration.
A new account has also been created for the White House. It follows four people at the time of writing and has pulled in more than three million followers.
The new @POTUS account has tweeted eight times at the time of writing, confirming the administration was rejoining the Paris Climate Agreement and laying out policy.
Its first official tweet read: "There is no time to waste when it comes to tackling the crises we face. That's why today, I am heading to the Oval Office to get right to work delivering bold action and immediate relief for American families."
Like Trump, President Biden has retained the use of a personal account, although has indicated that @POTUS is set to become the main. Biden wrote on Wednesday: "Now the real work begins, folks. Follow along at @POTUS as we build back better."