People Shocked to Learn President John Tyler, Born in 1790, Has a Living Grandson
People have been shocked to discover President John Tyler, who was born in 1790, has a grandson who is still alive today.
While the founding fathers of the 18th century may seem like men consigned to the history books, one man is living proof America's creation isn't as long ago as we might think.
He is Harrison Ruffin Tyler, who was born in 1928, and celebrated his 93rd birthday earlier this month at his nursing home in Virginia.
While Harrison's longevity may seem impressive, it's worth noting his older brother, Lyon Gardiner Tyler Jr, passed away only last year at the age of 95, having been born in 1925.
Their father is Lyon Gardiner Tyler Sr, born in 1853, whose father was the 10th president himself, in office from 1841 until 1845.
While the math for someone born two centuries ago to have such a close living relative may seem impossible, it's due to the fact the former president and his son both had children late in life.
John Tyler had 15 children, and continued to father children into his sixties, including eight with his first wife, Letitia Christian Tyler, who died in 1842.
She became the first First Lady to die in the White House. Caroline Harrison, in 1892, and Ellen Wilson, in 1914, make up the trio who have passed away while their husbands were in office.
By 1844 John Tyler had remarried a much younger woman, Julia Gardiner, who was 30 years his junior.
As a result, Lyon Sr, one of seven children between Gardiner and John Tyler, was born when his father was 63.
Lyon Sr followed in his father's footsteps and married twice, the second time to Sue Ruffin, a woman 35 years his junior.
As such, Harrison was born when his father was 75, and Lyon Sr passed away when he was only 7.
Chatting about his childhood, The Washington Post spoke to Harrison's son, William Tyler, and said: "At 8, he would wake up early to chop wood for fires that heated the house. Their clothing was made from burlap sacks. One night a week, they would run a generator to listen to the radio."
The incredible modern-day link with the past was shared to Twitter by Matt Smethurst on Tuesday—Harrison's birthday—who said: "John Tyler, America's tenth president, was born in 1790. He has a living grandson.
"Yes, a grandson."
Smethurst added: "Another way to think about this: There is someone who could look at you today, in 2021, and say: "Yeah, my dad was 8 years old when the war started."
"'World War II?' 'Ha, nope.' 'Oh wow, World War I?' 'The Civil War.'"
It was liked more than 4,000 times before being shared to Reddit's Damn That's Interesting forum by Thenewyorkgod.
They simply captioned it: "This shook me," and the comments reflect that, with the post upvoted more than 34,000 times.
Numerous people commented on the unusual link, with Zelda Krup saying: "The past is never really the past."
Jennifer LeFevre commented: "I was amazed when I found this out a few years ago. Add emphasis to the fact that John Tyler was born during Washington's presidency and it blows the mind even more!"
Todd Hintz added: "I've heard this before and the numbers add up, but it's still terribly hard to believe."
While Denken Hilft noted: "Imagine: he was born almost 85 years before #Abolition and his grandson is living. That's how close by #Slavery is!"
Born during George Washington's presidency, John Tyler, who died in 1862, was a slave owner from Virginia, and lived in a plantation house there, called Sherwood Forest, which he bought in 1842.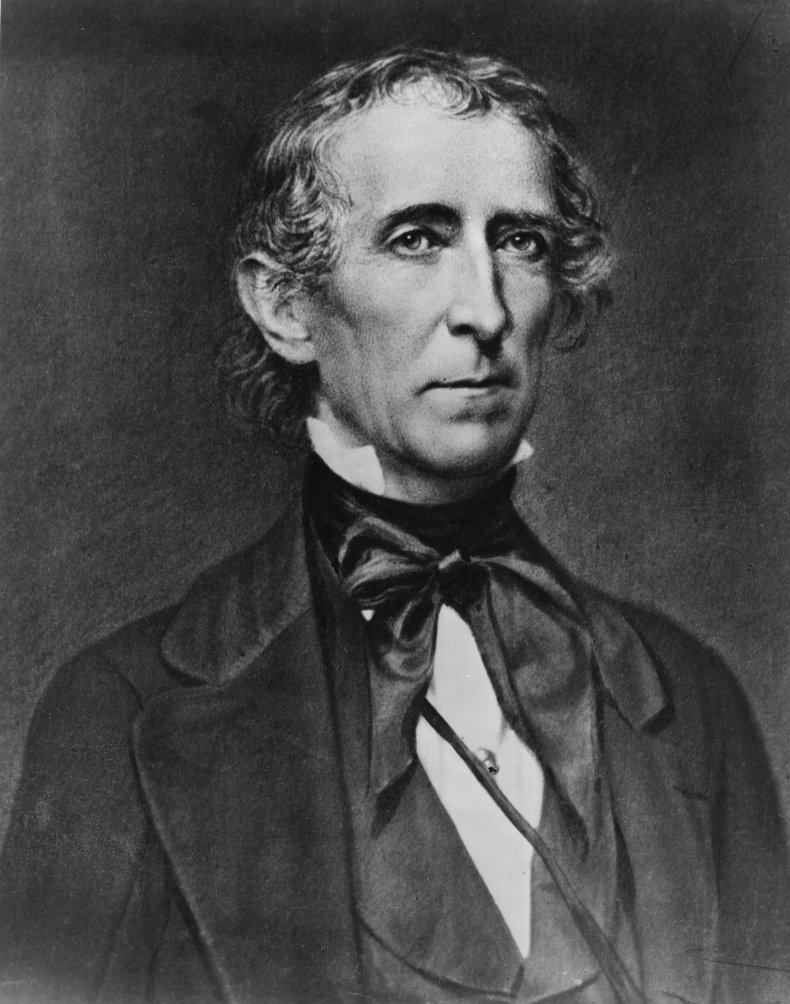 A few generations later it was bought by Harrison in 1975, according to The Washington Post, from relatives who had inherited the "rotting" building, and he and his wife restored it.
He started offering public tours, and while suspended due to COVID, look to continue in the future under the stewardship of William.
During his years in office, John Tyler made a few notable firsts, including becoming the first vice president to assume the office upon the death of his successor, William Henry Harrison.
Harrison had the shortest term in history, dying just 32 days after his inauguration, due to pneumonia.
John Tyler also became the first president to be widowed, and remarry, while in office, and had the most children of any president.
While he was also the first to face impeachment charges, according to History.com.
Newsweek reached out to Smethurst for comment.