Pressure to Prosecute Donald Trump 'May Be Irresistible': Dershowitz
Attorney General Merrick Garland may face "irresistible" pressure to prosecute Donald Trump from "the left of his party," according to top lawyer and former Harvard law professor Alan Dershowitz.
Dershowitz, who was part of Trump's legal team during his first impeachment trial in 2020, made the claim in his new book, Get Trump: The Threat to Civil Liberties, Due Process, and our Constitutional Rule of Law.
Last week, The New York Times reported Trump had been offered the chance to testify before a Manhattan grand jury to discuss the alleged payment of hush money to pornographic actress Stormy Daniels in 2016, suggesting an indictment could be imminent.
The former president is also being investigated over efforts to overturn the 2020 presidential election result in Georgia, the events surrounding the riot at the U.S. Capitol on January 6, 2021, and his handling of classified documents.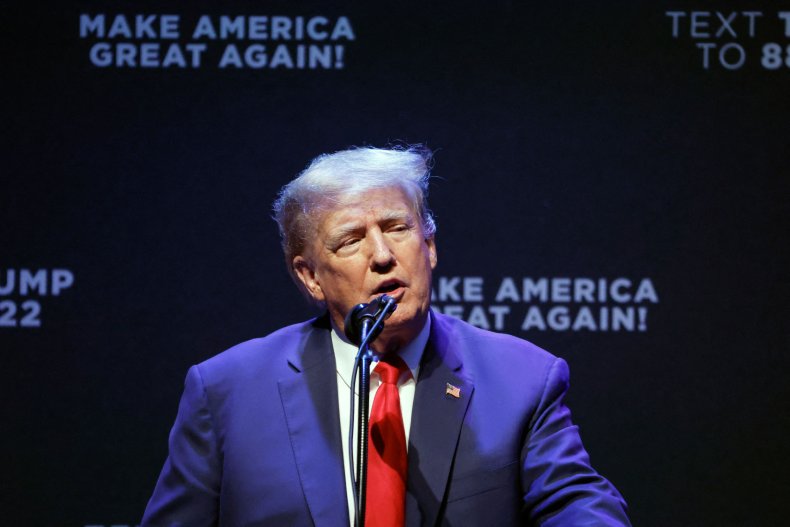 Writing in his latest book, Dershowitz argued: "The 'Get Trump' camp is making it difficult for Merrick Garland to do and to appear to be doing justice. These extremists not only don't care about the equal application of the law, but they also demand a double standard against Trump precisely because they believe that Trump is more dangerous and more evil than Hillary Clinton was. (Many anti-Clinton zealots believed the opposite.)
"The pressure on Garland to prosecute Trump, especially from the left of his party, may be irresistible. At the very least, it will subject any prosecutorial decision to the accusation that it was influenced by the 'Get Trump' zealotry."
Newsweek reached out to Attorney General Garland for comment by phone and via the Department of Justice website.
Garland was confirmed as Attorney General by the Senate in March 2021, having been nominated by President Biden in January. He was previously nominated by then-President Barack Obama in 2016 to serve on the Supreme Court, but the move was blocked by a then Republican-controlled Senate.
Dershowitz noted Garland has also appointed a special counsel to investigate Biden after classified documents were found in his Delaware home, but said this "was designed to create the appearance of justice and equality."
As a sitting president, Biden "cannot be criminally prosecuted," while Trump can, Dershowitz wrote, though concluded that "it is unlikely that either will be indicted for the mishandling of classified information."
He also said in the book that the "Get Trump" campaign was targeting the former president's legal team, which he argued: "Implicates the Sixth Amendment right to effective assistance of counsel."
"Even I, who has never been suspected or accused of any misconduct during my representation of Trump in the Senate, have been subject to punishment, cancellation, and a bar complaint. My family, too, has been attacked," Dershowitz said.