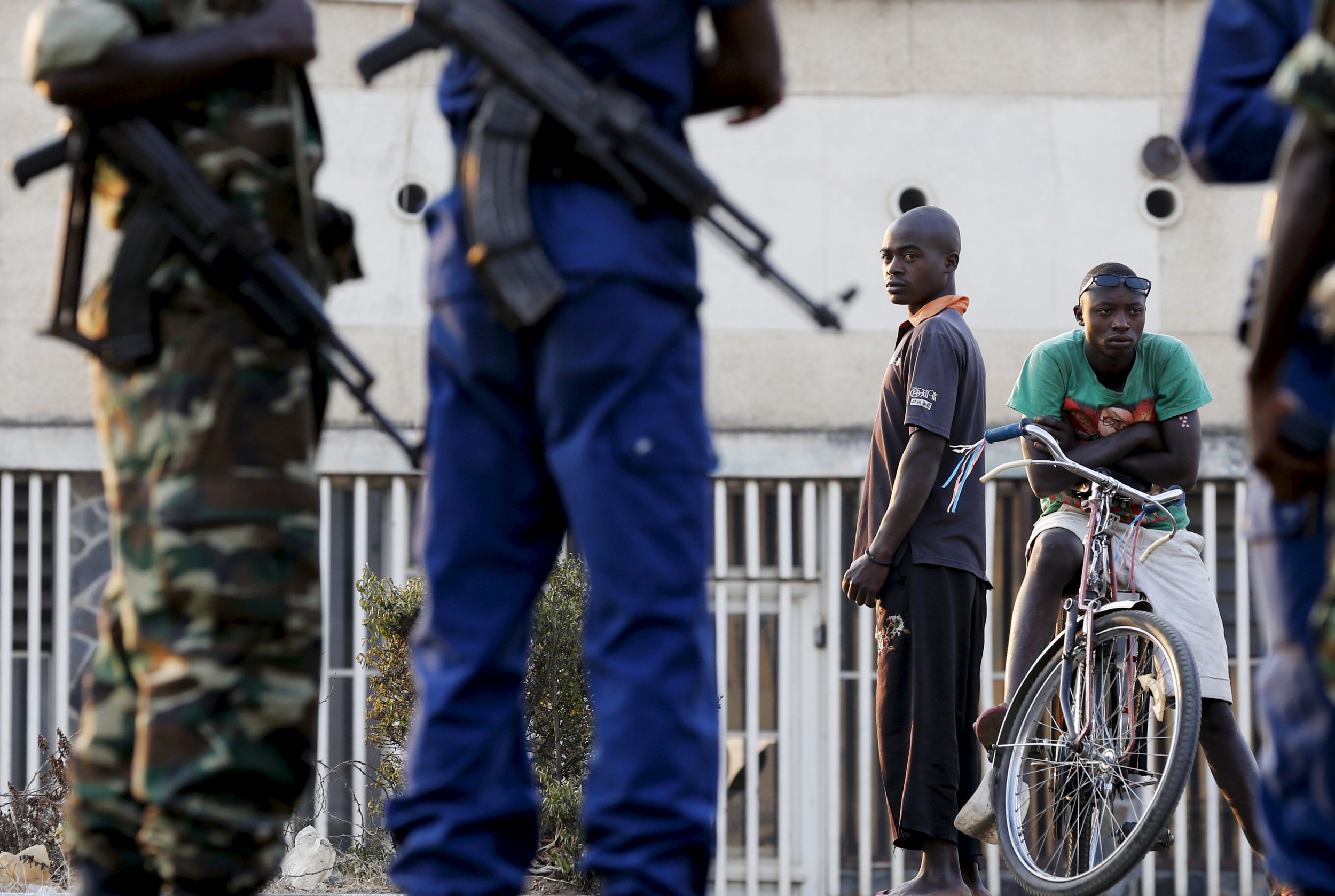 It is not often that you find 15 ambassadors driving three hours along windy roads to a presidential palace amid banana groves. But that is the sight that would have greeted you in January as representatives of all 15 members of the U.N. Security Council traveled to meet the President of Burundi, Pierre Nkurunziza. It was Nkurunziza's decision in April 2015 to run for a third term as president that sparked yet another downward spiral of violence in Burundi, a country that only in 2005 emerged from a 12-year civil war in which 300,000 people were killed.
We were doing preventive diplomacy. Ambassadors talk a lot about preventive diplomacy in the abstract. About the importance of stopping wars before they get started. About ensuring genocide does not happen. About putting out the sparks of conflict before they ignite. About being a smoke detector, not a fire extinguisher.
In Burundi, we sought to put our words into practice. Burundi is a small, beautiful, very poor country in the Great Lakes region of Central Africa. And over the years—due to the civil war and the present violence—Burundi has been much higher up the U.N. agenda than you might expect. This was our second visit to the country within 12 months.
On our long drive to meet President Nkurunziza, we passed many demonstrators. Strangely for a country with such limited resources and so little English spoken (French is the primary language in Burundi), they held up signs in English, many laminated and all clearly mass produced. They said things like, "Burundi is a peaceful country." The demonstrators were apparently paid a dollar each to turn up. And their message—that Burundi is peaceful—was the one that the authorities wanted us to hear, see and take away.
Sadly, it is a lie. We heard from many activists, brave journalists, opposition leaders and others that the reality is very different. The country is beset with problems. We heard horrific stories of summary executions, mass graves, sexual violence and more. Every dawn brings sight of the bodies of those killed overnight. The country's ministers are sending their children away for their own safety.
The U.N. Security Council has three demands: de-escalation, dialogue, and deployment. It is up to President Nkurunziza to de-escalate the tensions. It is up to President Nkurunziza to reach out and begin a dialogue, not just with his friends but with his enemies too—if there is to be meaningful peace in Burundi, it will need to include the vast majority of Burundians. And it is up to President Nkurunziza to agree some form of deployment of an international force. The African Union (AU) had proposed a 5,000-strong peacekeeping contingent, which Burundi rejected and the AU decided over the weekend not to send in without consent. But it is clear Burundi cannot solve this problem alone.
The Security Council is not always known for its unity—just look at the discussions on Syria. But on our trip to Burundi, we were united. And that is important. The pressure we were seeking to put on the authorities was not some Western or colonial mindset. It was representatives of the whole world calling for genuine dialogue before the first shots of a full civil war are fired.
The world is watching Burundi. Through modest steps like our visit and the deployment of human rights and military observers, the U.N. can do some preventive diplomacy—not in theory but in practice.
Matthew Rycroft CBE is the British ambassador and permanent representative to the United Nations. He was part of a U.N. Security Council delegation that traveled to Burundi in January to address the crisis there. He tweets at @MatthewRycroft1.