Pride: Jerusalem Posters Attack 'LGBT Violence,' Praising 'Natural Families' as Contentious Parade Gets Underway
Israeli police are preparing for violence as Jerusalem hosts what could be the city's largest ever Pride parade, despite efforts from extremists to harass participants and cause disruption.
In the days leading up to the event, anti-LGBT posters have been spotted on walls around Jerusalem and been shared on social media, accusing organizers of "LGBT violence" and promoting the supposed benefits of "natural families."
Around 2,500 police officers, border police and other security forces will be guarding the annual event, which could be attended by up to 30,000 marchers, The Times of Israel said.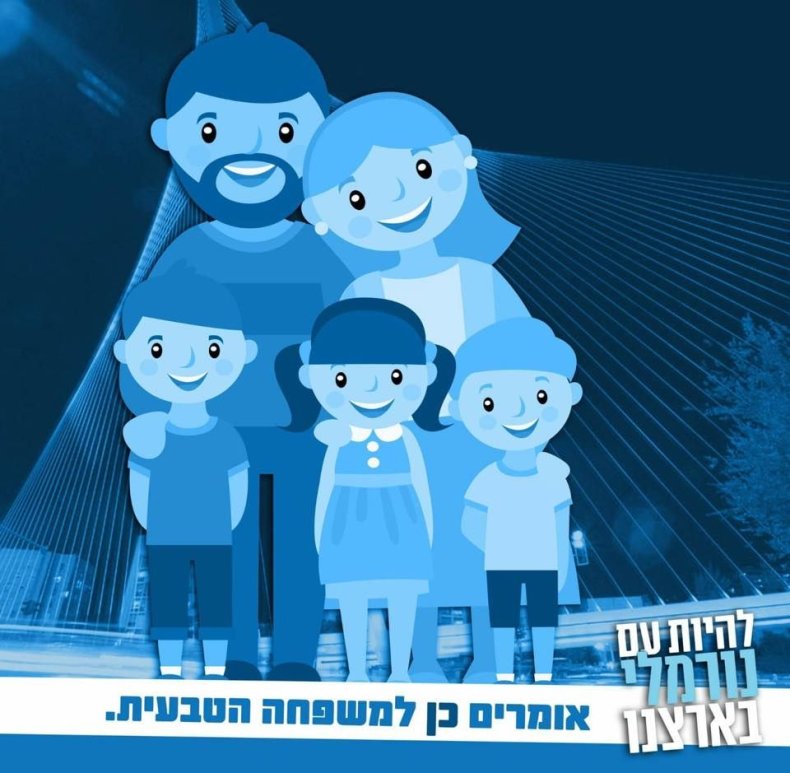 Israeli author Roni Gelbfish was among those criticizing the posters. Gelbfish wrote on social media that she had grown up in a so-called "normal family," but this was no guarentee of a happy life. "In our natural family, Dad cheated on Mom and Mom cheated on Dad," she explained. "In our natural family, we were beaten to an inch of our lives. Regularly. In our natural family we were three helpless hostages to two young parents who got married because they couldn't have an abortion."
"Every safe, warm, loving family is a good and natural one," Gelbfish continued. "It doesn't matter one bit how many fathers or mothers it's composed of. Thank god for the struggle and for the [Pride] parades."
This year's march comes as tensions mount over new legislation barring gay men from surrogacy parenthood rights. A huge protest against the law took place in Tel Aviv on June 22 attracting around 100,000 people, shutting down several roads in the downtown area of the city.
Numerous right-wing and anti-LGBT figures have been summoned to police stations and warned to stay away from Thursday's event. One recording of a conversation between police and an activist captured the officer warning, "I am asking you to be careful, to obey the law, not to come to the area there," Haaretz reported. The officer added, "We are talking about your intentions. If you have the intention to disturb the peace, then that's not good."
Previous Jerusalem Pride events have been targeted by the right wing. In 2015, teenager Shira Banki was killed and five others injured by a knife-wielding ultra-Orthodox Yishai Schlissel during the march. Schlissel had only just been released from prison having served a 10-year sentence for a knife attack on the 2005 pride parade. He is now serving a life sentence.
Memorial events for Banki as well as Nir Katz and Liz Troubishi—killed in a shooting at a gay support center in Tel Aviv in 2009—will also be held Thursday.
Police have given permission for two counter marches in Jerusalem on Thursday. One will be held by the ultra-nationalist Lehava group, a member of which set fire to a bilingual Hebrew-Arabic school in Jerusalem in 2014. The Orthodox Liva group will also be holding another event.
Lehava founder Bentzi Gopstein branded LGBT activists "terrorists" in an online video published Tuesday, and said the Lehava protest would take place under a banner reading, "Jerusalem is not Sodom"—a reference to one of the biblical towns supposedly destroyed by god for being sinful.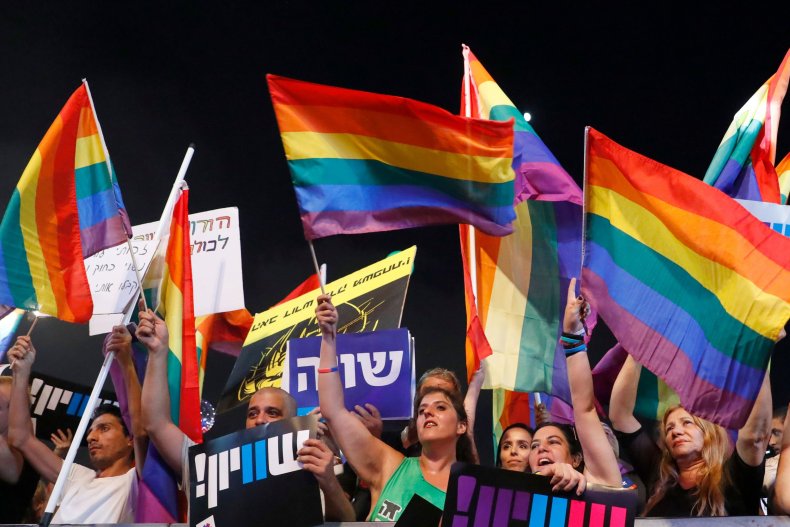 The surrogacy bill will make this year's events especially charged, as debate continues to rage between mainstream Israeli society, which is generally pro-LGBT rights, and the country's religious and right-wing establishment.
More than 200 rabbis have signed a joint statement in support of the surrogacy law, declaring that "the aggressive terrorism, accompanied by media brainwashing to turn the perverts into heroes will not work."
Prime Minister Benjamin Netanyahu, who is also the leader of the right-wing Likud party, has come in for significant criticism, vowing to support the surrogacy rights of gay men before voting against them. Activists allege he did so under pressure from his ultra-Orthodox coalition partners. The prime minister later denied he has changed his position, and said he would support a separate law to legalize surrogacy for gay couples at a later date.
Former prime minister Ehud Barak called Netanyahu "spineless" and an "audacious liar" over his perceived flip-flop on the issue.